3 Tips from Deloitte on Leading a Data Viz Competition with Diversity, Equity and Inclusion
Drawing on the Tableau Iron Viz format, Deloitte's Viz Games annual data visualization competition helps improve data literacy and strengthen data culture across their organization. Learn three tips on leading a data viz competition at your work—and see the winning vizzes from the teams at Deloitte.
The demand for skilled data analytics professionals continues to grow, and it is a C-suite priority.  According to IDC,  83% of CEOs expect their organizations to be more data-driven. However, people often lack essential data skills with only 33% of employees comfortable using data analytics to support their decisions. Formal certification programs can help address technical gaps, there is a need for additional initiatives to encourage engagement, creativity and help to build a passion for data. It is this passion that is so critical for the development of a true data culture where all employees, not just analysts, are empowered to use data in their everyday work.
A fun and very effective way to do this is by running visualization competitions.
Tableau has years of experience in running viz competitions, in fact, our annual Iron Viz is the world's largest. We've seen, first hand, how these competitions not only provide hands-on experience, but also encourage collaboration and, critically, creativity.
In early 2022, we were privileged to collaborate with our partner Deloitte on a hugely successful Viz Games competition.
"Analytics and data-driven culture offer immense potential for companies to outperform business goals. Building a data culture is not just an option—it is business-critical. Competitions, such as Viz Games, help build effective data communities within organizations, which play a key role in embracing analytics capabilities."—Samantha McKinlay, Manager at Deloitte
Deloitte also runs these competitions for our joint customers who are looking to encourage the development of a data culture and improve data literacy in their own organizations.
In this blog, we showcase the winning entries and share the critical success factors that made this such an exciting and impactful event.
Deloitte Viz Games 2022 in Numbers:
8 weeks
18 countries
183 teams
250 participants
50 submissions
10 shortlisted vizzes
4 finalists
1 Grand Finale winner
Drawing on the Tableau Iron Viz format, Deloitte's Viz Games centered around three objectives and three critical success factors:
1. Open the data viz competition to everyone
Objective: Upskill in data visualization and storytelling in Tableau
Practitioners from all Deloitte member firms across EMEA, U.S. and Canada with an interest in data visualization and a love for data-storytelling were invited to participate—whether they were beginners or seasoned experts.
Data and analytics play a key role in innovation.  A memorable experience like Viz Games, which challenges practitioners to be creative and innovative in a competitive and fun way, helps enhance Deloitte's ability to deliver advanced analytics capabilities to our shared customers worldwide.
"I've never participated in a viz competition, so just taking part taught me a great deal. The competition was incredibly tough and some amazing workbooks were developed in an incredibly short span of time. Now that I have some experience, I'm looking forward to competing again in 2023!"– Jeff Mansfield (U.S.), Top 10 Viz: In Plain Sight
2. Build a sense of shared purpose with a single theme
Objective: Deriving insights from raw data around the topic of diversity, equity and inclusion
The theme for this year's Viz Games was Diversity, Equity and Inclusion (DE&I). Tableau provided raw data from the Data Equity Hub, and participants were allowed to draw on any other data source relevant to the theme. During the eight weeks of the competition, a variety of guest speakers were invited to inspire the participants around the value of data within the context of diversity, equity and inclusion.
"Leading organizations know that Diversity, Equity, and Inclusion (DE&I) is a business priority. And like any other business priority, it must be informed by data and insights. That's what makes this year's Viz Games so powerful. It truly echoes Deloitte's data and metric-driven approach to DE&I globally, backed by our Global Executive and Board's commitment to a number of aspirational diversity goals."—Nhu Fabros, Deloitte Global Talent Managing Director
Guest speakers included Lisa Trescott, Tableau Iron Viz 2021 Champion, who was invited to share tips and best practices that led to her win at Tableau Conference 2021.
3. Make the viz competition meaningful
Objective: Doing good for society
"We need innovation to make the world a better place and data is in the centre of that. I'm very proud to see the tremendous talent across Deloitte joining forces with Tableau to drive innovation and do good for our people, our society, and our clients through data analytics and visualization."—Nicolai Andersen, CEO of Deloitte Consulting Germany & Central Europe
A visualization competition like this takes incredible commitment and time. The Deloitte participants put in remarkable effort on top of demanding day jobs. They were inspired to do so because of a shared belief that data plays an important role in impacting society for good. Not only was the grand prize a charitable donation but sharing these visualizations in public forums has brought increased awareness and insight across a rich portfolio of diversity, equity and inclusion topics.
"Participating in Deloitte's Viz Games not only means going on a steep learning curve in everyone's favourite BI tool, but also a contribution to society in terms of data for good. This year it was fun to explore stunning insights in the field of DE&I, a truly important topic with respect to our connected world."—Alexander Schulz (Germany), Top 10 Viz: Tell Me Who You Are
The top 10 vizzes covered topics as diverse as income equity, legal inequity, immigration, neurodiversity, social diversity, wealth creation, LGBTQ+ rights, UN SDG goals, literacy and more.
Deloitte Viz Games 2022 winning submissions:
The Journey to Wealth in Canada
Is Canada truly an equal opportunity country
Jessica Whitehead, Maggie Eng, Anu Stanley (Canada)
Grand Finale Winner
This visualization explores the extent of obstacles experienced by racialized and indigenous peoples in Canada in accumulating wealth compared to non-racialized groups through different financial life stages.
While financial attitudes and behaviors are important, the focus of this viz is on external obstacles to wealth-building such as the education and career opportunities: as well as access to wealth-generating assets like homes, businesses, and investments.
 
Pride
The challenges and contributions of the LGBTQ+ community
Tessa van der Kint, Marijn Hagenaar, Wessel van Bakel (Netherlands)
Grand Finale Finalist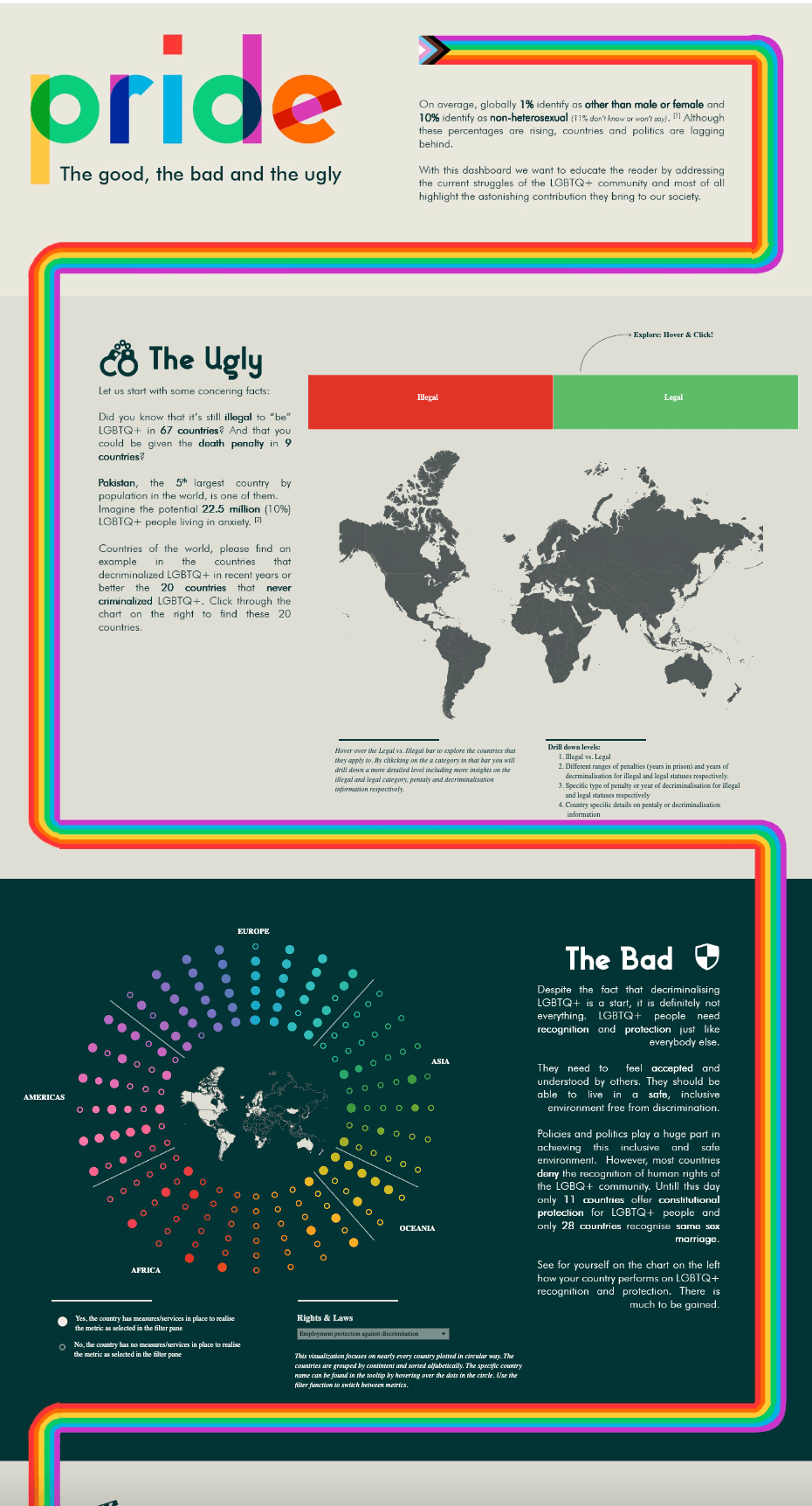 Did you know that it's still illegal to "be" LGBTQ+ in 67 countries? And that you could be given the death penalty in 9? Only 11 countries offer constitutional protection for LGBTQ+ people and only 28 countries recognise same sex marriage? This visualization seeks to highlight not only the current struggles of the LGBTQ+ community but also their contribution to society.
 
Is Europe on Track
Is Europe on track regarding Diversity, Equality & Inclusion
Tom Becker, Tom Lange, Christopher Zapp (Germany)
Grand Finale Finalist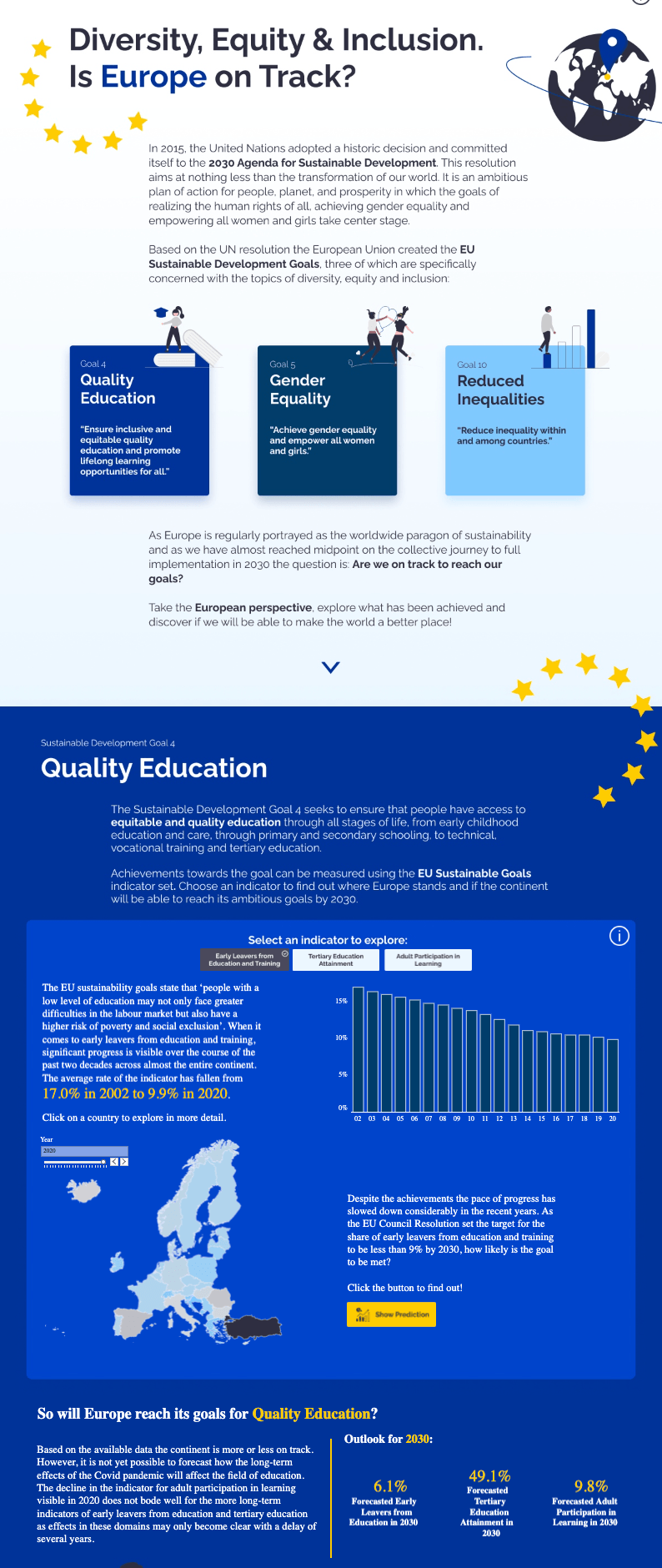 Europe is often depicted as world-leading on sustainability and diversity and inclusion. This viz questions whether this reputation is justified. It explores a selection of the EU Sustainable Development Goals (SDGs) monitoring progress and highlighting which countries are excelling in specific goals. It also predicts whether each highlighted SDG goal will be reached by 2030.
 
Literacy
The state and potential of literacy in the world
Vacek Tadeas, Patricia Gogova, Adam Bubenik (Czechia)
Grand Finale Finalist

There are still 800 million illiterate people in the world. The Literacy Dashboard combines data from multiple studies and presents real and existing problems, from identifying inequalities between men and women, through detailed analysis of income groups, to comparing the GDP expenditures of individual governments to education. It concludes with four recommendations to improve global literacy and education.
"We had a great experience participating in this competition. It was well organized—we appreciate the multiple events and opportunities to ask questions leading up to the finals. The final presentations were a ton of fun–the MCs did a wonderful job keeping things light and easing our stress!" – Jessica Whitehead, Maggie Eng, Anu Stanley (Canada) – Grand Finale Winners: The Journey to Wealth in Canada
We strongly believe in the power of data to transform. From managing through pandemics, fighting for justice and equity, to driving recovery and business transformation, data is a powerful tool in helping us navigate the challenges facing businesses and society alike.
Data-driven insights are critical for improving the world we live in
We have been so inspired by the creativity, the innovation these talented individuals brought to this competition.
"In this the second consecutive year, we've seen Deloitte Viz Games as a flagship initiative for building data culture across Deloitte.  It provides an excellent opportunity to do good for society while upskilling and reskilling employees in the most efficient way possible. It also helps us create a work environment that inspires collaboration, innovation, diversity, and a whole lot of fun, while uniting everyone under a shared purpose." —Beso Elbakidze, Deloitte Specialist Lead.
With insight we see impact. Watch the Deloitte Viz Games 2022 Grand Finale, and for more information on Deloitte Viz Games, contact partnermarketing@tableau.com
Subscribe to our blog
Tableau の最新情報をメールでお知らせします