How Tableau Pulse powered by Tableau AI is Reimagining the Data Experience
The future of analytics is personalized, contextual, and smart.
The analytics age we find ourselves in is unique, powered by technologies like generative AI, the Internet of Things (IoT), and automation that are going to change so much of what we take for granted today. Underpinning these technologies is data—and how we engage with it is changing, too. The accelerating pace of these new technologies means that companies worldwide now face a critical inflection point, a do-or-die moment. Businesses must embrace data-driven decision making if they want to stay competitive and build stronger customer relationships, because the performance gap between organizations who successfully use data and those that don't is poised to grow exponentially. Those who can't capitalize on their data will be left behind—perhaps faster than anticipated.
We've been on a 20-year journey to help people see and understand data—whether they are an analyst or not—because companies that use data to make decisions are more successful than those that don't. But we know that this can be challenging. While Tableau has helped millions of people work with data, there are still many more who find analytics hard to understand, access, and act on. In fact, according to Gartner studies, only 29% of employees today are using data to drive their decisions.
As part of our continued commitment to your success and to help you connect with your customers in new ways, we're thrilled to announce Tableau AI—the  next generation of Tableau that will make analyzing data as simple as posing a question. Powering it all will be Einstein, the artificial intelligence currently making Salesforce's portfolio of products smarter.
Tableau AI will also include Tableau Pulse, a reimagined data experience for analytics consumers that will help make data accessible to everyone in your organization, regardless of their familiarity with data.
Tableau AI lowers the barrier to data with generative AI
Tableau AI represents a game-changing innovation, leveraging the advanced capabilities of generative AI to simplify and democratize the process of data analysis. This  next generation of Tableau is built on the trusted and ethical principles of Einstein, ensuring its reliability and safety for everyone that uses it. The significant advantage of Tableau AI is its ability to enhance every part of the Tableau platform to drive performance, efficiency, and scale.
For data analysts, Tableau AI automates data analysis, preparation, and governance, providing users with helpful guidance and contextual instructions within the product. Tableau AI will simplify and streamline existing analyst workflows, lowering the technical barrier to entry and reducing repetitive tasks. With the power of generative AI, we enable natural language calculations, suggest appropriate charts and visualizations, and auto generate descriptions of data sources.
For analytics consumers, the focus is to deliver distilled, meaningful insights from all their data for every decision. Tableau AI helps deliver insights in plain language, and even proactively surface the questions the user might ask next. This makes it a handy tool for businesses breaking down data silos and ensuring easy access to valuable insights. Tableau AI's conversational analytics interface predicts users' questions and provides essential insights that empower them to make informed decisions quickly and efficiently. Thanks to the tool's inclusive design, even users who are not expert data analysts can access insights distilled from all their data.
Tableau Pulse brings analytics to life for everyone
Tableau AI allows us to bring to life Tableau Pulse, a reimagined data experience for analytics consumers that will empower every employee with smart, personalized, and contextual insights delivered directly in their flow of work. Tableau Pulse transforms how people engage with their data in ways that are more meaningful, helping everyone—not just 29%—in an organization become data driven. This will especially help users who don't have time to learn new tools, need data at their fingertips to make decisions quickly, and who want to go beyond the "how" and "what" of data to understand the "why."
Here's how Tableau Pulse will make all of your interactions with data personalized, contextual, and smart.
Personalized: Focus on what matters with metrics relevant to you
Today, the amount of data businesses contend with can be overwhelming, and reports are often presented in a one-size-fits-all way to serve entire teams at once. This helps bandwidth-strapped analysts—who don't have time to create ad-hoc reports for everyone—but users are left sifting through the data to find what's relevant to them, which can be a time-consuming and frustrating experience.
Tableau Pulse changes this by providing data digests in your flow of work and an intuitive, personalized metrics homepage that you can tailor to your needs. Gone are the days of filtering five different ways in a dashboard to find the numbers you care about—now you can have a simple, curated, 'newsfeed'-like experience of key KPIs that you select. Over time, this experience will return more personalized results as Pulse learns what insights you care most about.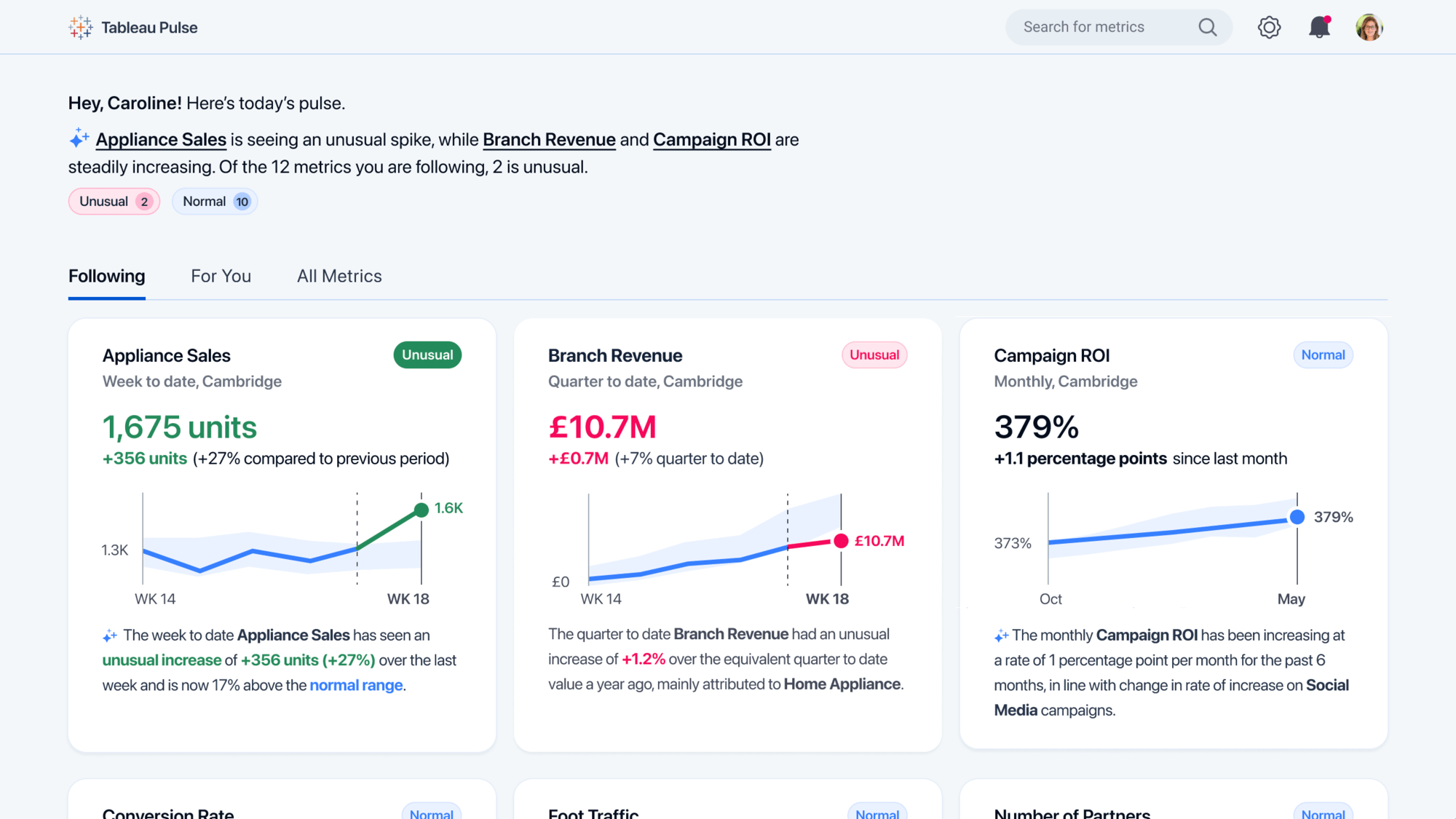 Contextual: Infuse relevant data into your flow of work
Today, people use a variety of applications to do their work, making it difficult to keep track of where you saw an important KPI. It's easy to miss a critical insight if you weren't logged into the right tool at the right time. Switching between different tools and applications to access data can also be time-consuming and disruptive to your workflow. Worst of all: fragmented data tools make it harder to share insights, knowledge, and best practices across teams—hampering your company's ability to remain agile in the face of uncertainty.
Tableau Pulse changes this by delivering relevant data to users inside the tools they're already using. This means data can be decoupled from dashboards, ensuring that you can get the metrics you need without interrupting your workflow, have insights captured in the tools you spend the most time in, and won't miss an important insight because you weren't logged into the right tool at the time. Best of all, you can now easily scale insights across your business: making seeing, sharing, and collaborating on data simply a matter of using the tools everyone in your organization already is.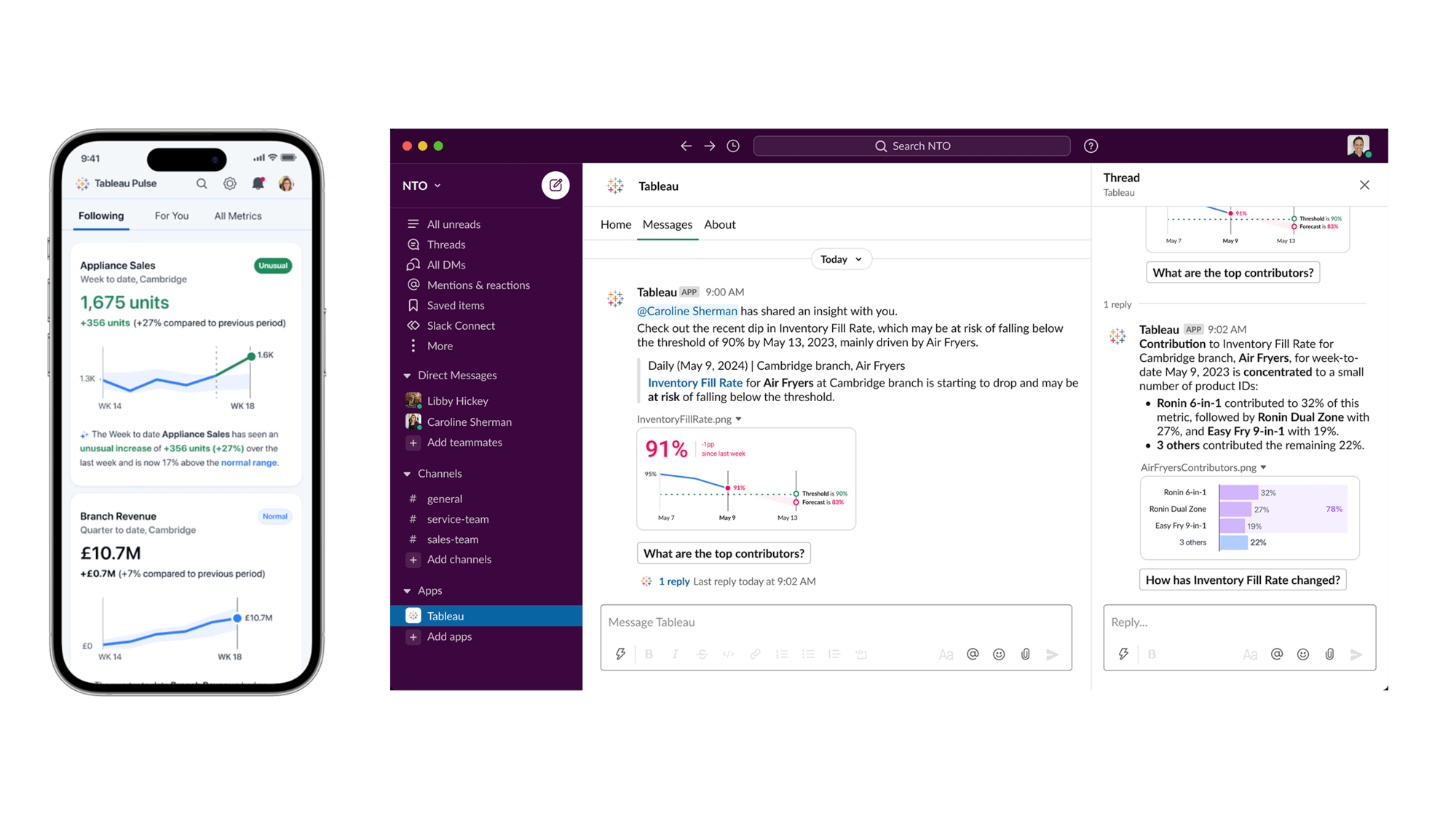 Smart: Identify and communicate insights with AI
Today, making sense of data can be a time-consuming and manual process. Users might spend several minutes analyzing data to identify trends and insights, and it can be hard to know what questions to ask of your data. All of this can slow down decision making and hinder productivity.
Tableau Pulse enables a smarter use of data by helping organizations automate analysis and communicate insights in easy-to-understand ways—that is, in natural language. First, Tableau Pulse does the heavy lifting for you, helping you go beyond the "what" to get to the "why." Pulse automatically detects and generates insights, anticipates questions you might ask, and even suggests questions you might not have thought of. From there, Tableau AI summarizes those insights conversationally. This will help you make better decisions faster, without having to spend time manually analyzing data.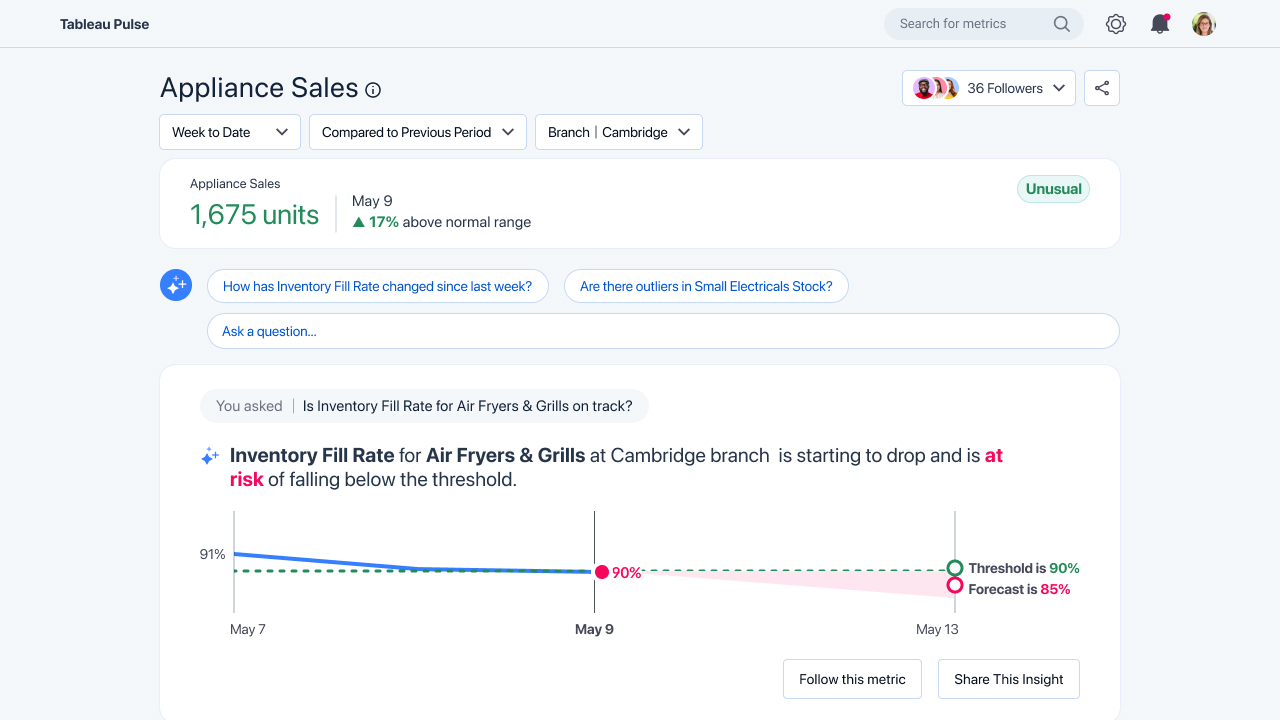 Twenty years ago, Tableau completely transformed analytics by reimagining how millions of people could easily see and understand data. With Tableau AI and Tableau Pulse, we're going to transform the industry yet again with a brand new experience focused on the analytics consumer, one that will empower everyone to become truly data-driven in this new era of analytics. 
Want to learn more? Read on to see how Tableau AI uses generative AI to change the future of data or watch a demo to see these capabilities come to life. 
 
Subscribe to our blog
Tableau の最新情報をメールでお知らせします