Tableau User Group Weekly: September 13 - September 17, 2021
Welcome back to this week's snapshot of the latest Tableau User Group events happening around the world. Catch up on the freshest content or join an upcoming event, all while getting inspiration from the DataFam. Not only will you learn new tips and tricks, but you'll see them in action too.
User Group Meeting of the Week: Columbus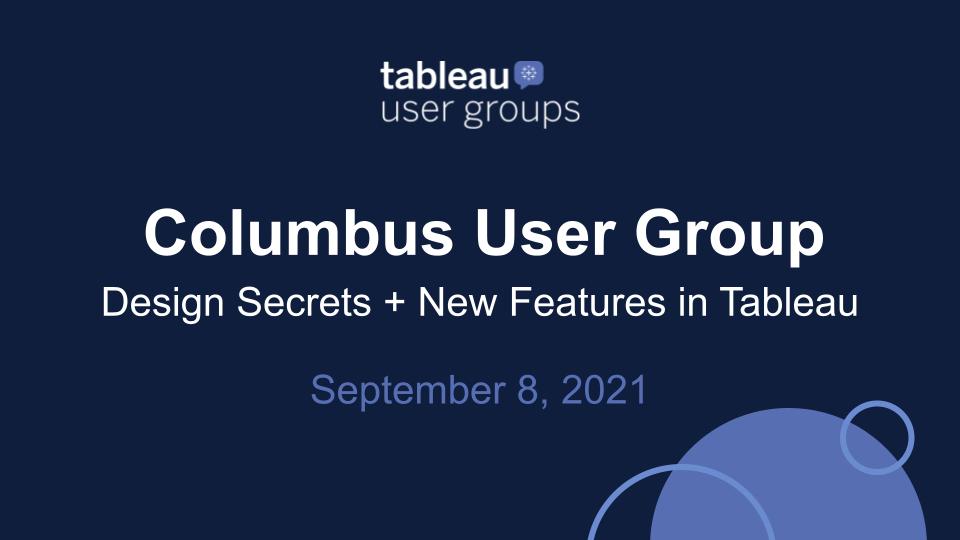 The Columbus Tableau User Group meeting was full of dashboard design secrets, practical tools behind impactful dashboards, and new features in Tableau. Three-time Tableau Zen Master, Chantilly Jaggernauth opened up the meeting and shared design secrets for a non-designer, business edition. Chantilly covered ways to organize existing dashboard requirements, determine dashboard styles based on the audience and key stakeholders, using color effectively to engage and highlight content, and much more. These methods and secrets can aid in creating more user-friendly and design-enhanced visualizations, with little to no graphic design experience. Then, Lee Feinberg, founder of DecisionViz, shared visualization traits that you can use to create dashboards that motivate action without shouting. Lastly, Colin Thornburg, from Tableau, went through and demoed some of the recent features that came out in 2020.1-2021.4. Dive in and watch the full recording here.
Coming up
Attend an upcoming virtual User Group event and learn from your peers across geographies and industries to help advance your analytics skills.
Analytics Tableau User Group
Adelaide Tableau User Group
Rhode Island Tableau User Group
Atlanta + Bulgaria Tableau User Group
Madison Tableau User Group
In case you missed it
Couldn't tune in live? Don't worry—review the recordings of the most recent user group meetings below.
Explore our full playlist of previous virtual user group meetups and join a user group in your city or within your industry today!