Introducing Data Literacy for All: Free data skills training for individuals and organizations
Data is becoming more pervasive at work and in our everyday lives. Whether you're optimizing your sales organization or your fantasy football team, data is a key ingredient of success.
Although more people are familiar with data, many are still struggling with fundamental data literacy—the ability to explore, understand, and communicate with data. This is a problem, particularly since data skills are now a prerequisite for many jobs—and the demand is growing. In fact, in 2020, LinkedIn listed data-driven decision making skills like analytical reasoning and business analysis as two of the top ten most in-demand hard skills on their Top Skills Companies Need Most list.
To help address this demand, we are so excited to announce the launch of Data Literacy for All, a free eLearning program that includes over five hours of training to help anyone learn foundational data skills. Whether you are new to data, looking to accelerate in your career, or seeking a new career path, Data Literacy for All can help you develop a foundational data skillset.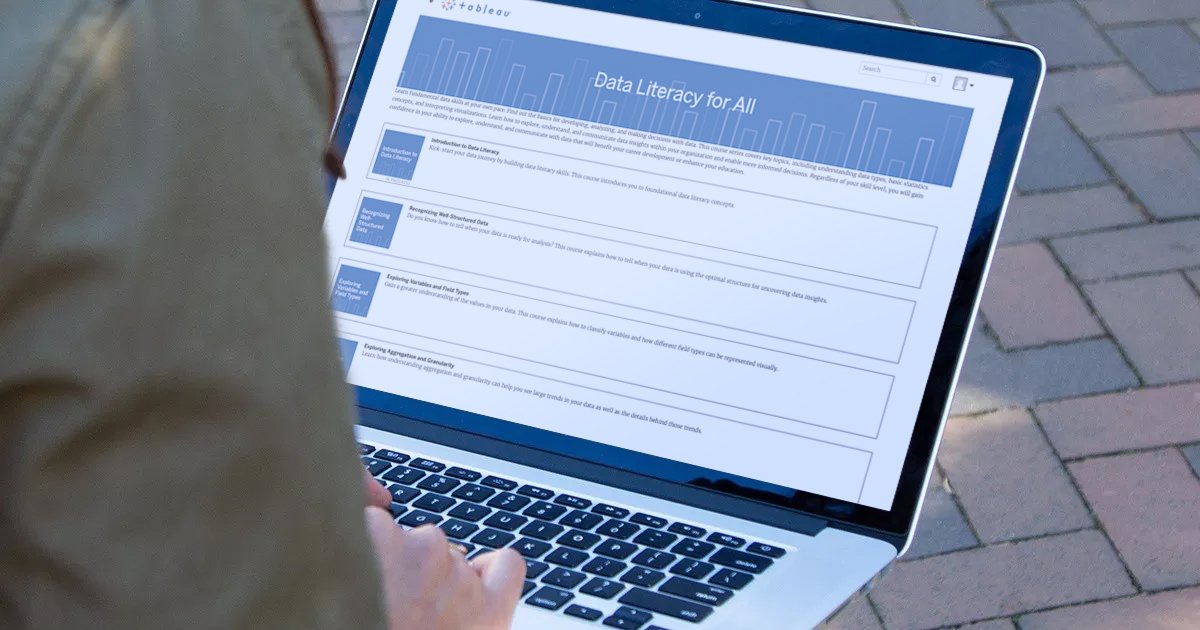 We hear from customers time and time again that developing data skills for employees is one of the main challenges they face when deploying analytics. Whether it's hiring new talent with data skills on their resume, or reskilling existing employees, having a baseline of data literacy across the organization is a critical component within a Data Culture.
Helping our customers fill their talent pipeline with trained candidates has been a focus of ours for many years. Since inception in 2011, Tableau Academic Programs have been driving data literacy efforts in higher education, offering free software and learning resources to enable and empower future data workers. Through these efforts, we have provided more than 1.3 million students and instructors with access to software and data skills. We will continue investing in our future generations, but we also recognized the opportunity to do more. We are thrilled to expand our work with data literacy beyond the classroom.
Developing the Data Literacy for All program and coursework
Data Literacy for All fills common knowledge gaps and 'learning pain points' to allow anyone to begin and continue their data journey.
The Data Literacy for All program includes the following courses:
Introduction to Data Literacy
Recognizing Well-Structured Data
Exploring Variables and Field Types
Exploring Aggregation and Granularity
Understanding Distributions
Understanding Variation for Wise Comparisons
Using Correlation and Regression to Examine Relationships
One of our long-term goals for this program is to open doors to more diversity within formal and informal data roles. We believe that creating a more data literate world begins with education and that foundational data skills are building blocks for our future. Making these foundational skills easy and accessible to anyone and everyone around the world is a start.
When it came to developing data literacy resources for all types of learners, we found inspiration from our Academic Programs and our existing instructor relationships. Through Tableau for Teaching we worked closely with instructors around the world who were building their own analytics programs within their institutions. So to tackle the challenge of data literacy, we took a unique approach.
We hired Dr. Sue Kraemer as our first Academic Program Instructional Designer. Sue was brought on board to help us serve academia's growing needs and to drive development of this integral education in support of our instructors in higher education. Prior to joining Tableau, Sue was an instructor at the University of Washington Bothell, where she taught Statistics and Data Visualization courses in Health Studies. As a result of her academic experience, we were able to create a training that is a bridge between foundational skills and practical business needs—a necessary balance for today's knowledge workers.
Access data literacy courses for free, starting today!
Now anyone can access this training for free. We are so excited about this program, as it is a critical part of helping people see and understand data. But this is just the beginning! At Tableau we will continue to strive for additional ways to help more people become data rockstars because we believe that access to data and the right skills can truly change the world.