Tableau Helps the World Economic Forum Shape Global, Regional and Industry Agendas
---
Reduced volume of reporting dashboards by 75%, from 100 to 25
Accelerated decision-making with connected Salesforce and Tableau insights
Delivered near real-time event experience feedback during the Annual Meeting 2022
The World Economic Forum (WEF) is the International Organization for Public-Private Cooperation. Founded in 1971 and headquartered in Switzerland, the Forum's purpose is to empower global leaders to shape the future for the better. The Forum is probably best known for its Annual Meeting in Davos, which has become the world's foremost summit for shaping global, regional, and industry agendas.
The Forum was challenged to simplify the way people access data and derive insights. According to Sébastien Daniel, Head of Investment and Analytics, the Forum's growth meant that it was relying on more than 100 different dashboards, which made it difficult to see, understand, and interpret the insights residing in the data.
"As the data analytics team, our mission is to support internal teams and our external stakeholders with their decision-making," Sébastien explains. "However, the proliferation of dashboards meant insights were hidden."
Salesforce is a Strategic Technology Partner of the Forum, so when Sébastien's team became aware of the Tableau acquisition, they were excited to use the platform. "I was already a passionate fan of Tableau. We then tested Tableau and quickly realized it would be a massive improvement on the way we do analytics."
'As part of a nine-month program to streamline analytics (conducted during the pandemic lockdown) the team reduced the 100+ dashboards  to 25: a 75% reduction. This unified suite of visual dashboards is now used to monitor the key performance indicators (KPIs) against which the Forum manages its operations and measures its success. Data associated with everything from finance and planning to sales and partner relationships is analyzed using this one, shared view of data.
"This single source of the truth frees up time to create value from the data," says Sébastien. "For example, Tableau gives us complete, near real-time insight into our 1,000 partner community, including their status, engagement, and the projects we're working on with them."
The analytics platform will also support the 2022 World Economic Forum in Davos, collecting insights across the event journey of participants from registration to post-event-feedback. 
"This will help us to balance attendance across over- and under-subscribed sessions. The events team were impressed when we showed them this capability," says Sébastien. 
Data analytics is central to the Forum's operations and determining the right strategic directions. Tableau's ease of use and seamless connection to other datasets are helping everyone embrace the Forum's data-driven and digital mindset. We are looking forward to seeing how the integration of Tableau within our strategic partner Salesforce will bring even more value to the Forum.
World Economic Forum Global Risks Report Innovation
Tableau is also upending how the Forum presents data analytics and engages with key stakeholders.
Every year, for example, the Forum publishes its Global Risks Report, which analyzes the risks facing business and society. Earlier this year, for the first time, the report included an interactive Tableau dashboard that maps the Global Risks Network for the upcoming year. The map can help companies see not only a headline risk, but all the downstream impacts of any one or a collective group of risk drivers. Leaders can see, for example, the degree to which longer term 'Failure on Climate Action' is seen as driving 'Human Environmental Damage'.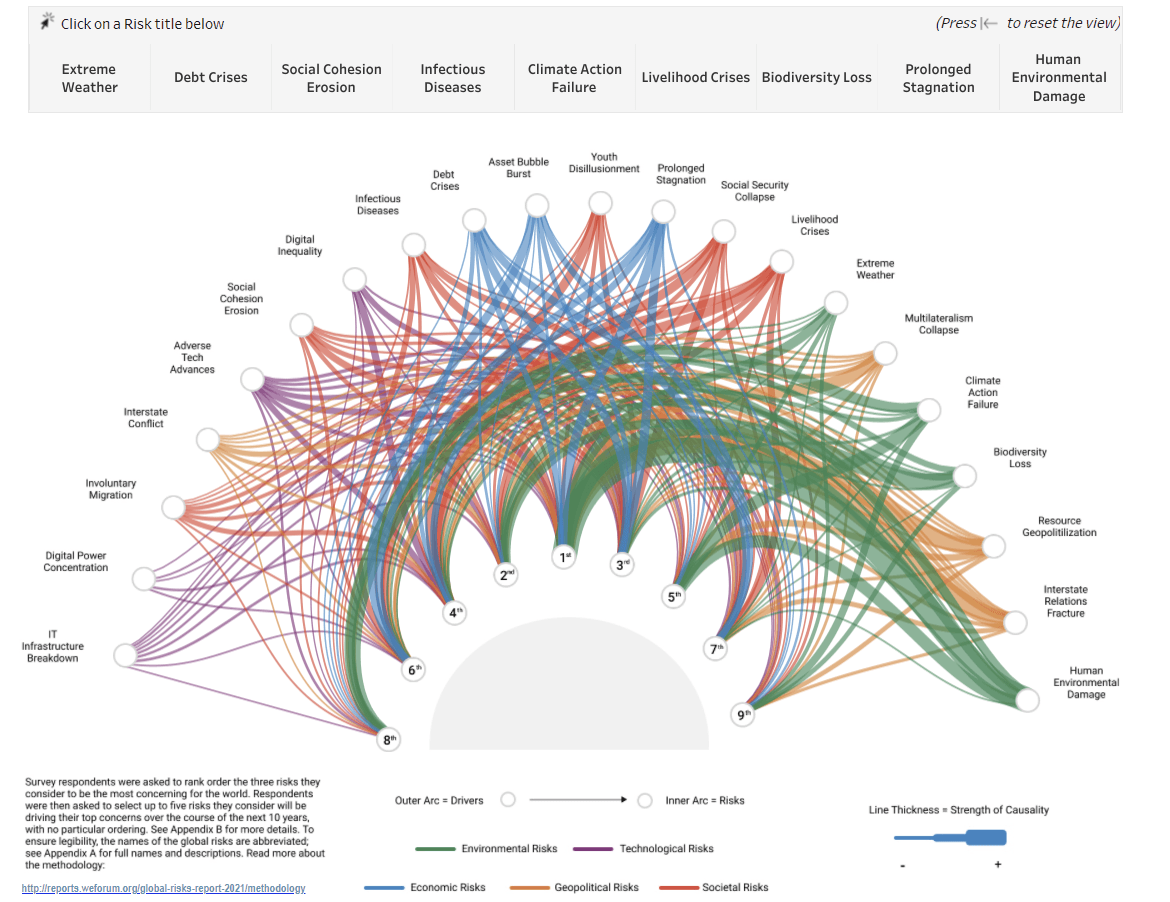 The transition to Tableau from the prior dashboard software was fairly smooth. It resulted in a much improved look and feel of the World Economic Forum's dashboards that ensures critical stakeholders are able to promptly and expeditiously ascertain the latest status of the Forum's financial and business performance.
Connected data accelerates speed to insight
The integration of Tableau within Salesforce will continue to transform the speed to insight. One example is Uplink, the Forum's new, open-source digital platform to crowdsource participation from entrepreneurs, community groups, and others to meet the UN's Sustainable Development Goals.
In time, the united power of Salesforce and Tableau will help to deliver impact at scale. Sébastien explains, "There are several exciting challenges running on Uplink right now. We have one which is trying to understand how to protect the biodiversity of the Amazon Forest. Another is looking at how to design a carbon market, and one that is trying to tackle plastic pollution."
Integrating all this data and creating actionable insights could be slow and resource intensive. To overcome this, the Forum relies on MuleSoft to connect data sources, wherever they reside. "MuleSoft uses reusable APIs to simplify our application and data integration. It means we don't need to replicate any of the data and the quality of the data we are analyzing is significantly better than it used to be," says Sébastien. For example, the Forum has been able to unlock key logistical data to support its high profile events, and share information with partners. MuleSoft is helping make information more consumable and reducing the risk of human error.
This complete, unified ecosystem is complemented by Datorama, which provides the Forum with a connected view of all marketing activities and investments, so the Forum can act on the right insights at the right time to drive engagement.
As data becomes increasingly woven into the Forum's operations and mindset, a data culture is steadily evolving. Sébastien again: "Most of our effort so far has been put on training, communication, and identifying champions to spearhead adoption. We want everyone to be united behind a shared goal to ask questions, challenge ideas, and use data – not just intuition – to make decisions."
Moving to Tableau has allowed us to efficiently visualise progress of our events, anticipate event trends and report both on an institutional and operational level in a user friendly way.