From IPO to acquisition and beyond, how data analyst Jay Peir helped bring analytics to everyone
Jay Peir has been critical to Tableau's strategic growth.
A 10-year veteran of Tableau, the Executive VP of Corporate Strategy is now responsible for aligning and executing Tableau's strategic direction as part of Salesforce. Since the acquisition, Jay has worked to integrate our teams and products to deliver the most intelligent and intuitive analytics platform to a much broader set of customers.
He is also the executive advisor for the Tableau Foundation, an organization using data to solve the world's biggest problems, and for Asiapacforce, a group that empowers Salesforce employees, the Asia Pacific community, and allies worldwide to build equality while celebrating diversity.
I sat down with Jay to discuss his journey from IPO and beyond with Tableau, his pandemic silver lining, and why he's most proud of his work with the Tableau Foundation.
Molly: How did you come to Tableau?
Jay: Tableau co-founder and former CEO Christian Chabot contacted me. We both started our careers as data analysts sharing an office at a consulting firm, and our experience helped shape the vision for what Tableau would become.
At the time, the data analysis process was time consuming. As analysts, we depended on our IT department to extract and process data for analysis. After we analyzed the data in spreadsheets, relational databases, or statistical applications, we worked with graphic designers to create beautiful visualizations and slides. If we needed a different data set or new analysis, we would have to backtrack and start all over again.
After our analyst days, Christian and I went our separate ways. I had the good fortune of helping to grow a solar company, SunPower, from a startup to a multibillion-dollar, publicly traded company.
Christian, Pat Hanrahan, and Chris Stolte founded Tableau to put the power of visual analytics into the hands of the people who best understood the data. They wanted to enable analysts to access governed data and produce beautiful visualizations. When Christian reached out in 2011, Tableau was at a critical juncture. I was brought on to guide its growth strategy and help take the company public.
Molly: How has your role evolved with Tableau's growth?
Jay: I've worn many different hats at Tableau, generally following the pattern of where I could help drive growth. Initially, I managed our IPO process, investor relations, corporate development, and strategic planning.
After we went public, I helped lead the financial planning and analysis (FP&A) to tie our internal planning and modeling with our guidance to investors. Soon I also managed sales planning to strengthen the tie between our sales and financial planning. I led the transition from perpetual licenses to a subscription business-model in 2016, building a pricing team and function along the way.
I'm most proud of helping to create the Tableau Foundation. And the best decision we made for the Foundation was hiring Neal Myrick, who has built and led it for the last seven years.
Molly: Tell us more about the start of the Tableau Foundation.
Jay: At Tableau, we have always believed in the power of data. Data can be a force for good—it has the power to create solutions to tough, complex problems, from eradicating disease to fighting for racial justice.
Before our IPO, I worked with Christian, Chris, and Pat to establish the Foundation. The organization was built to "encourage the use of facts and analytical reasoning to solve the world's problems."
The impact and magic of the Foundation has been the combination of our software, our employees, the Tableau Community, and our partners. Together we have helped non-profits and NGOs build Data Cultures to harness their data for good.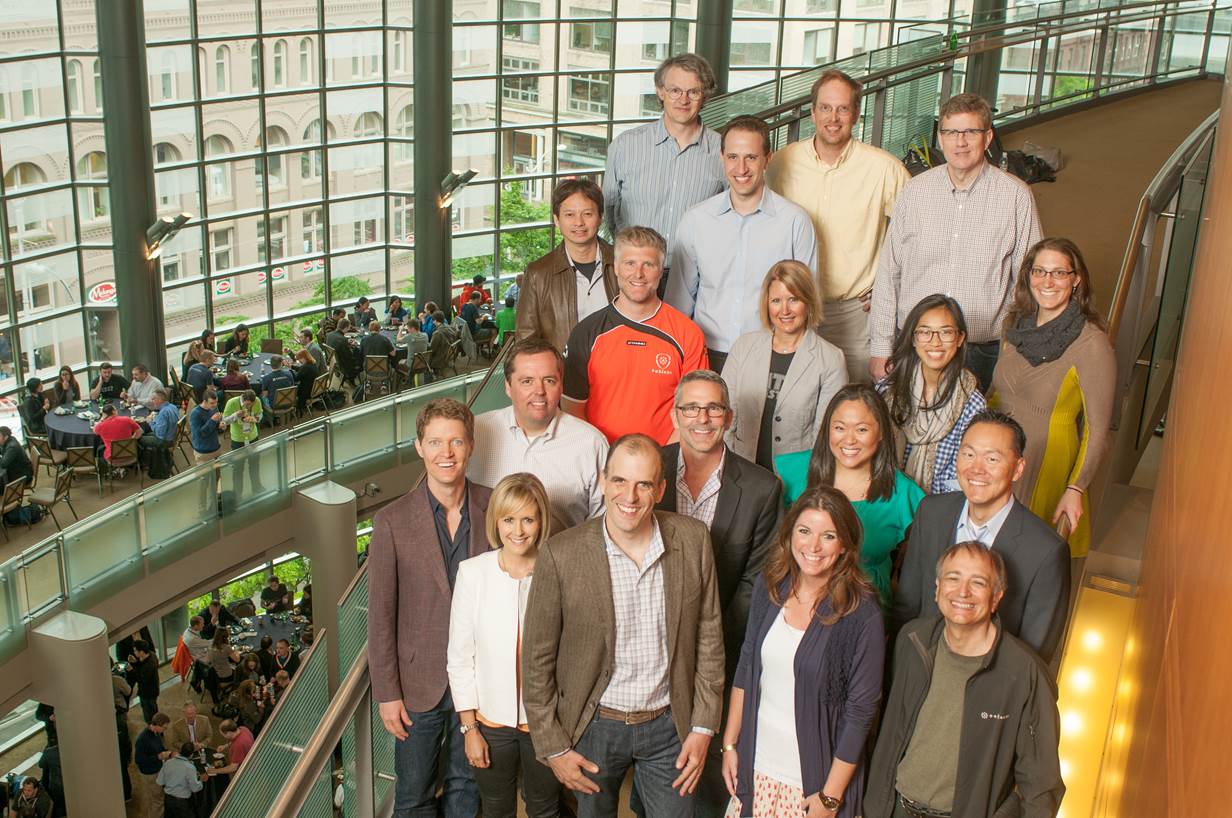 Jay (one up from bottom right) at an early Tableau Foundation workgroup. Also pictured: Tableau founders Christian Chabot (front left), Chris Stolte (front middle), and Pat Hanrahan (front right) and Tableau Foundation leader Neal Myrick (second row, middle)
Molly: Can you share a few examples of where we've made a difference?
Jay: The Visualize No Malaria project with PATH to eliminate malaria in Zambia. PATH used data collected by community workers to target resources for healthcare workers to treat symptomatic individuals and those around them. In the first three years of our partnership, deaths and illnesses dropped more than 90 percent, and we've since expanded to five additional countries.
Homelessness is another focus. We're working with Community Solutions, a non-profit with a data-based approach to ending homelessness that's helped 14 communities functionally end homelessness and 46 other communities achieve a measurable reduction. Its Built for Zero initiative earned $100 million in the MacArthur Foundation's 100&Change competition to scale the initiative nationwide and demonstrate that data can help solve homelessness.
The third initiative is the World Food Programme's work to address hunger and famine. They collect data on local weather and economic conditions that may impact food security to react before crises happen. During the pandemic, they used Tableau to rapidly assess the impacts of COVID-19 on food supplies around the globe.
We launched the Racial Justice Data Initiative last year, in partnership with community-based organizations, to increase the use of data as a critical tool in the fight against entrenched, systemic racism in the United States. We also created the Racial Equity Data Hub to help local organizations advocate for the use of data to advance their community efforts. This multi-level approach is new for the Foundation, but conversations with our partners made it clear that democratizing data for this type of work didn't just fit one model.
Molly: You are also an executive sponsor for Asiapacforce, a Salesforce employee resource for unifying the Asia Pacific community and allies worldwide. Tell us more about this role and your goals, especially with the increased violence toward Asians and Asian Americans?
Jay: I became involved with Asiapacforce shortly after we became part of Salesforce, and I've been more heavily engaged since the recent rise in hate, violence, bigotry, and discrimination against Asian Americans and Pacific Islanders (AAPI). I am proud of how the Asiapacforce leadership team has stood up, spoken out, and supported our community during these difficult times. I have also been touched by the outpouring of support from allies throughout Salesforce.
I'm proud and thankful to work for a company that stands with the AAPI communities. Salesforce and the Tableau Foundation have provided $600,000 in financial support and software to Stop AAPI Hate, an organization that tracks hate, violence, harassment, and bullying to drive awareness and change. A number of our amazing colleagues have helped Stop AAPI Hate use Tableau and Tableau CRM to prep, analyze, and visualize its data.
Molly: What keeps you balanced outside of work?
Jay: For me, the silver lining of the pandemic has been spending more time at home in the Bay Area.
Since joining Tableau, I've been on the road two or three times a month, mostly to our headquarters in Seattle. But these past 16 months I haven't done that. I've spent a lot of time with my wife, our three kids—a rising senior and two rising juniors—and our dog, with many movies, game nights, and walks together.
We are grateful that the kids are getting back to more of their normal cadence, especially sports. We're making up for lost time this summer with four lacrosse, four basketball, and three baseball tournaments!
Molly: What big goal do you have for yourself at Tableau?
Jay: We persevered through many challenges during the pandemic and successfully pivoted to a virtual world. Now we have an opportunity to create an even better workplace with more flexibility in how, when, and where we work. I look forward to supporting the Tableau spirit so we can all flourish in this new flex-forward world.

Read Jay's latest blog post: How analytics is helping to accelerate, inspire, and connect with data—from racial equity to business transformation.