TC22: IT
Watch IT sessions from Tableau Conference 2022, on demand, and take your data skills to the next level.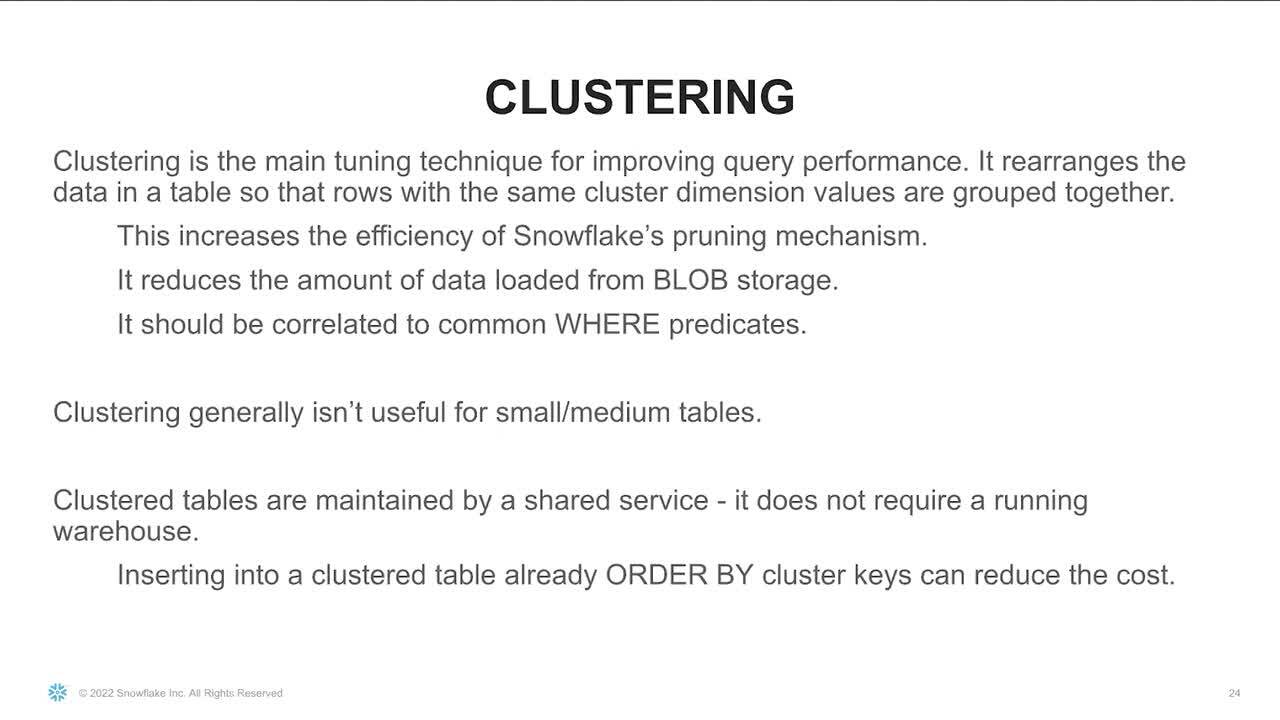 Best Practices for Using Tableau and Snowflake Together
Join this session to learn best practices for optimizing Tableau with Snowflake. We'll cover how to use the scale of Snowflake to meet your peak analytical demands through Tableau. Understand how to leverage features in Snowflake like Time-Travel, Multi-Cluster Warehouse, Custom SQL and UDF Functions. Learn how to use Tableau to optimize your Snowflake backend to make both platforms perform at their peak while delivering world class self-service analytics to your internal and external customers.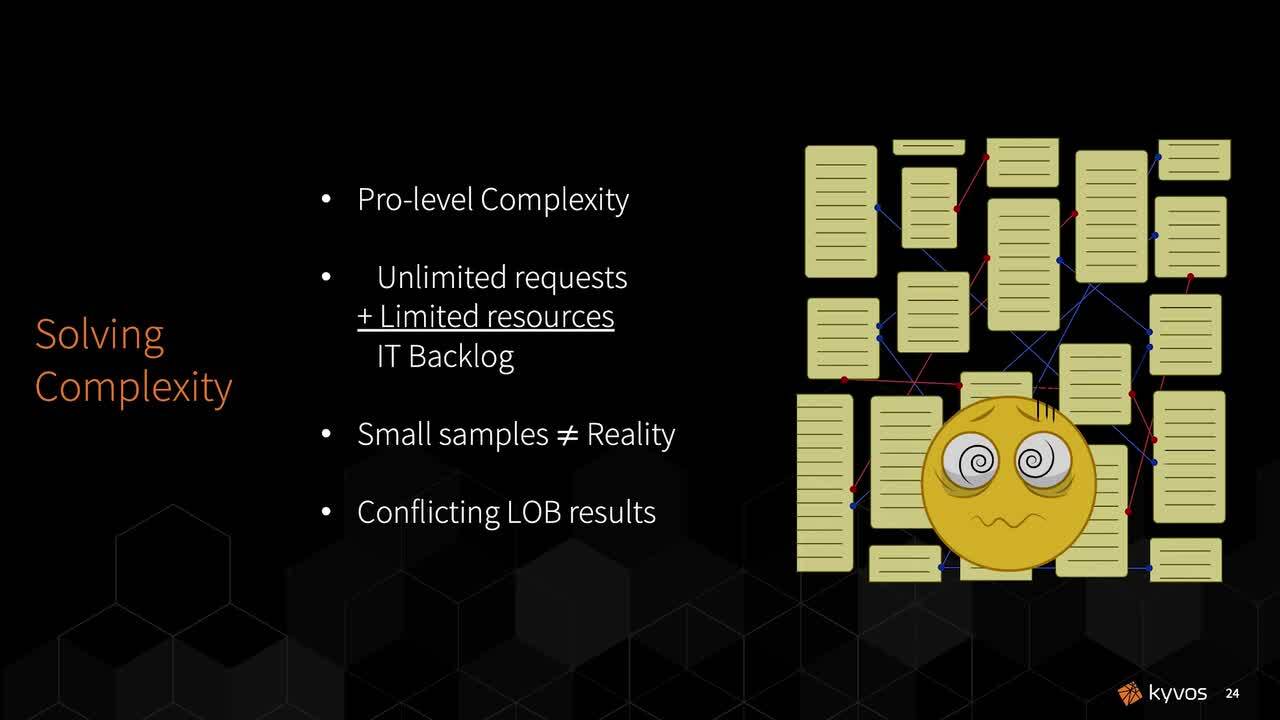 Kyvos Insights: Brilliance Meets Trillions: Tableau Powered by Kyvos for Fastest BI on the Cloud
Data is growing and you need deeper and faster insights to make game-changing decisions. Kyvos' smart semantic layer eliminates SQL coding and gives you instant access to all your Cloud data without any limitations.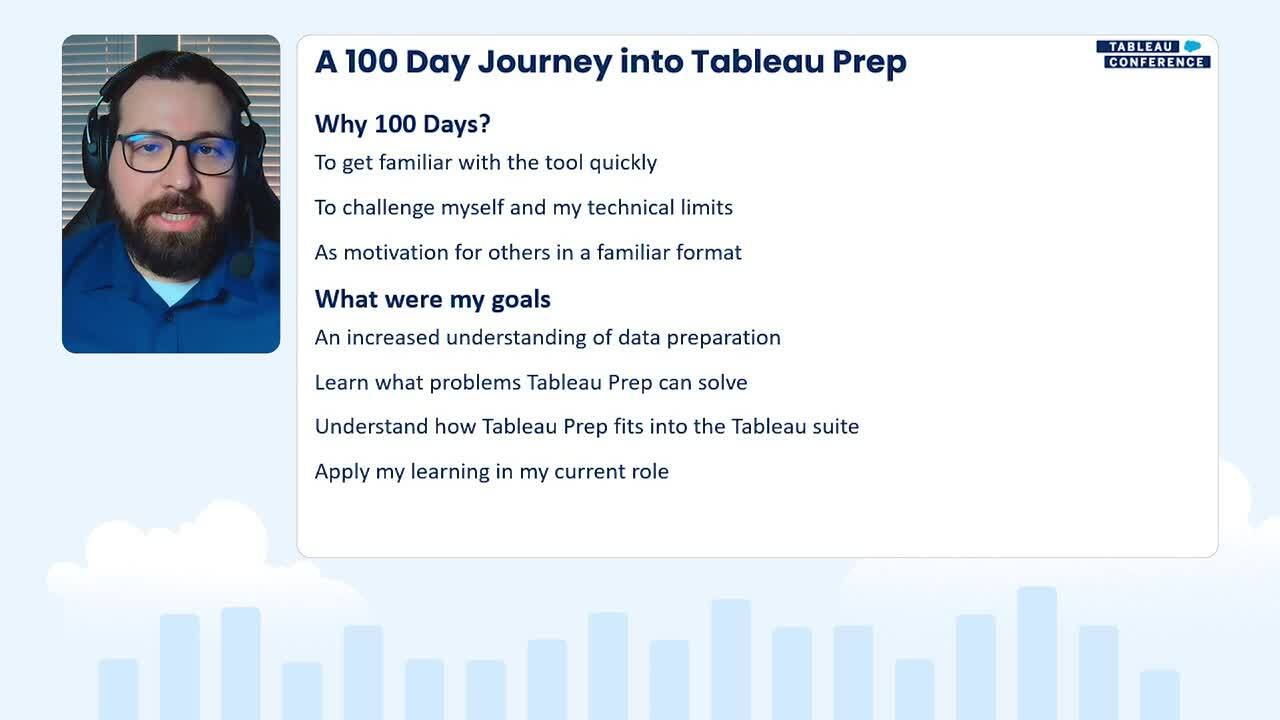 One Hundred Days of the #PreppinData Challenge
Jared Flores
Jenny Martin
Carl Allchin
Maybe you've heard of the popular Preppin' Data community challenge, but do you know its back story? Learn how the challenge came to be and how 100 days of data-prep challenges led to the ultimate self-service data preparation.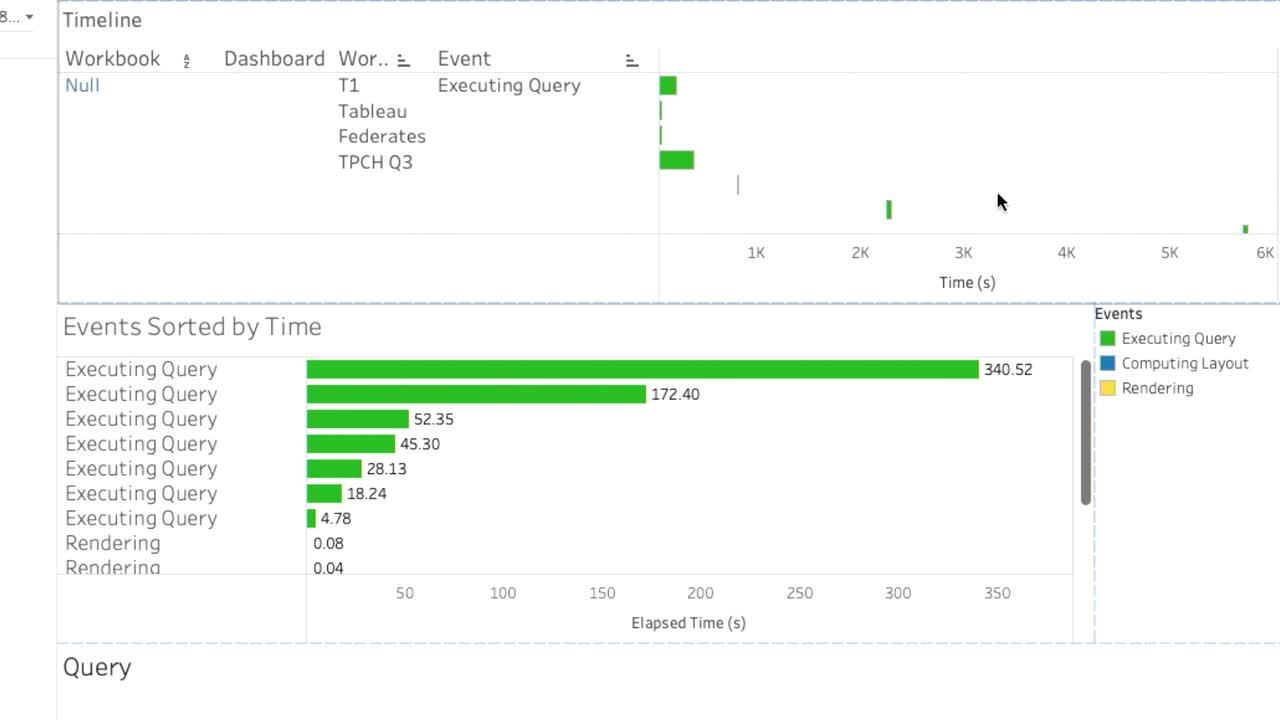 Live: Analytics on the Big Stuff: Starburst Gives Tableau "Any Size, Anywhere Powers"
Need to query, join, or federate data from multiple sources without copying or moving it into an extract? Slow queries on the lake got you down? Learn how Starburst gives Tableau query-anywhere superpowers.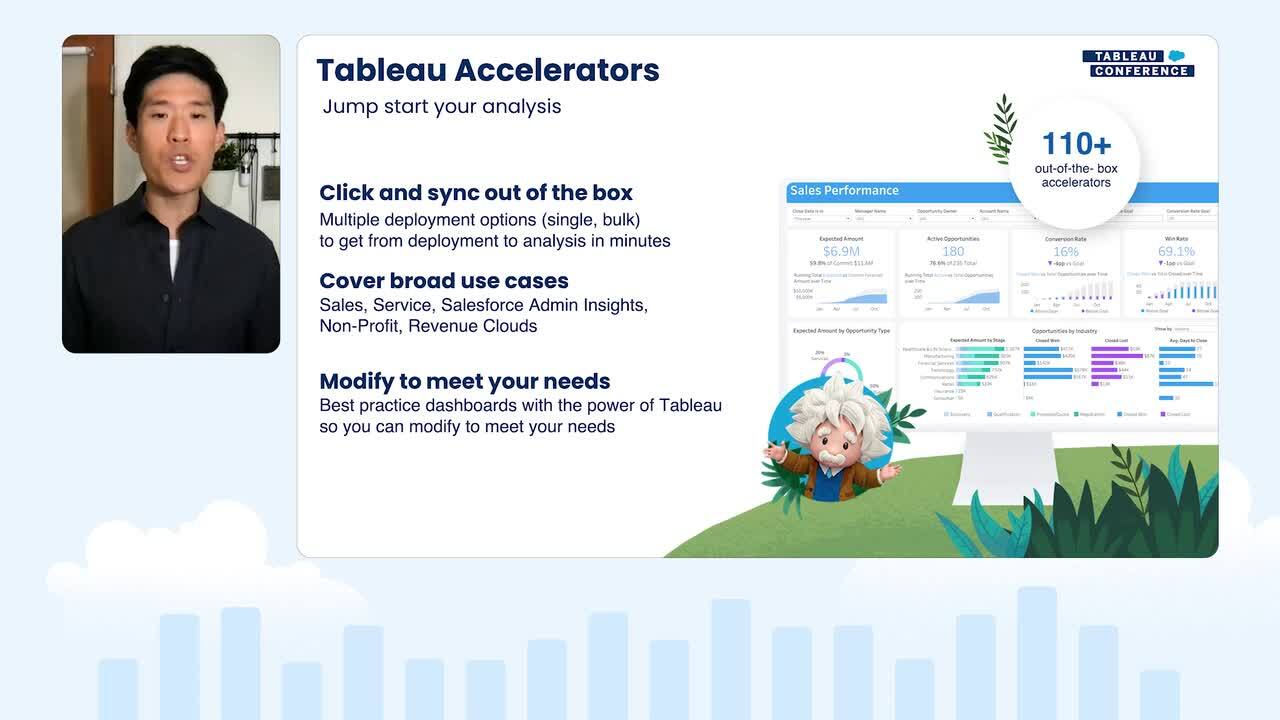 Harmonize, Visualize, and Automate Your Data Across Tableau and Salesforce
Discover how to harmonize all your Tableau and Salesforce data with native connectors and a new generation of data management. You'll also learn how to integrate a unified analytics studio with Tableau and infuse intelligence and automation across your business.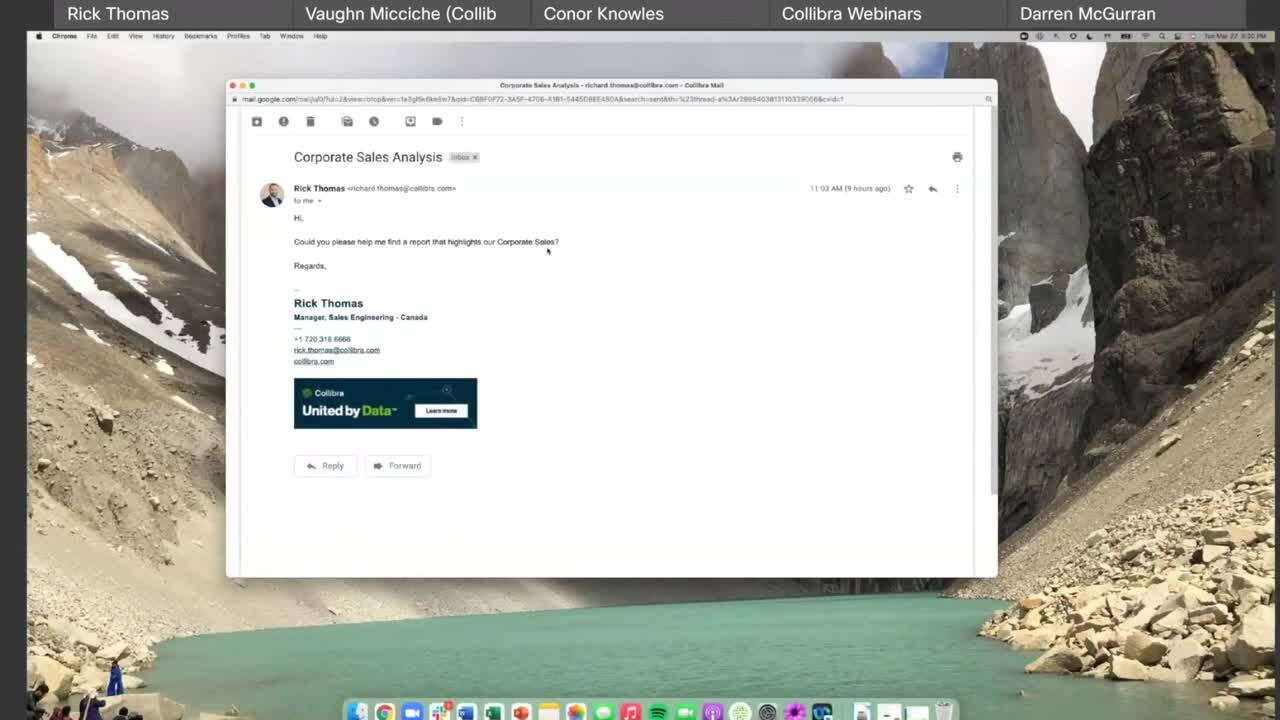 Unpacking Collibra and Tableau's Bi-directional Integration
Join us to learn how Collibra works with Tableau to make better data-driven decisions. In this session you will learn how we accelerate your time to value when adopting Tableau Catalog and how Tableau Catalog streamlines your user experience by updating directly to Collibra.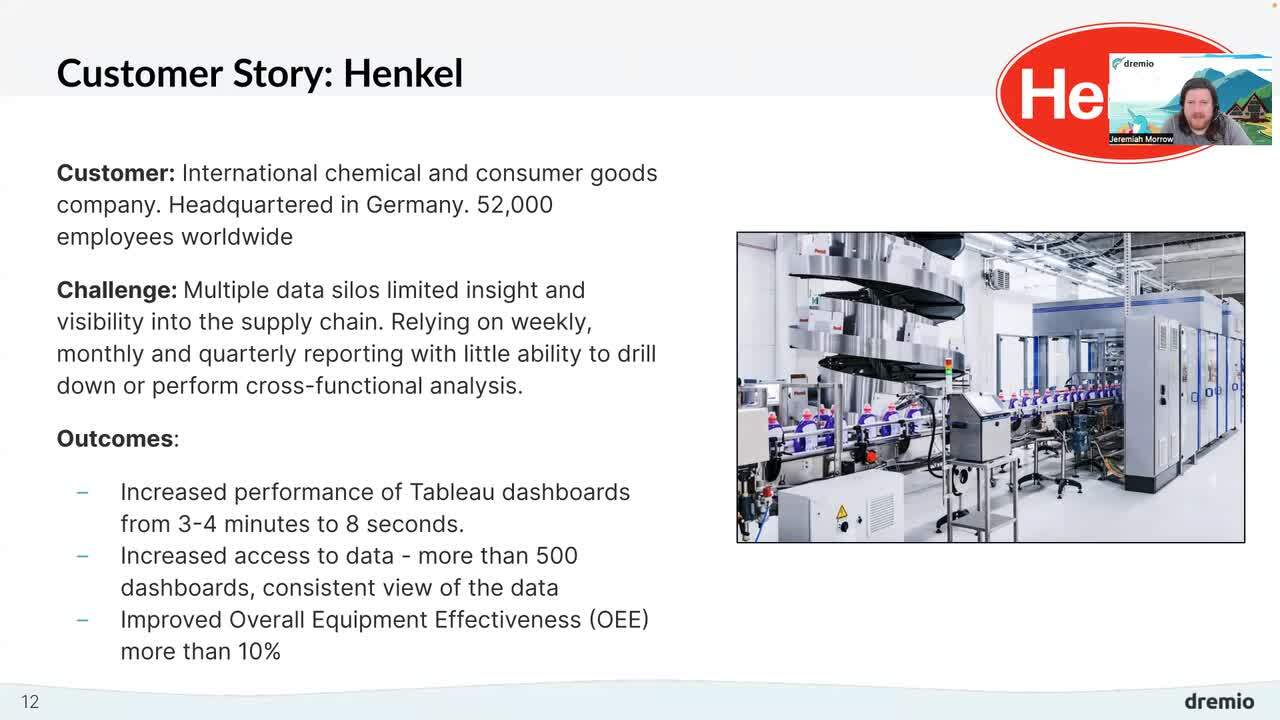 The Future of Business Intelligence: Analytics on the Open Lakehouse
Industry experts discuss how businesses can unlock analytic insights using the fastest-growing sources of customer and operational data, and how they can make them broadly available to data consumers. Presented by Dremio.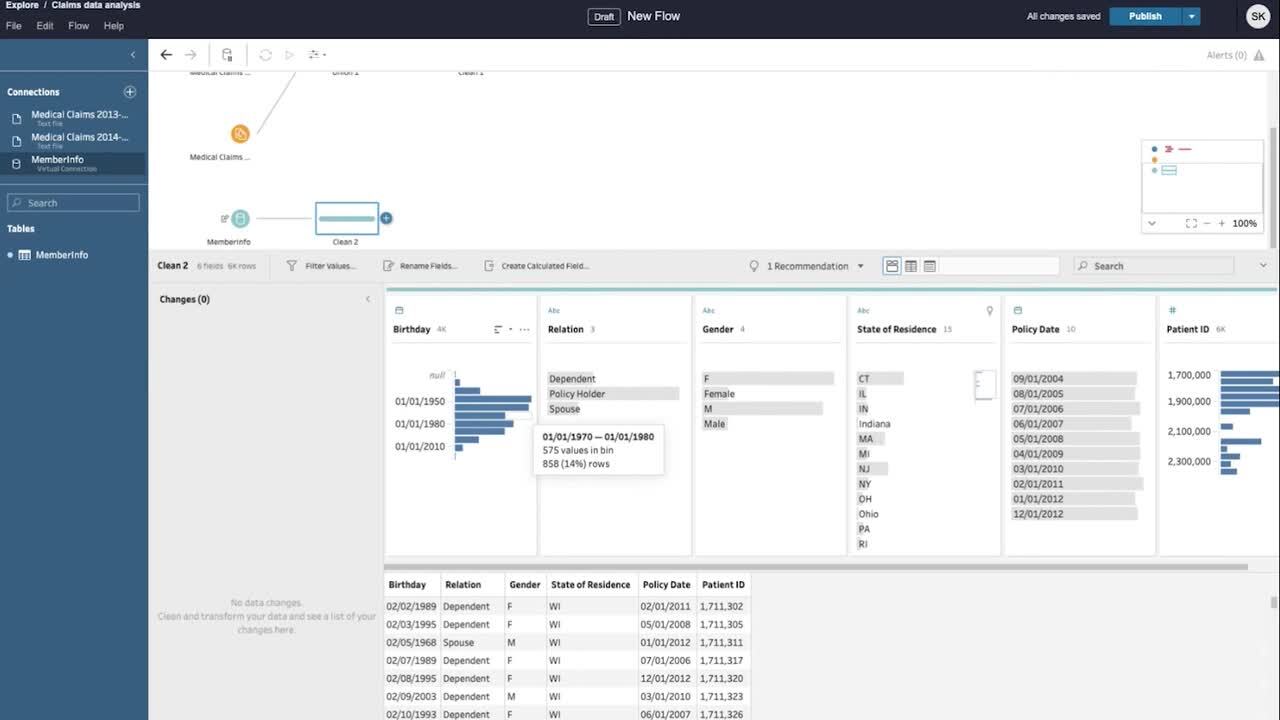 Achieve Enterprise Scale with Tableau Prep
Karen Madera
Shiva Kavindpadi
Fact: Modern analytics need orchestrated data-flow administration to make new data continuously available for analysis. Also fact: This session will help you use Tableau Prep Builder and Prep Conductor to ensure your decisions are based on fresh, reliable data.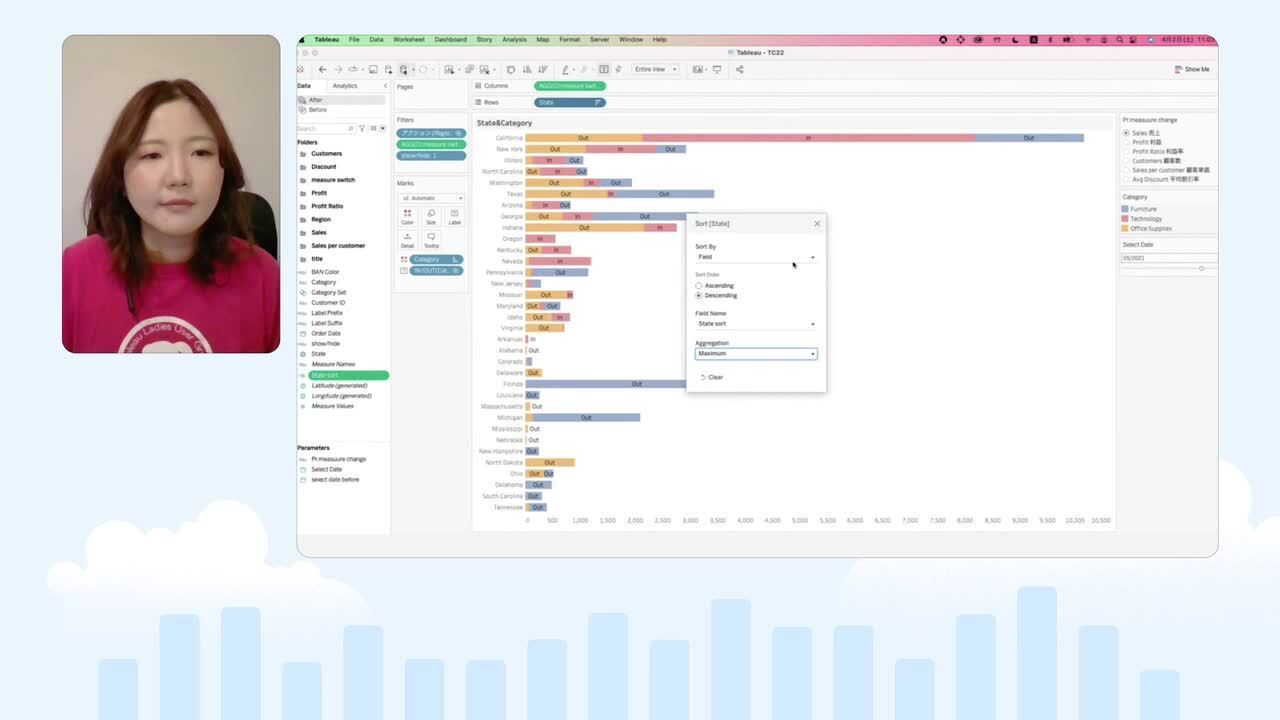 日本発!Tabjoによるクイックで簡単な実用tipsをご紹介!Quick and Easy Tips by Japan's Tableau Data Heroines
Tomoko Wakamatsu
Chiaki Ishida
Kayoko Yamashita
日本コミュニティーのデータ ヒロイン たちから、今日から使える簡単なTableau DesktopのTipsを学びましょう!
Join Tabjo, a women-led Japanese Tableau User Group (TUG), for simple, practical Tableau tips and tricks you can start using immediately.
Session presented in Japanese language with English subtitles.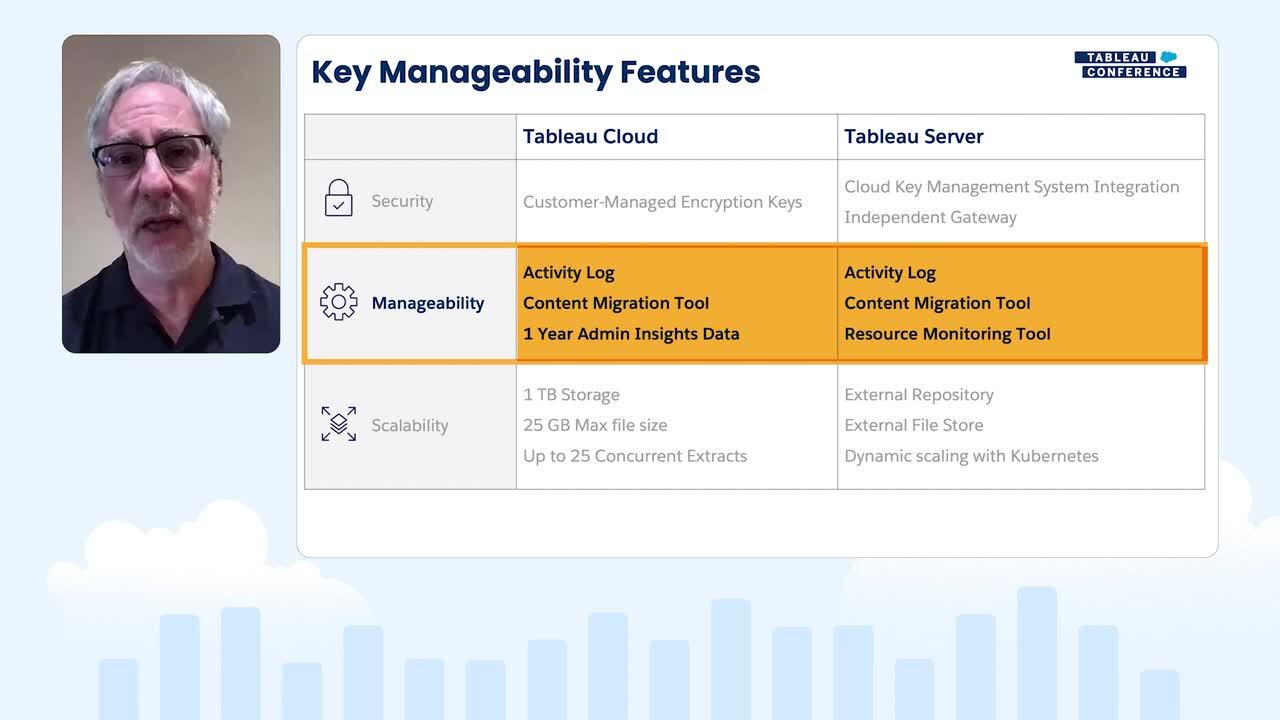 Scale and Secure Your Analytics with Advanced Management Innovations
Cathy Dumas
Bernhard Damberger
Make the most of your Tableau deployment—whether on-premises or in the cloud. Dive into best practices around security, scalability, and tuning to learn how to deploy and scale your Tableau instance.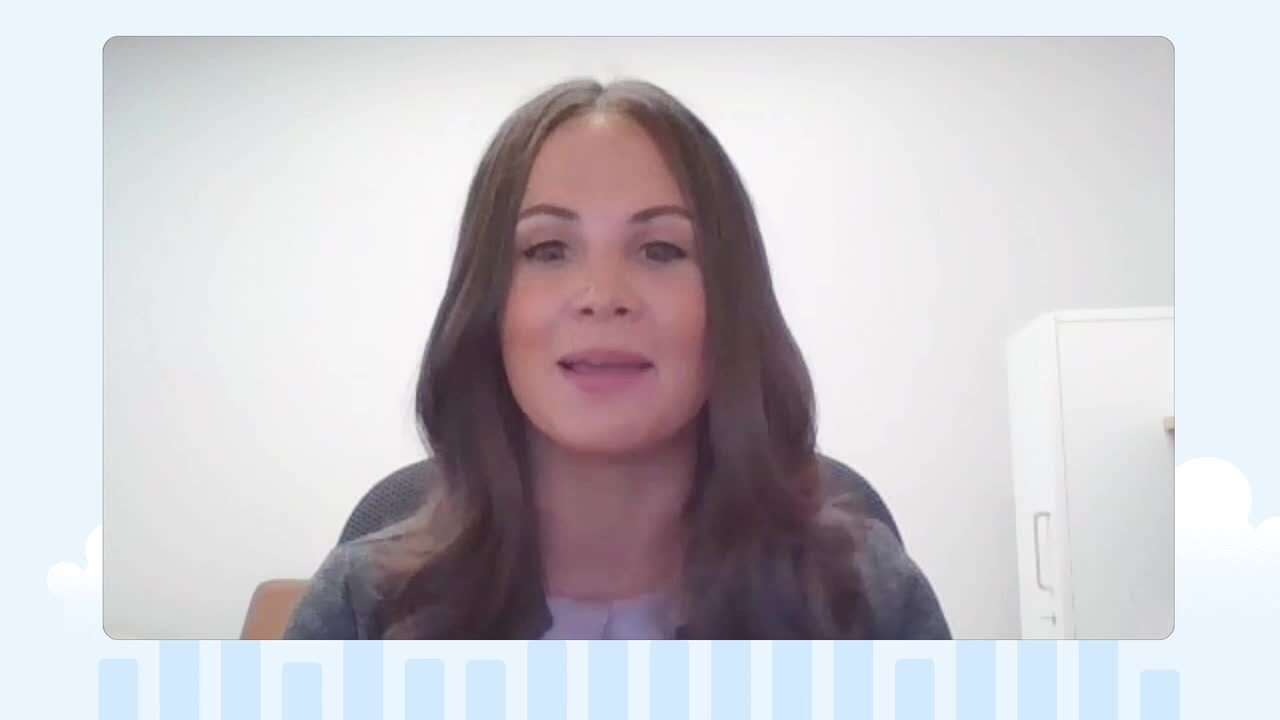 RBC Wealth Management: You Want Digital Transformation? Start with Data
Greg Beltzer
Michelle Feinstein
Amanda Dolan
Danielle Bryant
Every digital transformation is a data transformation. Join us to learn how a solid data strategy and the right governance model helped propel RBC Wealth Management's data transformation. Hear how they've leveraged Tableau, CRM Analytics, Salesforce, Slack, and MuleSoft to build a culture of empowerment, productivity, and business success.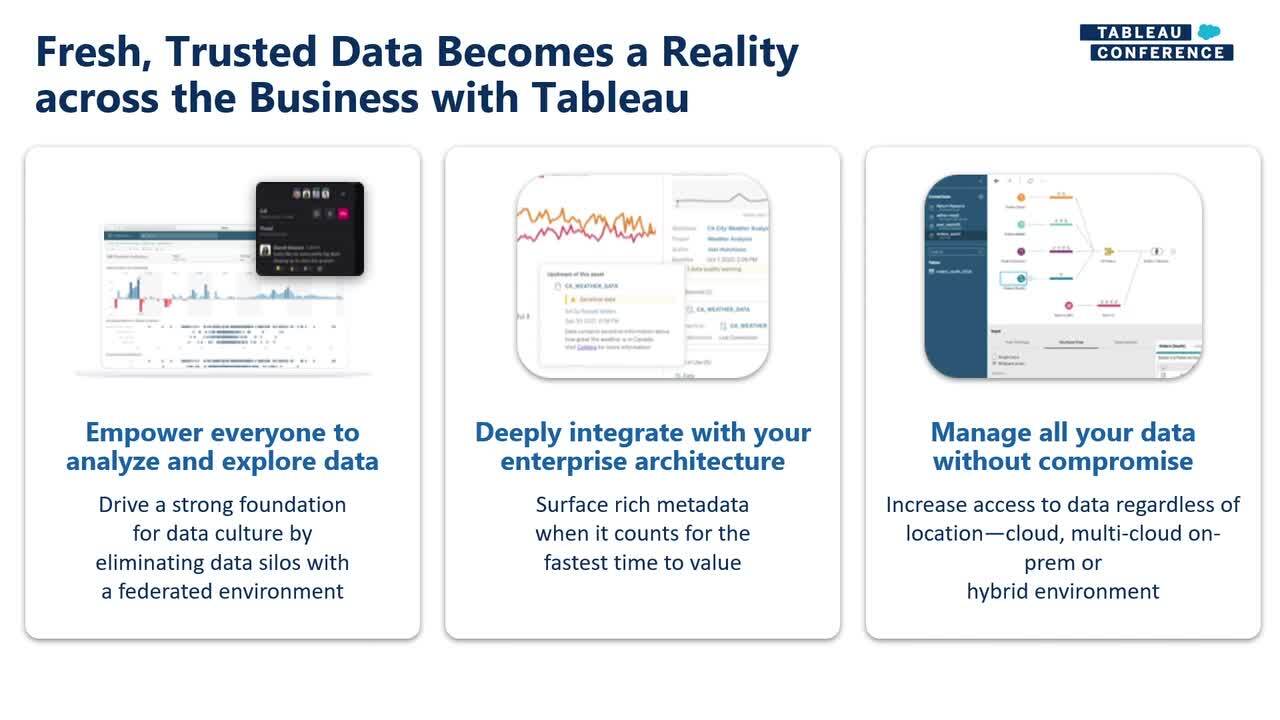 Purpose-Built Data Fabric: What, Why, and How It Can Accelerate Self-Service Analytics
Karen Madera
Jeremy Siewert
Discover how the data fabric design in Tableau can give you a better picture of your organization to enable better, faster decisions. You'll learn how Tableau is supporting data fabric programs that are built for transformational analytics to be more accessible, simpler to manage and accelerate adoption of trusted, scalable data.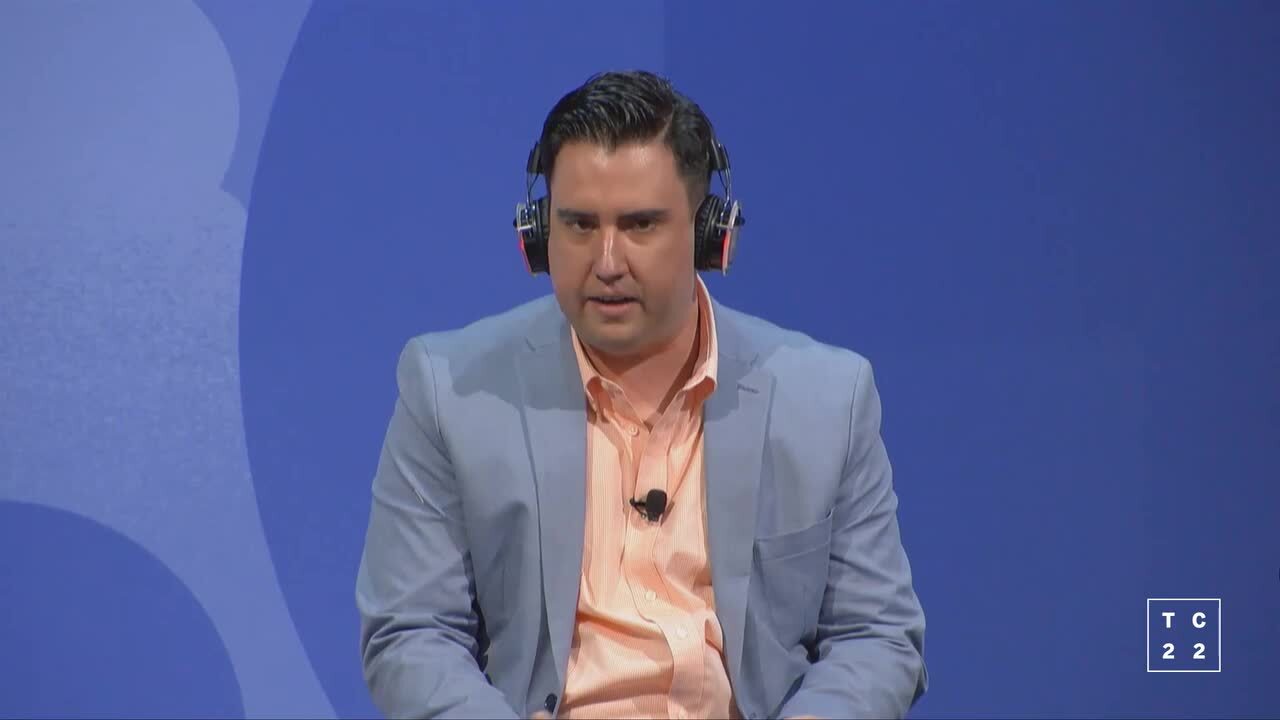 Live: JetBlue: The Great Upskilling and Runway to Recovery
In The Great Resignation, companies are losing high skilled crewmembers, yet, have less budget to attract top talent. JetBlue is solving staffing gaps with a hybrid approach called The Great Upskilling. This approach is lowering entry barriers for analysts, upskilling crewmembers, and building loyalty and excitement with Tableau. Additionally, Runway to Recovery, JetBlue's fuel-reduction initiative, uses a Tableau dashboard to help reduce the company's highest cost.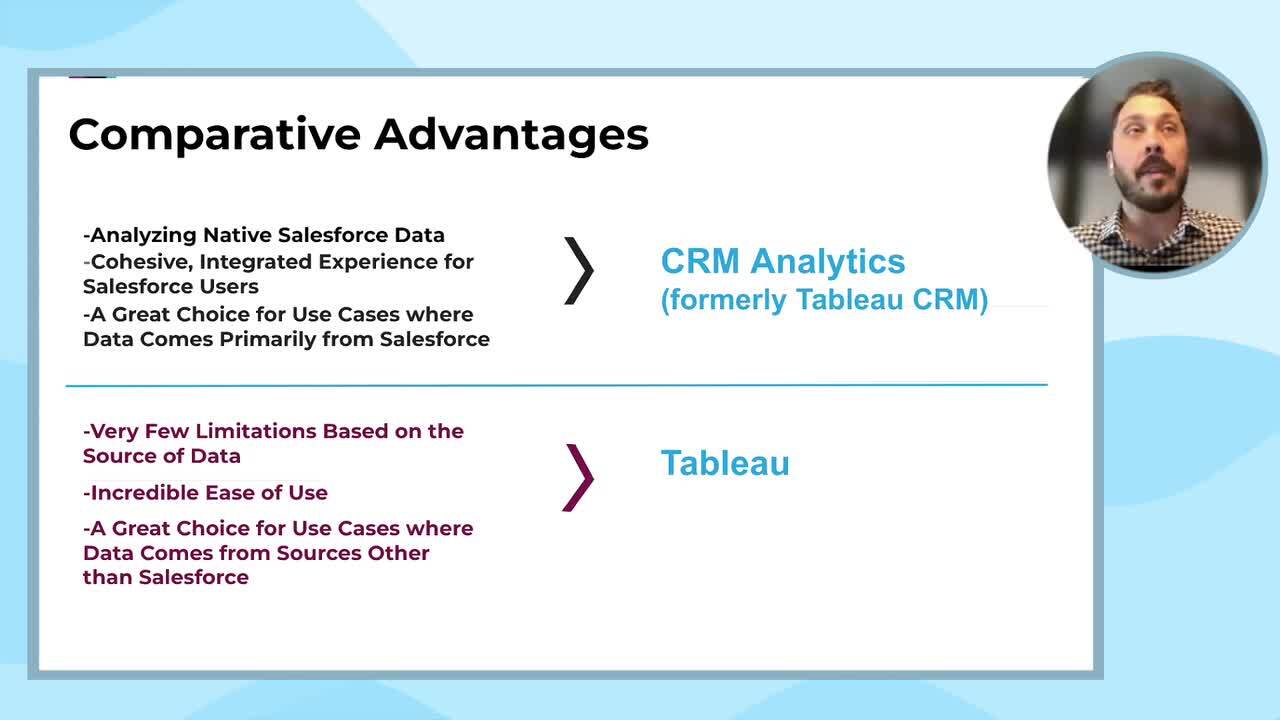 CRM Analytics or Tableau? The Key Factors Your Organization Can't Overlook
Ian Hagerman
Mai-Lynn LaTrace
Matt Wittlief
In 2022, the question isn't whether you need data-driven insights and automation, but how to make the most of the opportunity for competitive advantage. SpringML experts will show you how to choose the right tools, with tips for each step of your next data-driven project.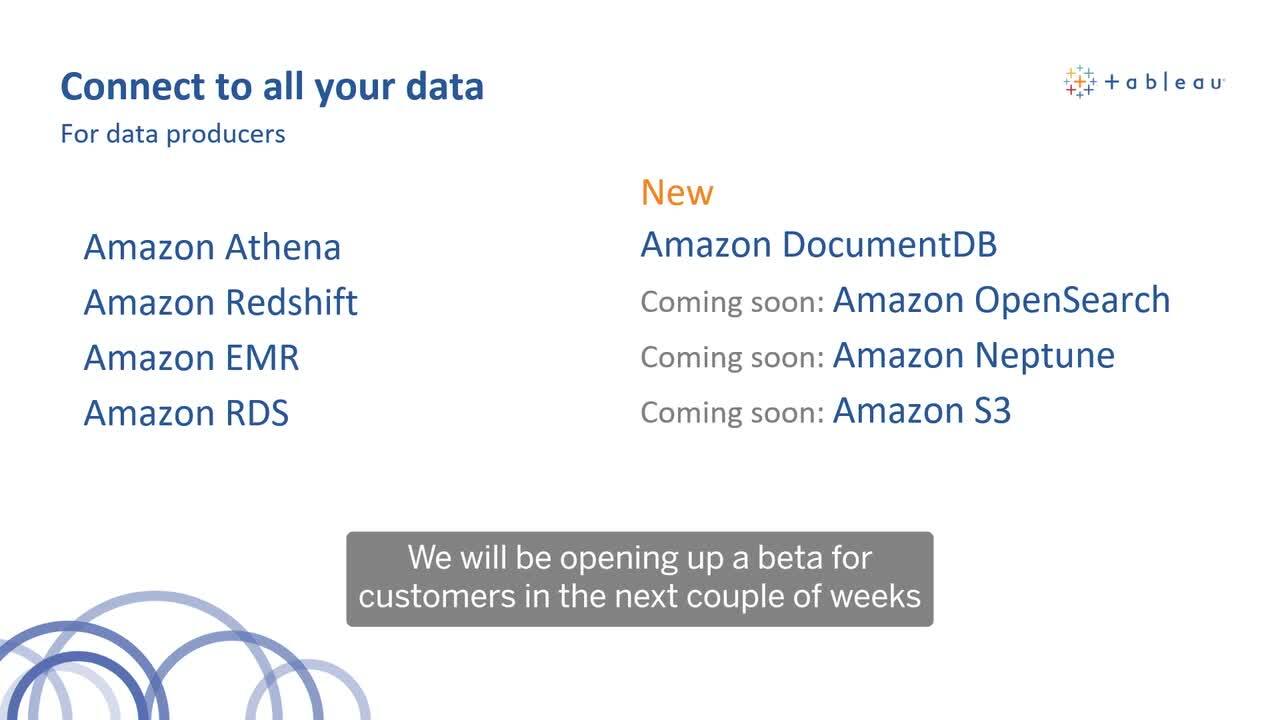 Tableau on AWS: A Roadmap for Scaling Your Enterprise Data and Analytics Strategy
The Tableau platform on AWS is continuously evolving to drive your corporate analytics and data governance strategy at scale. In this session, we'll explore how Tableau innovation impacts how you curate and govern data while managing the platform for self-service analytics at scale, including capabilities--from centralized security, enterprise architecture, resource management, and dynamic scaling container architecture.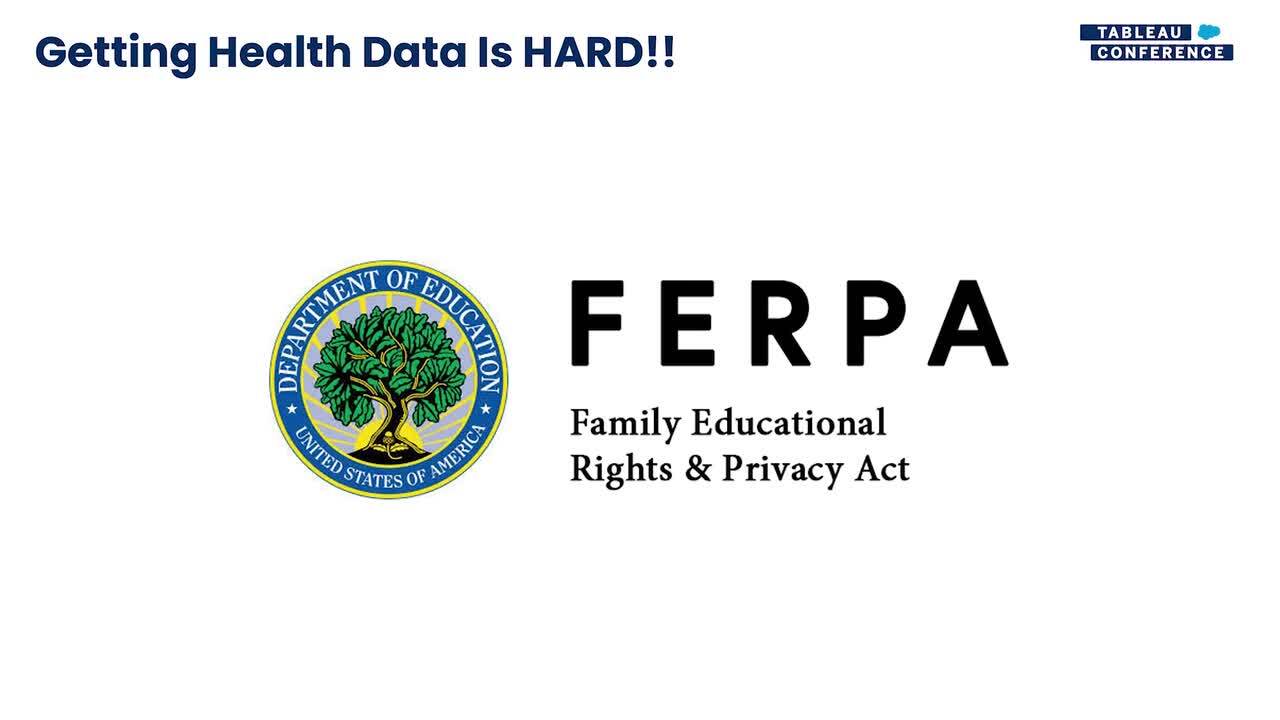 Lake County Health Department: Empower Community Health by Respecting Everyone's Data
Jefferson McMillan - Wilhoit
Jefferson McMillan-Wilhoit of Lake County Health Department (LCHD) leads a public-health government tech team with an important mission: helping residents live healthy lives. After delivering effective patient vaccination experiences, he's transforming analytics at scale. Learn about his evolving analytics strategy to build public trust in data—using Tableau as a federated environment with Tableau Data Management. You'll take away tips to build flexibility into your data strategy and bridge collaboration between data governance and analytics programs.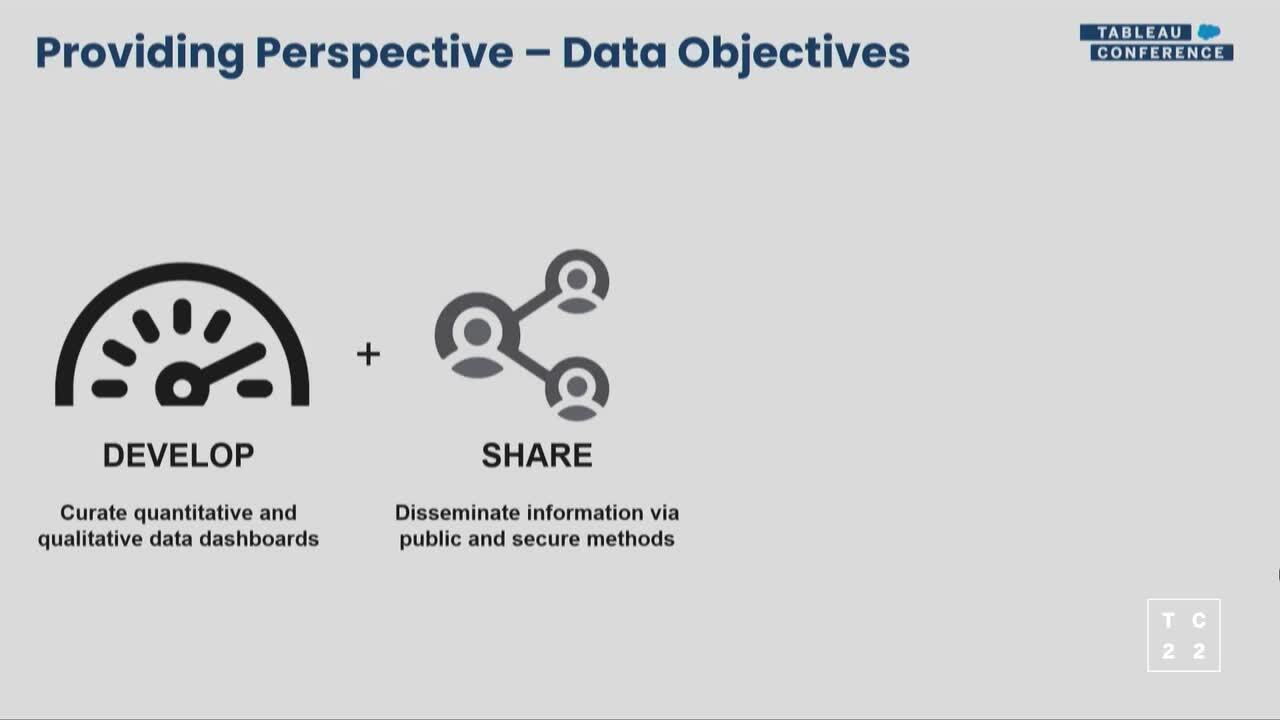 Live: Developing a Data Infrastructure and Culture at the University of South Carolina
Angelina Sylvain
Caroline Maulana
Angelina Sylvain, PhD, and Caroline Maulana are building a data infrastructure and culture from scratch at the University of South Carolina. Learn how they are institutionalizing Tableau to enable student success, escalate institutional analytics, and enhance data literacy and engagement overall.
Swiss Life: Analytics in Insurance: How a Data-Driven Strategy Protects Information, Enhances Trust, and Builds a Community
Emmanuel Dubois
Nathalie Agnes
Kristee Bingham
Founded over 160 years ago and a leading provider of life and pensions and financial solutions in Europe, Swiss Life has placed data at the center of its business. Tune in to discover how this notable financial institution strategically deployed analytics across the organization while keeping a lens on privacy and trust, established a data-driven culture, and created a beloved community to share ideas and leading practices.
Session presented in French language with English subtitles.
Comcast: In Data We Trust: Creating Stakeholder Loyalty Within Your Data Footprint
Comcast's focus on sustaining internal consumers trust while increasing confidence has driven them to prioritize transforming an unstructured analytics environment into a trusted digital data platform using a governance framework. Join this session to learn about Comcast's focus on sustaining internal consumers trust while increasing confidence has driven them to prioritize transforming an unstructured analytics environment into a trusted data platform using a governance framework. Join this session to hear how Erin Hamm, Security BI Manager at Comcast, created a foundation for secure, trusted data that empowers every team in the enterprise to confidently leverage data, Erin Hamm, Security BI Manager at Comcast.