TC22: Business User
Watch business user from Tableau Conference 2022, on demand, and take your data skills to the next level.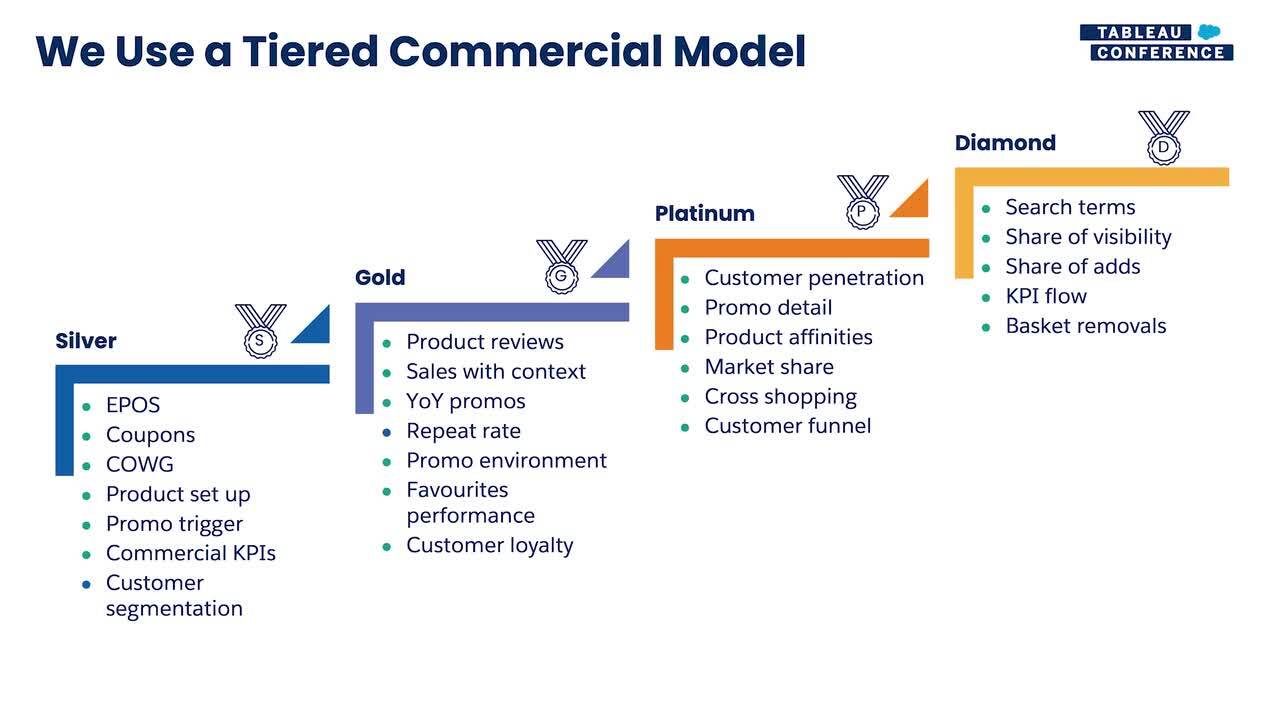 Ocado Retail: How to Monetize Your Data
Retailers are building new revenue streams by monetizing their data with their vendors. Ocado, the world's largest online-only grocery retailer, is supporting and driving revenue by providing suppliers with the data they need to understand their customers.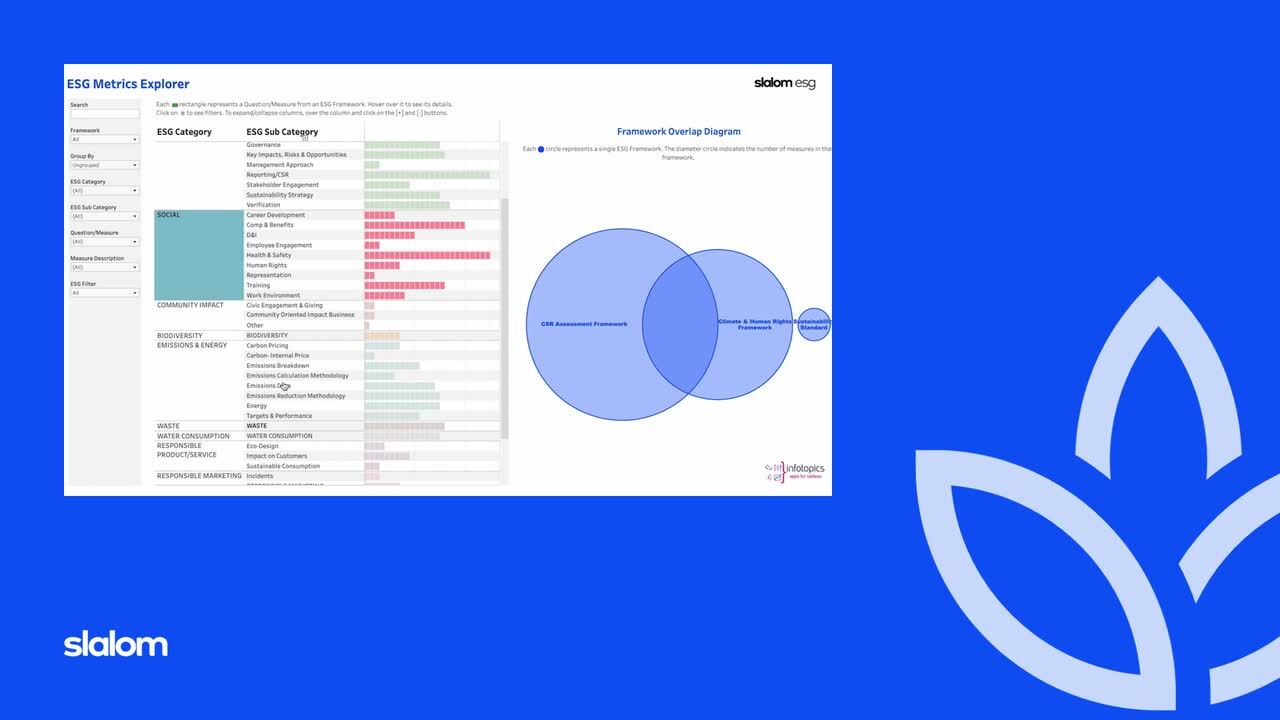 Slalom: Accelerate Your Environmental Performance with Tableau
David Justiniano
Cindy Tam
Julie Thomson
As institutions mobilize to address climate and societal challenges, garnering reliable impact data and insights is a fundamental enabler. Join us to learn more about ESG and how to measure and accelerate your performance with Tableau.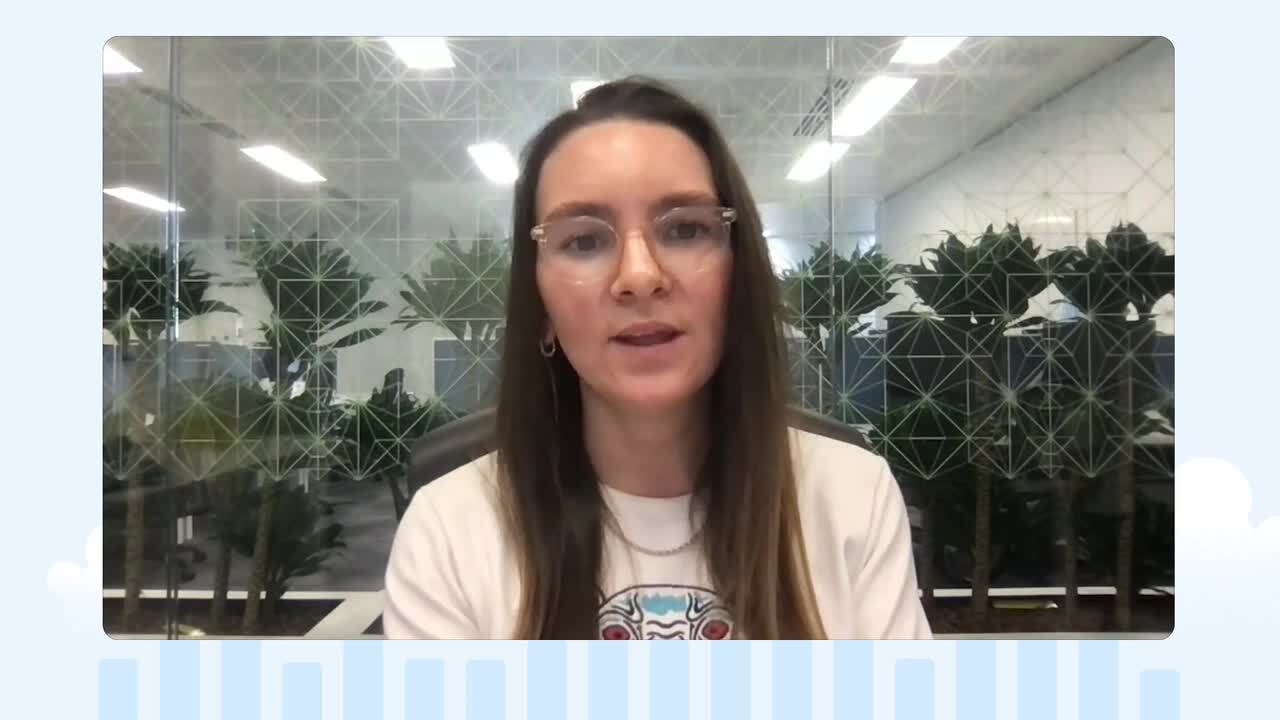 John Lewis Partnership: Leveraging Tableau to Bring Analytics to Everyone
Lydia Collett
Kat Jurgonska
Libby Hickey
As the John Lewis Partnership implements Tableau within their 80K person organization, they are enabling everyone—from analytics professionals to retail branch managers—to activate data insights. Learn about their personalized approach and the community they are building within the company.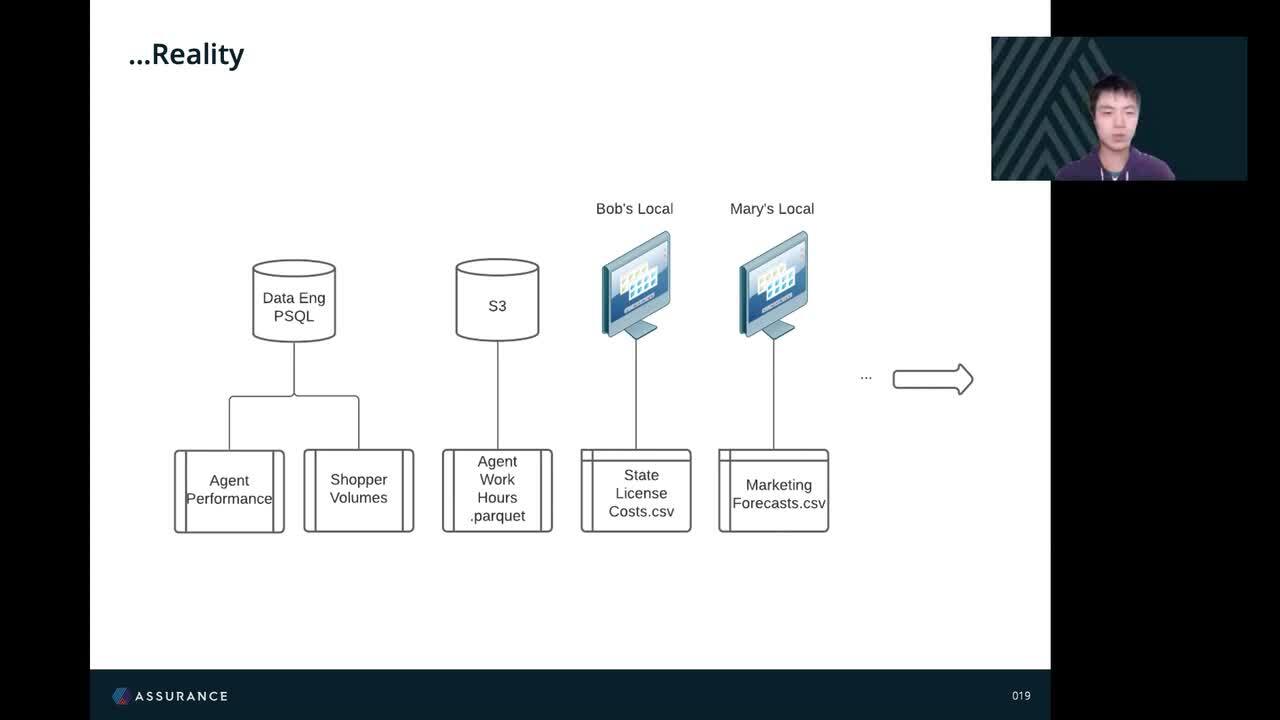 Assurance IQ Case Study: Unlocking More Business Value with Starburst and Tableau
Join this session to learn how Assurance, an online distribution platform for insurance and financial products, was able to improve conversion rates, reduce costs, and enable robust modeling with Starburst and Tableau.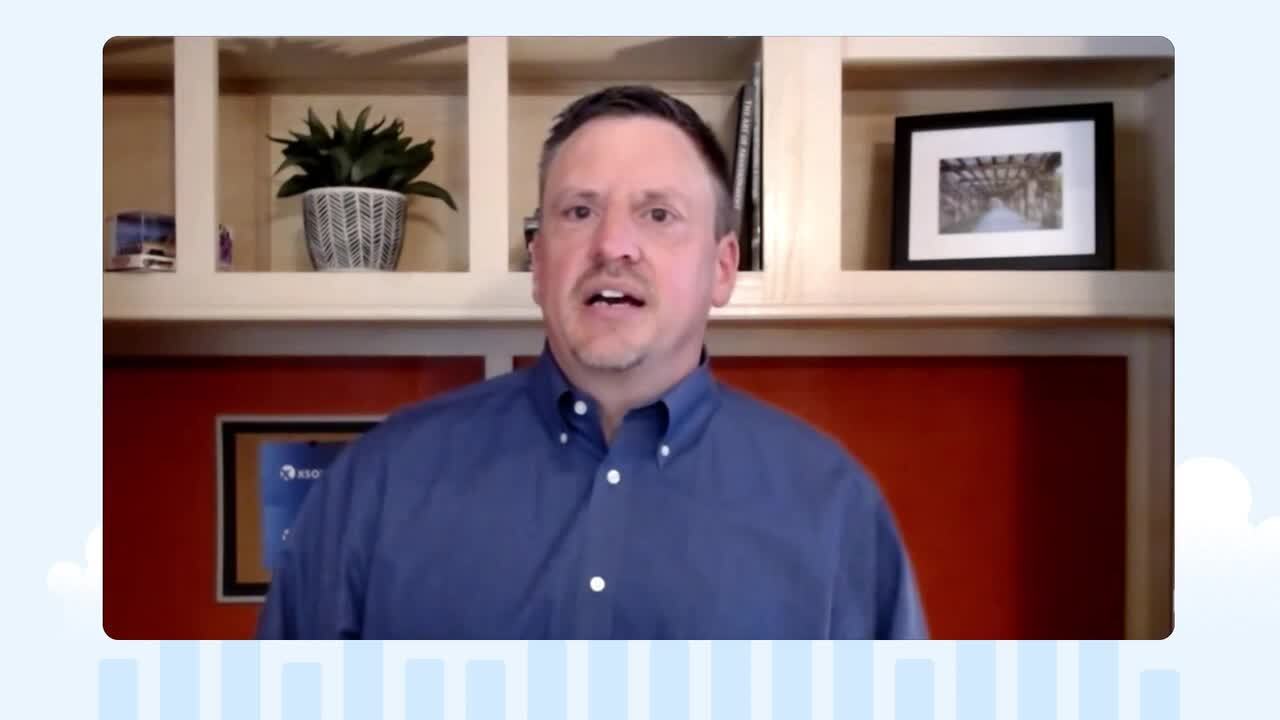 Xsolis: Tableau Exchange: The Accelerator Effect
Follow the Xsolis journey with Tableau Exchange and explore the business need driving Tableau Accelerators—what they are, how they help, and how they are used. Hear what business metrics you can share, such as time saved across the organization, number of people using dashboards, etc. Jump onto the Tableau Exchange for a demo of future Accelerators uses and learn what's available to you.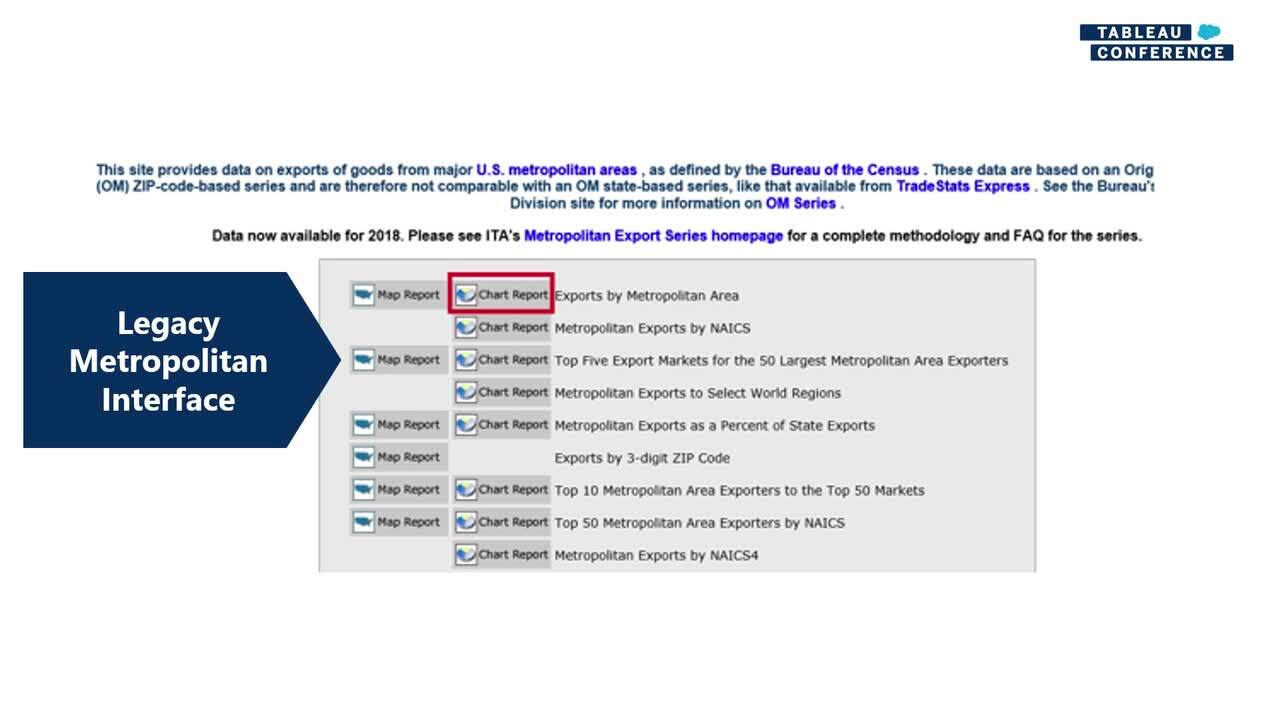 International Trade Administration: Trade Data for the Public, Journey to Modernization
An outdated, costly, and custom-built BI solution hampered ITA's ability to promote US exports. By modernizing with Tableau, ITA can now demystify trade and make it easy to understand the importance of exports in the US economy.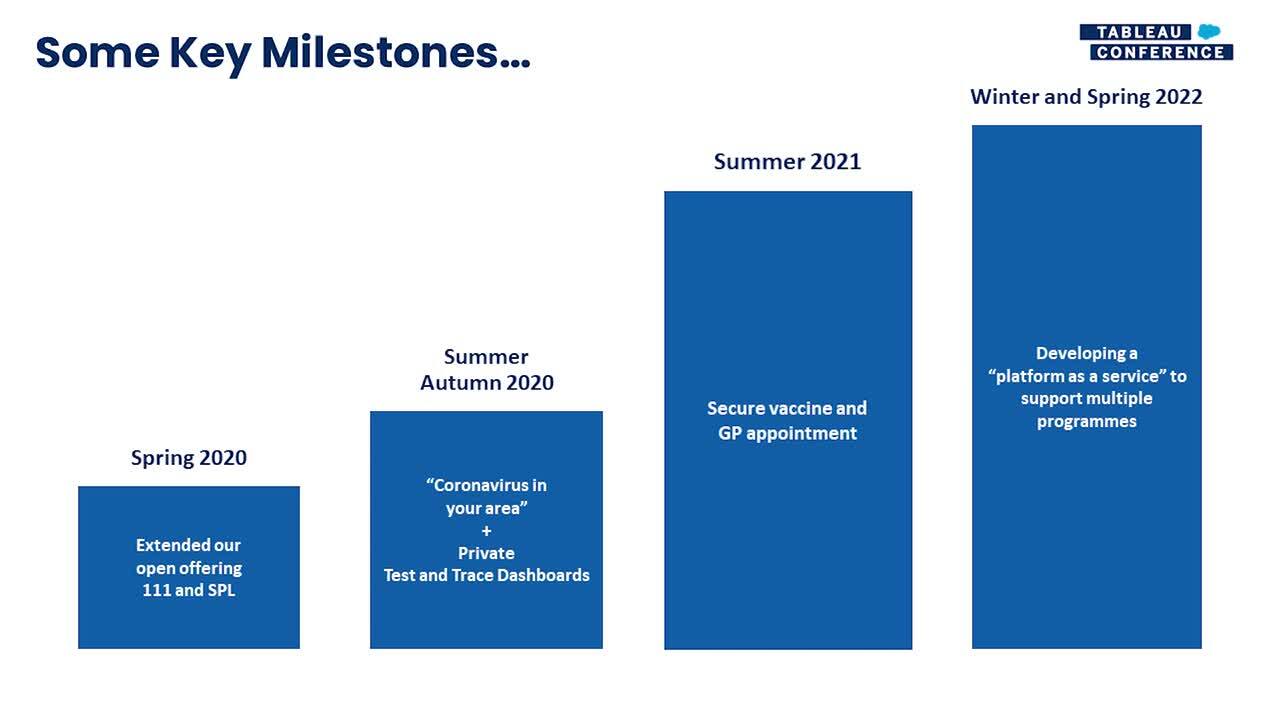 NHS Digital: Population Health Powered by Data
Empower your organization to build and streamline an analytics practice across the enterprise. Learn how healthcare organizations can use visual analytics to monitor care delivery, efficiently manage population health initiatives, and empower their workforce with data.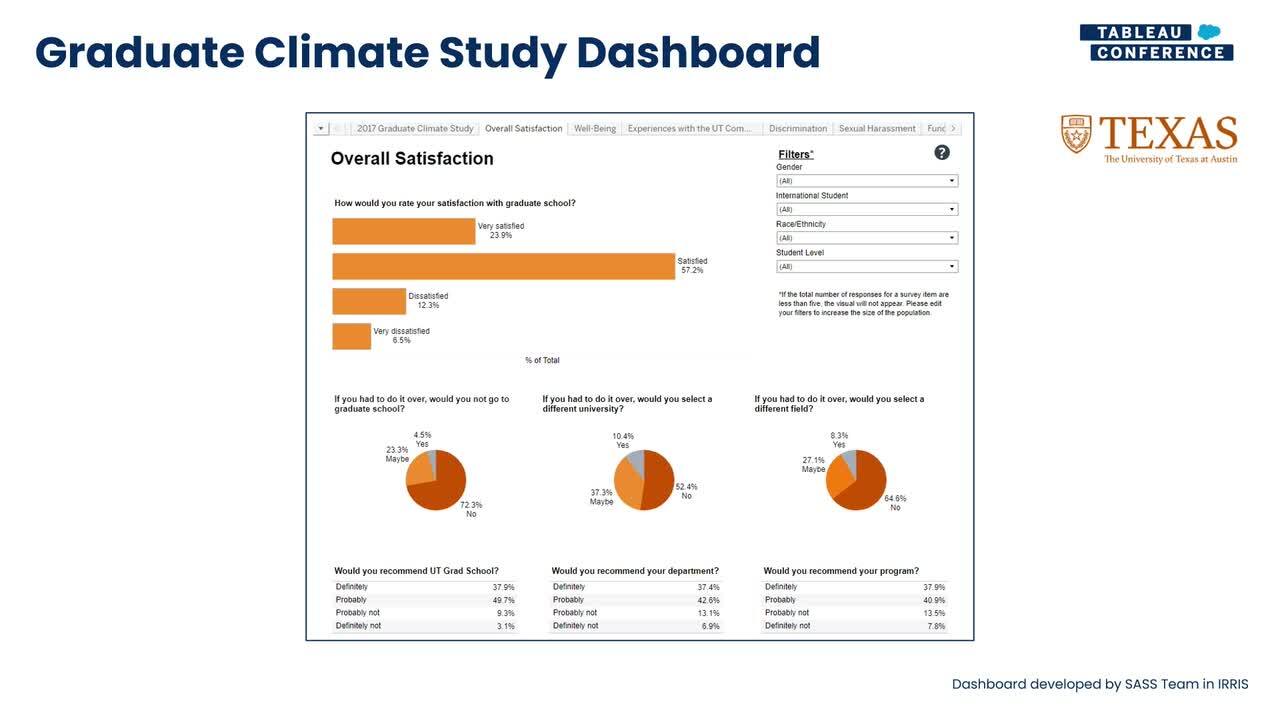 The University of Texas at Austin: Explore the Intersection of Data and Democracy Within Higher Education
The University of Texas at Austin (UT Austin) is home to a diverse population of 51,000 students and more than 24,000 faculty and staff. It's also home to The Office of Institutional Reporting, Research and Information Systems (IRRIS), a central point of contact for official campus statistics. As one of the largest public research universities in the country, IRRIS serves as a major repository for information on students, faculty, courses, Texas Legislature insights and more! Explore how collaborations between researchers and scholars enhance decision-making and deliver an interactive Spotlight on Data.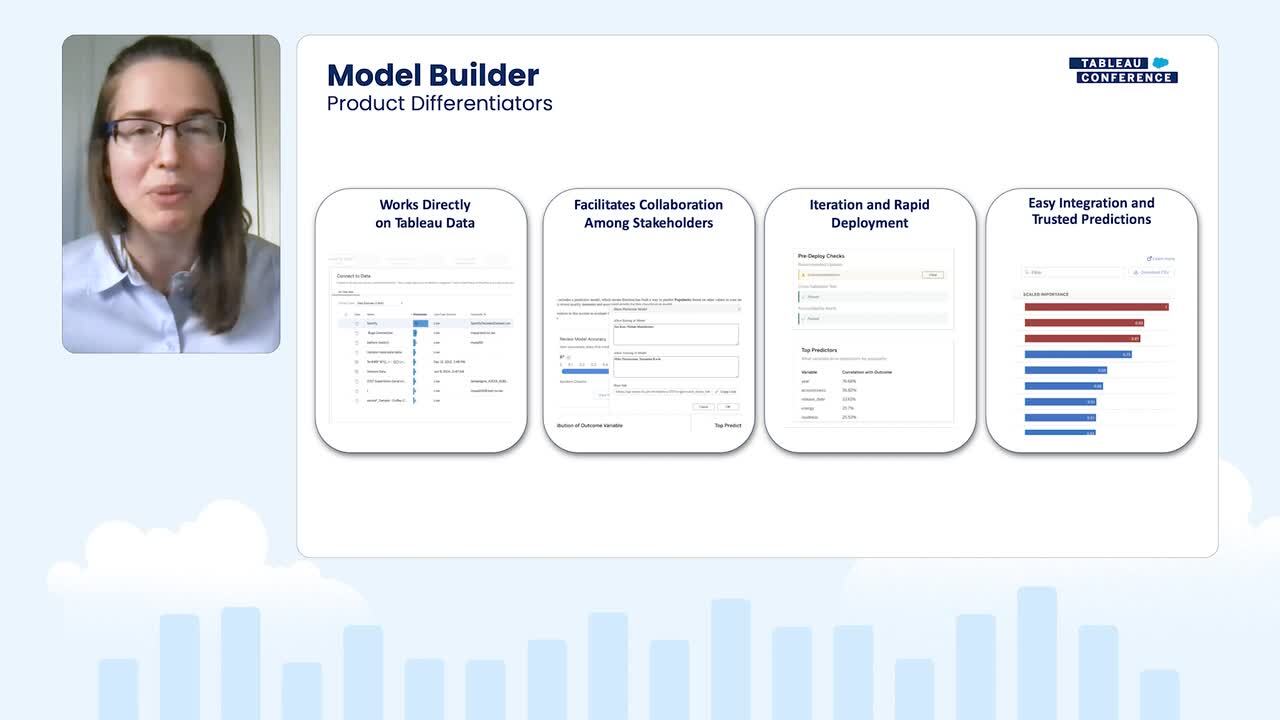 No-Code AI, ML, and Advanced Analytics That Empower Analysts
Discover how artificial intelligence (AI) and machine learning (ML) in Tableau can help you make smarter, faster, and more confident decisions. We'll demonstrate no-code capabilities, like what-if scenario planning, guided model building, and more.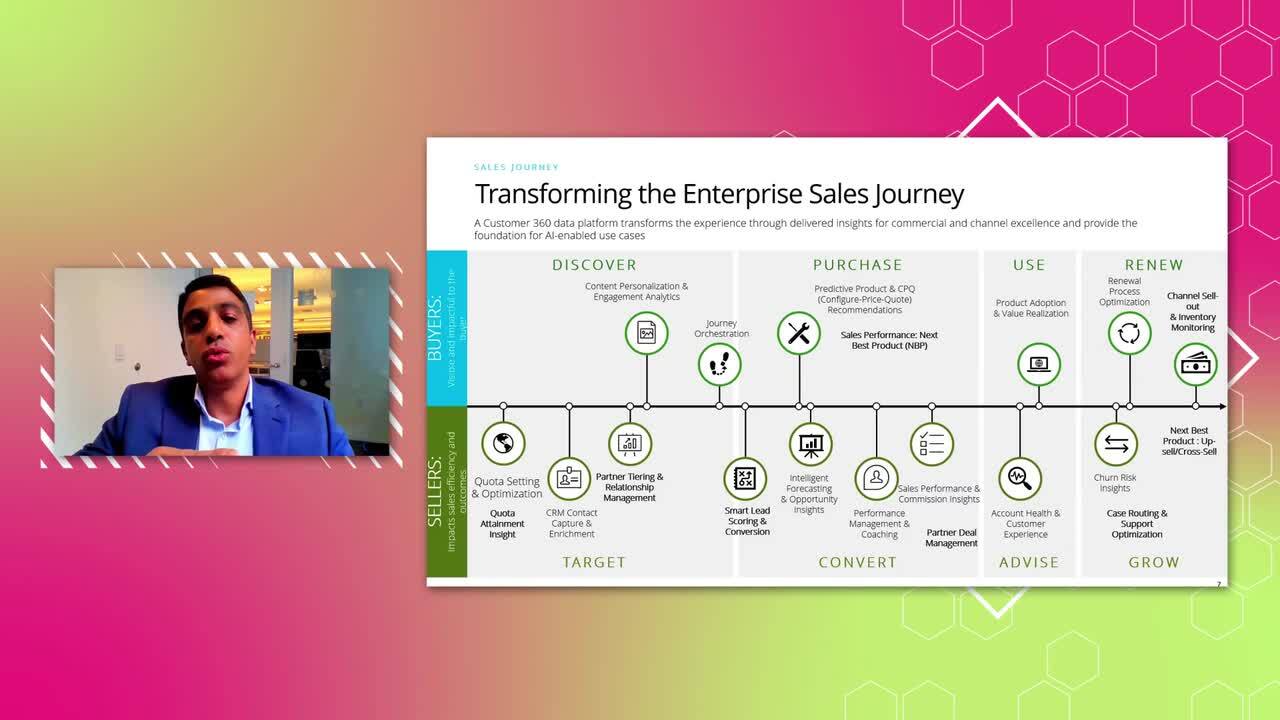 Transforming the Enterprise Data and Analytics Journey Across the Customer Eco-System
Richard Starnes
Brij Sharma
Jitendra Kumar
Companies need mature data management capabilities to drive customer insight, but disjointed CRM processes leave data disconnected. See how Deloitte's data-first solutions can bridge the gap with the Salesforce clouds and beyond.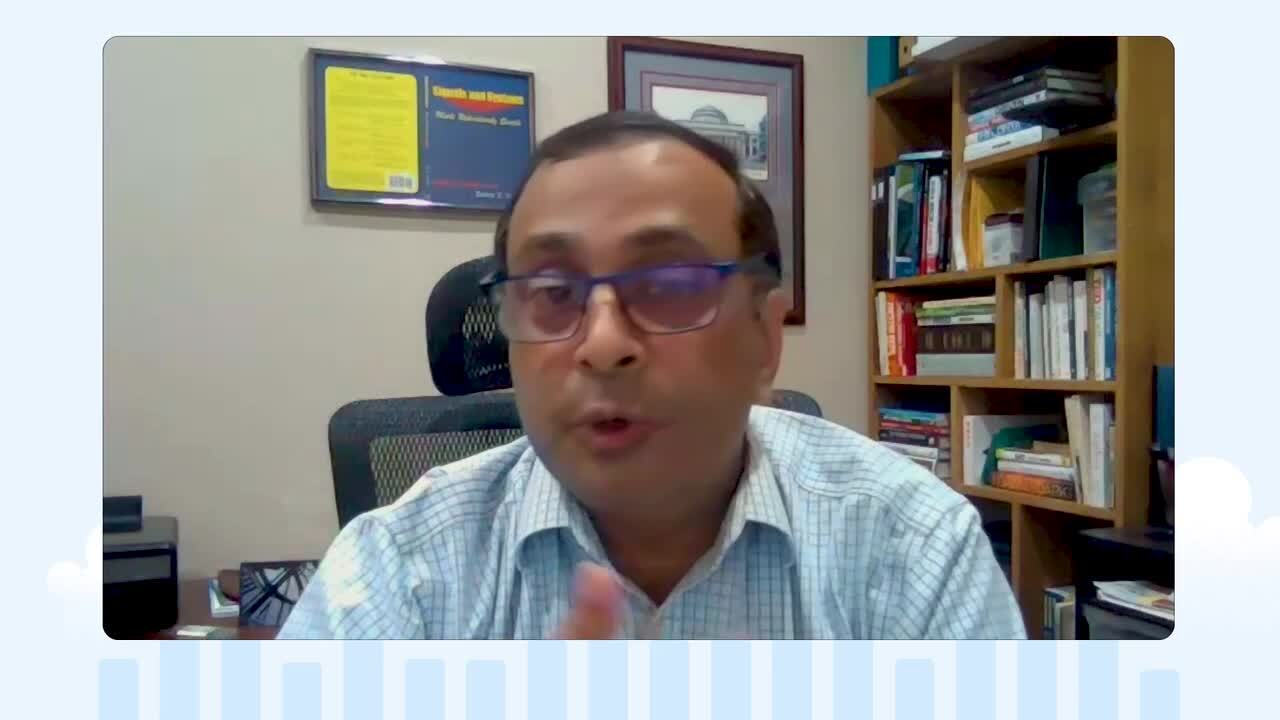 Blue Shield of CA: Data Democratization, a Key Pillar to Digital Transformation
Improving the healthcare delivery system and patient experience is top of mind for leaders across the industry. Listen as experts explore healthcare use cases and share a comprehensive perspective on how to build a data-driven organization and empower employees to make smart business decisions.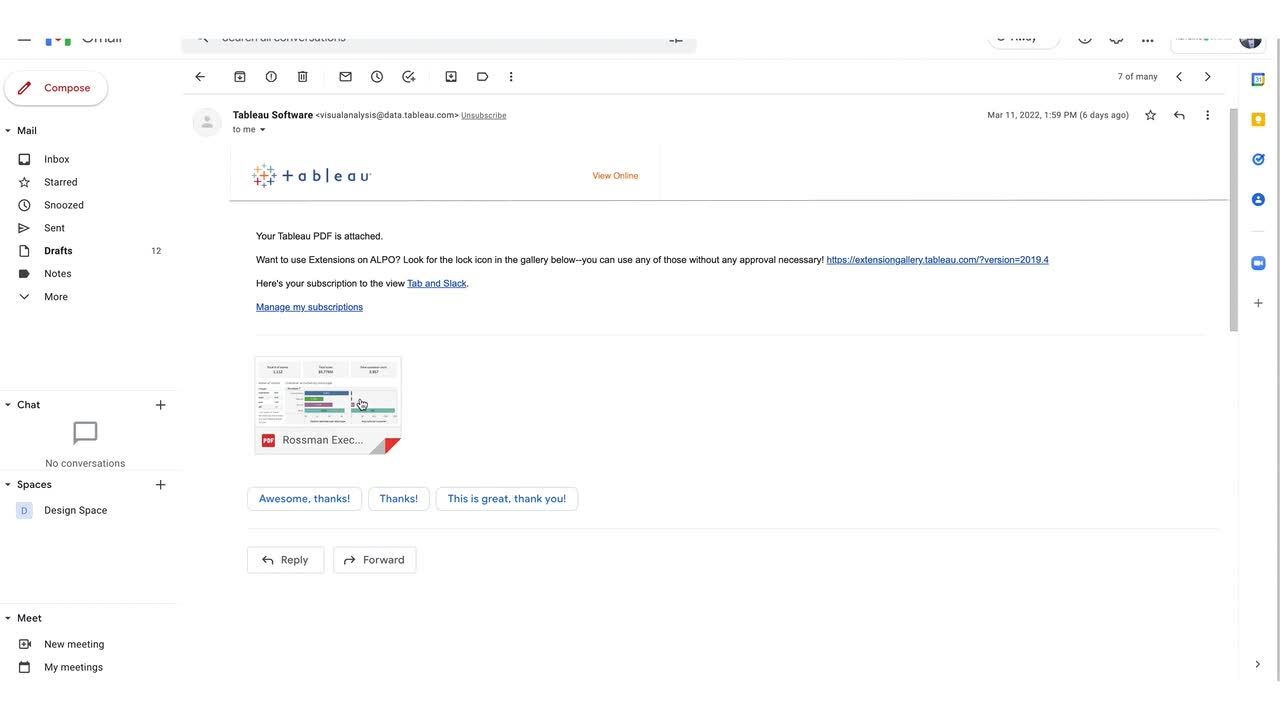 Analytics Everywhere—for Everyone—with Tableau for Business Users
Sepideh Hashtroodi
Jonathan Hansing
Katie Hughes
The value of data and analytics relies on enabling better decisions across your entire company. Join us to learn about Tableau's new consumption experiences built specifically for your business users.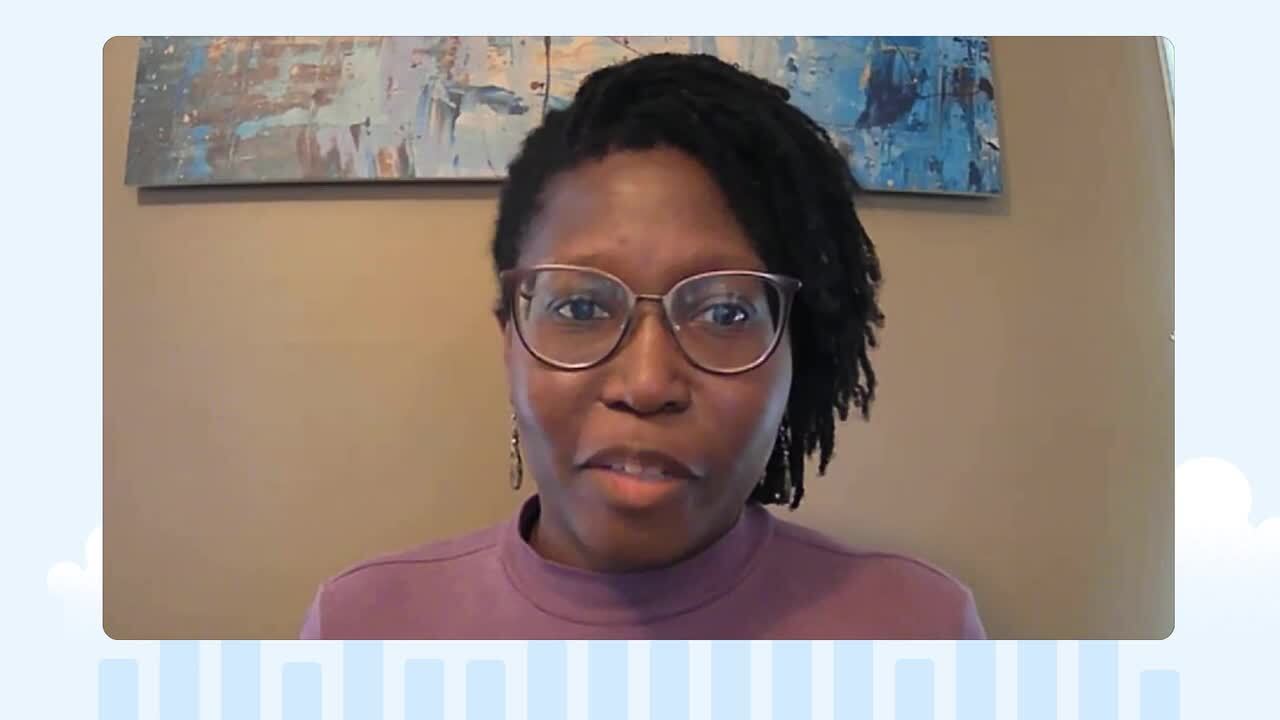 Data. Set. Go! Jumpstart Your Data Career
Alice McKnight
Prasann Prem
Ausrine Rimeikyte
Ashley Koen
Ready to supercharge your career path? Listen as Tableau Community members discuss their data careers and lessons learned along the way. You'll leave with insights to help you successfully advance your data career.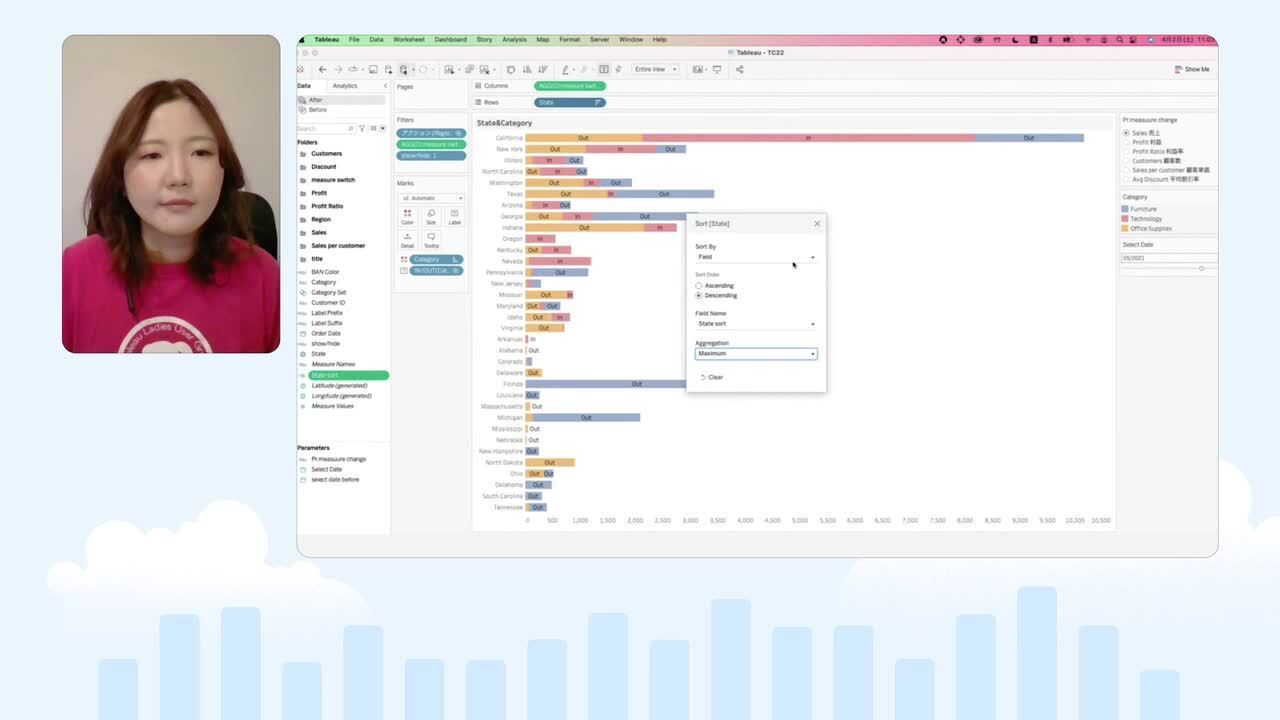 日本発!Tabjoによるクイックで簡単な実用tipsをご紹介!Quick and Easy Tips by Japan's Tableau Data Heroines
Tomoko Wakamatsu
Chiaki Ishida
Kayoko Yamashita
日本コミュニティーのデータ ヒロイン たちから、今日から使える簡単なTableau DesktopのTipsを学びましょう!
Join Tabjo, a women-led Japanese Tableau User Group (TUG), for simple, practical Tableau tips and tricks you can start using immediately.
Session presented in Japanese language with English subtitles.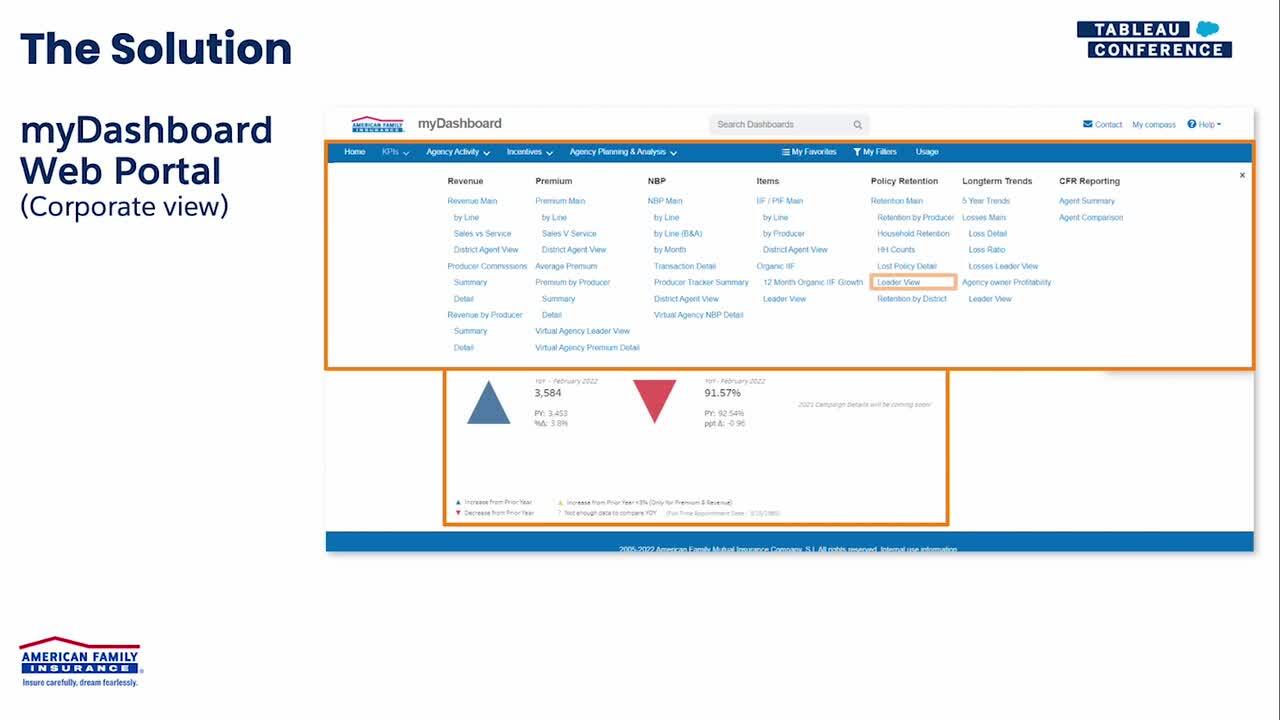 American Family Insurance: Reimagining Business Intelligence Through Embedded Analytics
What are the benefits of developing a secure user portal that displays embedded Tableau dashboards in a dynamic way with near-real-time reporting on key metrics and performance? Discover how American Family Insurance did just this, providing their exclusive agents and corporate employees across geographies and departments with personalized views, a single source of truth, and data-driven insights that continue to transform their business.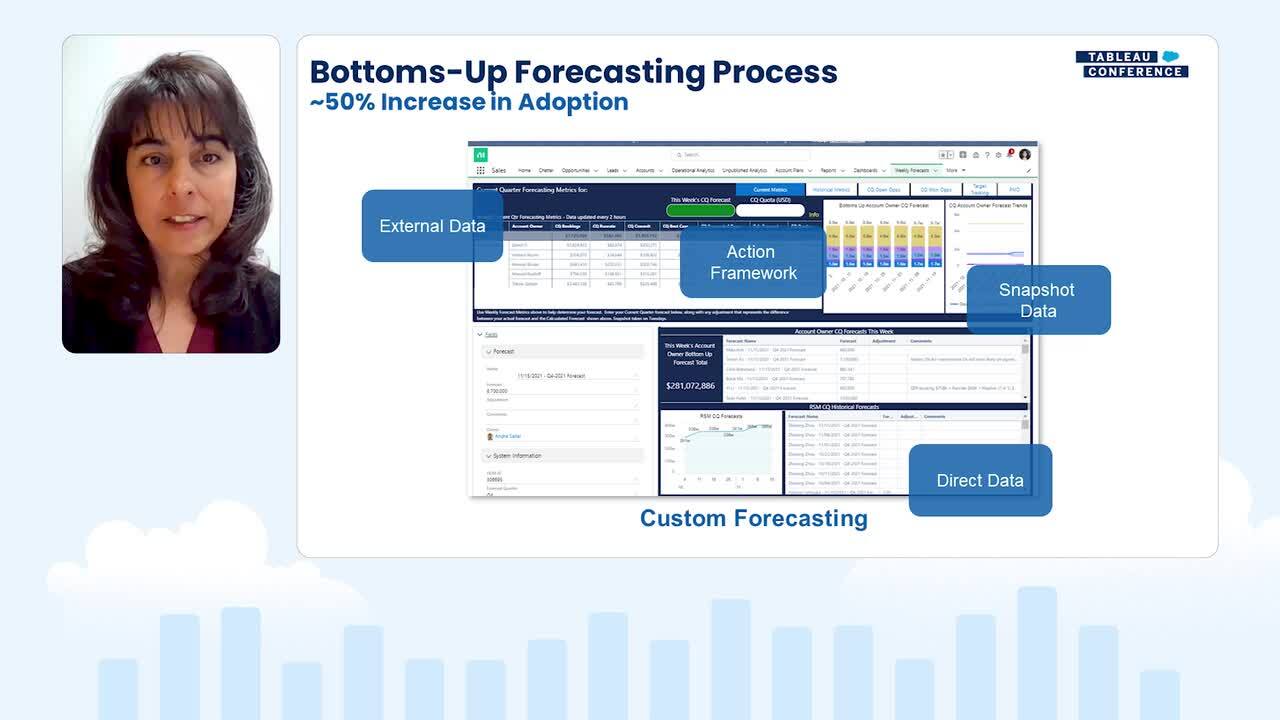 NI's Analytics Journey: Increasing Revenue Operations Accessibility to Clear and Actionable Insights
Monica Obermier
Thanmayi Rachapudi
Miriam Lainez
Tableau has been at the center of National Instrument's journey to become a data-driven company. Learn how NI used best practices from its Analytics Center of Excellence, partnership with IT, and a governance framework to design and deploy a hybrid analytics ecosystem with Server and CRM in direct support of its selling motions.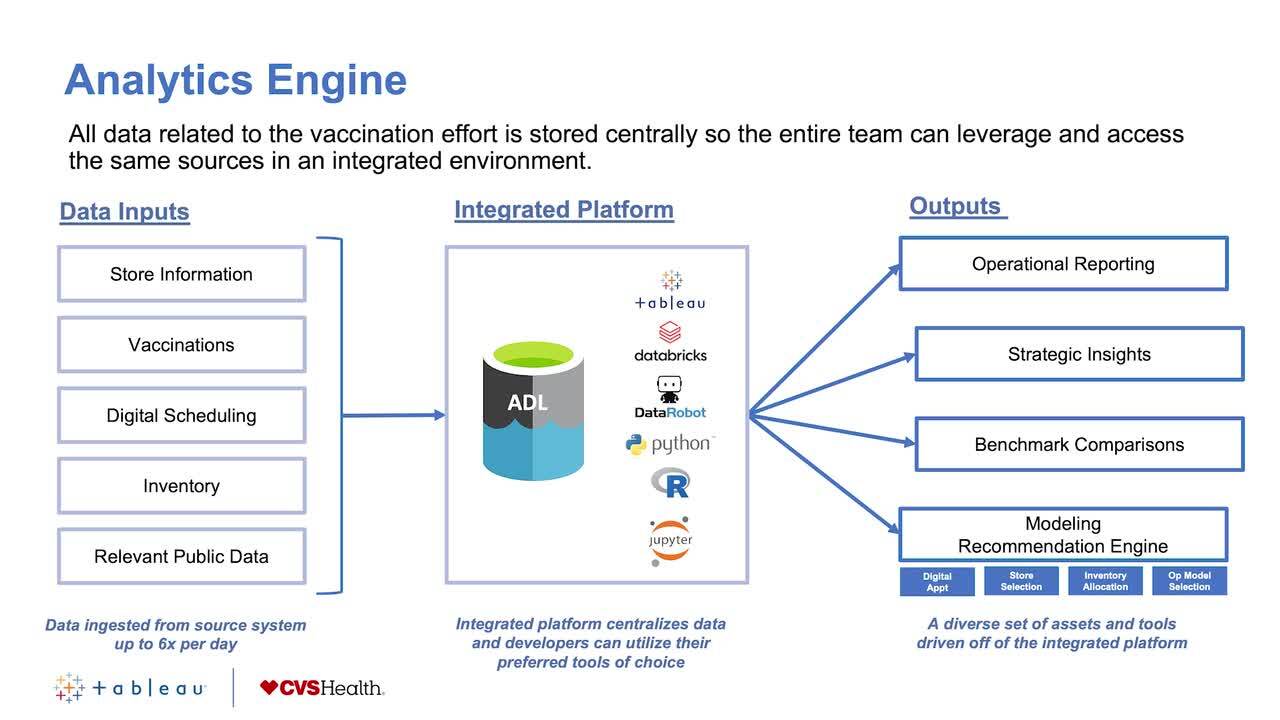 CVS Health: Accelerating Analytics for Community Health
Modernization and achieving innovation at scale are critical imperatives for healthcare. CVS Health is at the forefront of this effort, using analytics to lead the industry in all aspects of vaccine management and revolutionizing the health experience with data to provide more convenient, equitable, personalized, and affordable care for consumers. Throughout the pandemic, CVS Health has administered more than 41 million COVID-19 tests and 50 million COVID-19 vaccines. Learn about their patient-centric data strategies to accelerate the future of health and medicine at home and in communities around the globe.