Data leader Britt Staniar talks Tableau Ambassadors, community, and impact
This week, we announced the incoming Tableau Ambassadors, one of the Tableau Community's greatest honors. These leaders, along with Tableau Zen Masters, represent less than 1% of the community. Not only are they analytics and Tableau experts, ambassadors also embody the spirit of sharing knowledge and community building.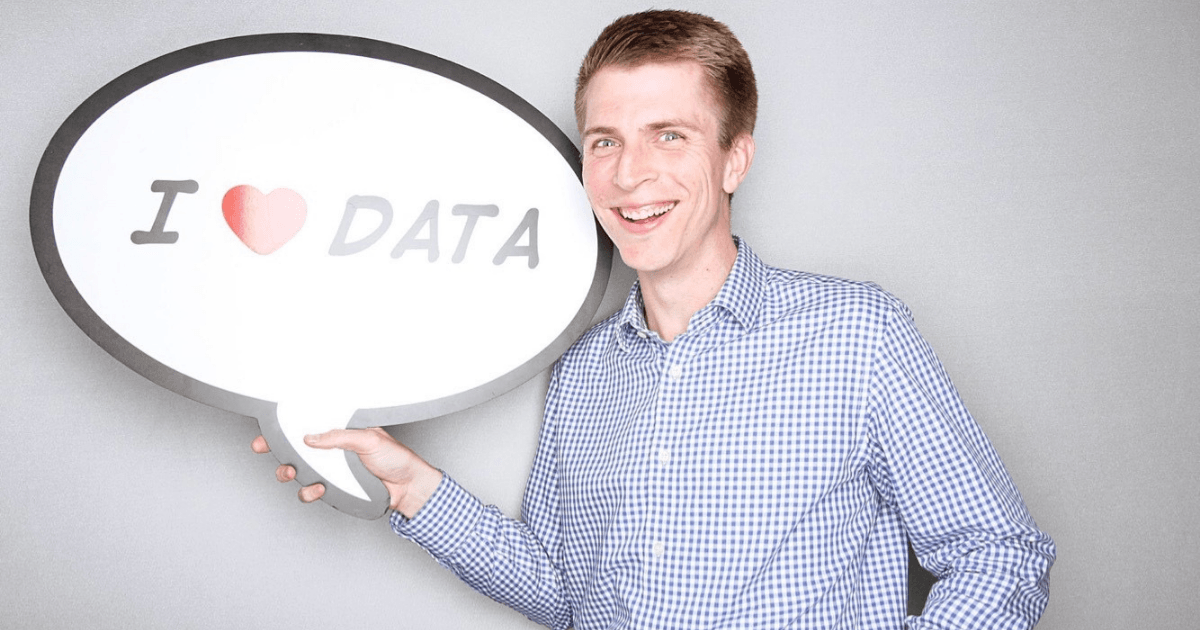 Supporting these data leaders is no easy task. Since Britt Staniar took the reins of the ambassador program this spring, he and his team are constantly looking for new ways to inspire and support the ambassadors. He's focused on integrating more diversity into the program and encouraging beginners. Here he shares how he came to Tableau, just how much the ambassadors shape the Tableau product, his plans for the program, and why Tableau novices should "go for it."
Molly: Let's start with your early career. You worked for Bloomberg TV. How did that shape your view of storytelling?
Britt: I was a journalism major with a business focus in college, and I started at Bloomberg as an intern. I loved it. I worked there for eight years, progressing to multimedia producer and taking on editing responsibilities. The writing style at Bloomberg was brutally factual—it demanded "show-me" storytelling and I love that kind of journalism.
I got to work alongside some award-winning, old-school print journalists on an investigative journalism team. We produced some pretty amazing results and won a few awards before they laid off me and most of our team. I'd always loved business strategy, so I worked nights on my MBA and started thinking about marketing. Next, I worked at an advertising agency in Seattle, where I learned how difficult it was to analyze data, discover insights and support data-driven decision making.
Molly: Then you found Tableau. Why did you make the move from your initial product marketing role to leading a Tableau Community program?
Britt: I started in audience marketing where I used my research skills and got to know the product and the problems our customers are using it to solve. After a couple of years, I started thinking about the next thing.
I wanted a role where I could make a huge impact and connect with people who shared my passion for the product, and the Ambassador and Zen Master leadership job was open. I'd never thought of myself as a community manager, but I knew that nothing makes a bigger impact at Tableau than Zen Masters or Ambassadors. Collectively, they're 350-plus of the most incredible people advocating for your product with no pay, on their own time. If I could support them and help their voices go farther, I knew the returns could be exponential.
Britt Staniar presents at Dreamforce 2019 on how the Tableau marketing team uses the product internally.
Molly: What else makes the Tableau Ambassador program unique?
Britt: The entire Tableau Community is based on this fundamental thing: People love to use the product. They experience a transformation—an "aha moment"—when they start using Tableau that they want to share. That sharing cycle builds momentum as people in the community feed off each other, supporting and growing together. That's special. Zen Masters and Ambassadors push us to be better, improving our product and driving us to be better partners.
Molly: Tell us about the new class of Tableau Ambassadors.
Britt: This is the biggest class ever! 327 ambassadors with growth in every branch, including Forums, User Groups, Academic, DataDev, Public, and Social, plus a new Tableau CRM (native analytics in Salesforce) branch. At 42 countries represented, this is also the most global group yet.
Molly: What qualities and characteristics were considered?
Britt: The branch managers look for nominees they think will be the best leaders for the Tableau Community. These are people who are already evangelizing, helping others learn, and growing the community.
We look at activities like running user groups, sharing on Tableau Public, writing blogs, answering forum questions, or innovating with Tableau. We also consider what nominees are doing to make the community more inclusive for everyone, by introducing underrepresented groups to Tableau, mentoring newcomers, or lifting up voices from diverse backgrounds.
There are no predefined boxes to check. We consider each application independently because everyone contributes in different ways.
Molly: What happens after the ambassadors are announced?
Britt: Tableau Ambassadors get free access to Tableau Software and eLearning, plus cool swag.
We onboard them to our internal Slack platform, too, and they love having more access to our internal teams and each other. You'll see conversations like: "Hey, have you ever considered [this feature]?" And a dev will respond, "Interesting, we've been looking into that. Let's talk!" Many ambassadors and Zen Masters provide ongoing feedback, and there are product features with their fingerprints all over them. By enabling these conversations, we're lowering the barrier to making people-focused products.
When our pre-releases hit we also do a quarterly call with the devs, Zens, and ambassadors so they can test and provide feedback. Then when the product releases, a lot of them immediately publish content that provides context and translates how new features unlock powerful new uses. This program has a huge impact that's impossible to match.
Molly: What can your groups look forward to this year?
Britt: First, we are creating more opportunities for people to virtually connect, network, and support each other. We'll host internal-facing networking hours and more brain dates—a format that's really thrived in the virtual environment. We want people to have rewarding experiences even when they can't meet in person.
Second, we're pushing harder than ever on our ambassadors to act as allies and advocates for diversity, equity, and inclusion in the Tableau Community. As community leaders, I believe that our ambassadors should help people feel welcomed and represented. We're starting this conversation from the first onboarding meeting and plan to provide tangible resources on an ongoing basis. The Do No Harm Guide is a good starting point, but a lot of work remains.
Find what excites you about Tableau and go for it.
Molly: How can people new to Tableau learn more, get involved, or even begin the journey to becoming an ambassador or Zen?
Britt: I've heard that the path can feel impossible. Zens and ambassadors post amazing dashboards on Tableau Public and share inspiring work that may seem daunting to replicate.
It's cliche, but my advice is: Everyone starts somewhere. Many Zen Masters keep their first dashboards up on Tableau Public. Check them out for a huge confidence boost. And know that many of our new ambassadors just have a few years of Tableau experience. It can be a shorter path than you think.
Find what excites you about Tableau and go for it. We don't expect anyone to be an expert on the entire platform, work on every Community Project, or invent new chart types. Just focus on contributing to what you love, connecting with people who share your passion, and making the Tableau Community a vibrant, welcoming, and inclusive place.
____________
Check out Britt's blog post to meet the 2021 Tableau Ambassador class. And be sure to sign up for sessions at this year's Tableau Conference, including one (or two!) of the 15 sessions in the Community Track.