Data Culture and the power of community, from two data leaders to you
It takes work to build a Data Culture. All organizations have the ability to create an environment where data is incorporated into every conversation and decision, but they may need a little help along the way.
That's why we launched the Data Leadership Collaborative, or DLC—a community that connects like-minded data leaders together to learn and support each other on the journey to building data-driven organizations. Magical things happen when people start sharing, and the DLC is that place for data enthusiasts.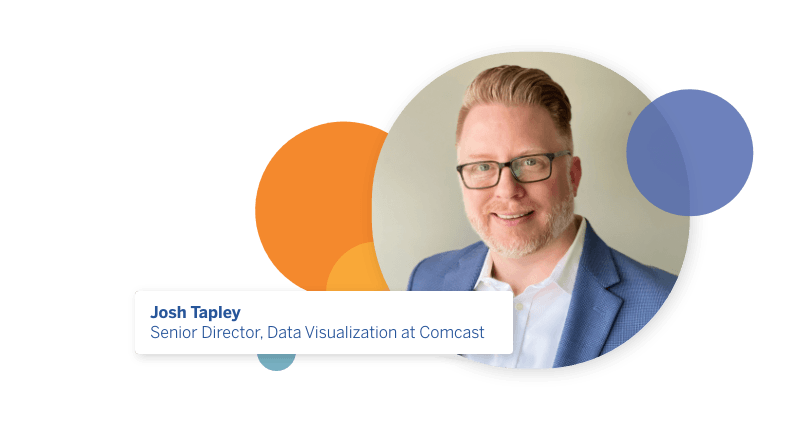 Here, Tableau EVP of Marketing Jackie Yeaney shares the inside story behind why the DLC matters and how it works. She's joined by DLC advisory board member and contributor, Josh Tapley, senior director of data visualization at Comcast. Josh started using Tableau in 2013 and published his first data viz on Tableau Public in 2014. His team uses Tableau for enterprise reporting, which he teaches in his data visualization class at Temple University.
Molly: What was the inspiration for the Data Leadership Collaborative?
Jackie: The Tableau Community. Watching the Data Fam come together to share their time, expertise, enthusiasm, wins, and failures—it's really magical.
But much of that conversation is rooted in the use of the platform like dashboard best practices or server optimization tricks. People get tremendous value and accelerate their learning of the technology by engaging with the community.
We know that becoming a data-driven organization doesn't just require the right technology—it's also about building a Data Culture. There's so much conversation that needs to happen beyond technology, things like data literacy, training, organizational structure, executive commitment, and data governance.
So, the DLC was born. We wanted to create a place for people to share stories, learnings, and inspiration on all things Data Culture.
Molly: Who is the DLC for?
Jackie: Anybody who wants to talk about what it takes to become a data-driven organization is invited. It doesn't matter if you're a Tableau customer, chief data officer, analyst, or in IT, as long as you want to join the conversation on Data Culture and analytics at scale.
We've heard in our conversations with executives that being a data leader can be a lonely place. They're often making decisions and setting best practices for the entire organization without a proven playbook to lean on. The support of a community of like-minded leaders can help leaders get unstuck and offer encouragement at these key moments.
But it's not an executive-only community. In many workplaces, it's an analyst or someone within the business who champions data across the organization, and they're welcome in the DLC, too.
Molly: Josh, you're a data leader at Comcast: Why did you join the DLC advisory board?
Josh: The DLC is a fantastic forum to connect and learn from others in the industry, particularly since it's a content-sharing hub built around ideas and best practices. With our combined experiences, we have so many successes and failures to learn from in a wide variety of industries. We are data people and this initiative gives us access to more data. What's not to love?
Molly: How does the DLC work?
Jackie: The DLC is just getting started. It will continue to evolve, but we're initially focused on two things: sharing content from leaders and experts around the globe and facilitating peer-to-peer conversations, or Braindates. People can choose how to participate—whether by simply consuming great content or by having conversations with leaders tackling the same challenges.
Molly: Josh, how do you plan to participate?
Josh: I really enjoy the peer-to-peer connections via Braindates so that feels like the right way for me to lean in. But I'm also very keen to share as much of my own experience as possible while learning from others. Someone from my own organization reached out today after seeing that I'm part of the DLC, so I believe this will also develop into additional mentoring opportunities.
I'm focused on being a leader in this space and thinking beyond the confines of my current organization and industry to expand my perspective to new and innovative ideas and solutions.
Molly: Speaking of thinking ahead, what are the biggest data challenges organizations face as they position for growth this year?
Jackie: The pandemic has put so many different stressors on organizations. Whether it's working at home, pressures on the supply chain, or rapidly changing customer needs, every organization needs to reexamine their business and how they operate. And that's easier to do when your business is fueled with data—it gives you the visibility needed to quickly change and adapt.
Customers have told me that support for building a Data Culture is stronger than ever due to pressure from the pandemic. That's fantastic, but it doesn't erase the challenges of becoming data-driven—updating skill sets and addressing skill gaps, establishing governance models and getting the right access to the right data.
Molly: Josh, how has Tableau helped you on your data journey?
Josh: Tableau's strong focus on the user experience changed the way I thought about enabling people with data by making it easy and accessible.
Tableau also has an amazing and dedicated base focused on collaboration and curiosity. Bringing this same excitement and openness to Data Culture as a whole is probably one of my most vital learnings.
Molly: What can data leaders look forward to with the DLC?
Josh: I'm most looking forward to learning from the diversity of thought of this unique and open group. This cross-pollination of ideas is what drives innovation, and I'm excited to innovate with all of these amazing people.
Jackie: We're committed to creating more opportunities for people to connect and share. Our job is to bring the right people together so they can learn from each other, and we'll continue to do just that. The launch feedback has been music to our ears: "Finally, there's a place where we can have this discussion!"
Visit the Data Leadership Collaborative for more inspiration on how to build a Data Culture.