Welcome to the COVID-19 Data Hub
Create analyses, hear from data leaders, find answers
Data-informed decision making is critical in a world transformed by the coronavirus pandemic. We're here to help. Bookmark this page and stay up to date with essential data resources and actionable information, from daily dashboards to real-world solutions.
Jumpstart your own analysis
Blend your own data with this workbook to better understand the impact of COVID-19 on your organization. This global tracker, updated daily using data from JHU CSSE COVID-19 Data and The New York Times, comes with a downloadable workbook and starter dashboard.
Connect to COVID-19 activity data
---
The data stream, aggregated from JHU CSSE COVID-19 Data and The New York Times, continues to be a vital resource for corporate and government decision makers as they navigate the global pandemic.
---
MuleSoft
Get started with the COVID Activity API hosted on MuleSoft's Anypoint Exchange. You can use this API to leverage COVID-19 data on cases, deaths, testing, hospitalizations, ventilator use, and more.
---
AWS Data Exchange
The AWS Data Exchanges makes it easy to find, subscribe to, and use third-party data in the cloud. You can subscribe to COVID-19 activity data and more for free at the Coronavirus (COVID-19) Data Hub listing in the AWS Data Exchange.
---
data.world
COVID-19 case data can be directly downloaded or accessed through a Web Data Connector from data.world, a platform for data that enables users to post, search, and collaborate on data sets on a large and meaningful scale.

Step-by-Step Instructions for All Data Sources
Ready to get started? Register now for free training using this data set.
Trending COVID-19 data stories
Real-world solutions from people using data to navigate the pandemic.
---
FEATURED VISUALIZATION
How do vaccination rates differ between sub-groups in the US? Using this dashboard from Momentive, Boston Children's Hospital, and Outbreaks Near Me, you can explore the differences in vaccination uptake by party affiliation, age, gender, income, and race.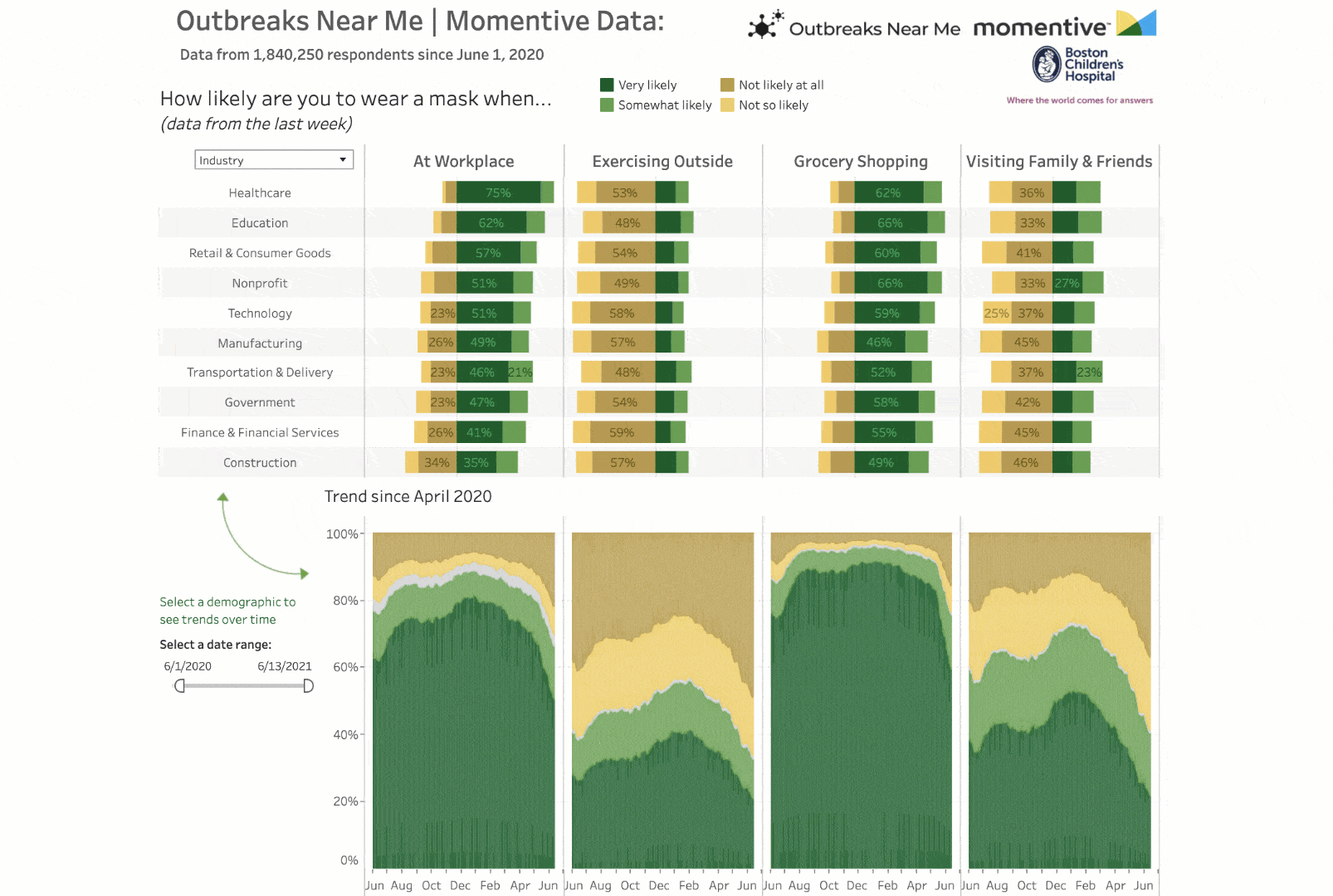 FEATURED VISUALIZATION
As workplaces across the US welcome back employees and customers, it appears people are still divided on if and how long they'll be wearing face masks. The data comes from Tableau and Momentive (formerly SurveyMonkey) through Pathway to a New Normal, a year-long public opinion research initiative that will explore through data how people are thinking about work in a changed America.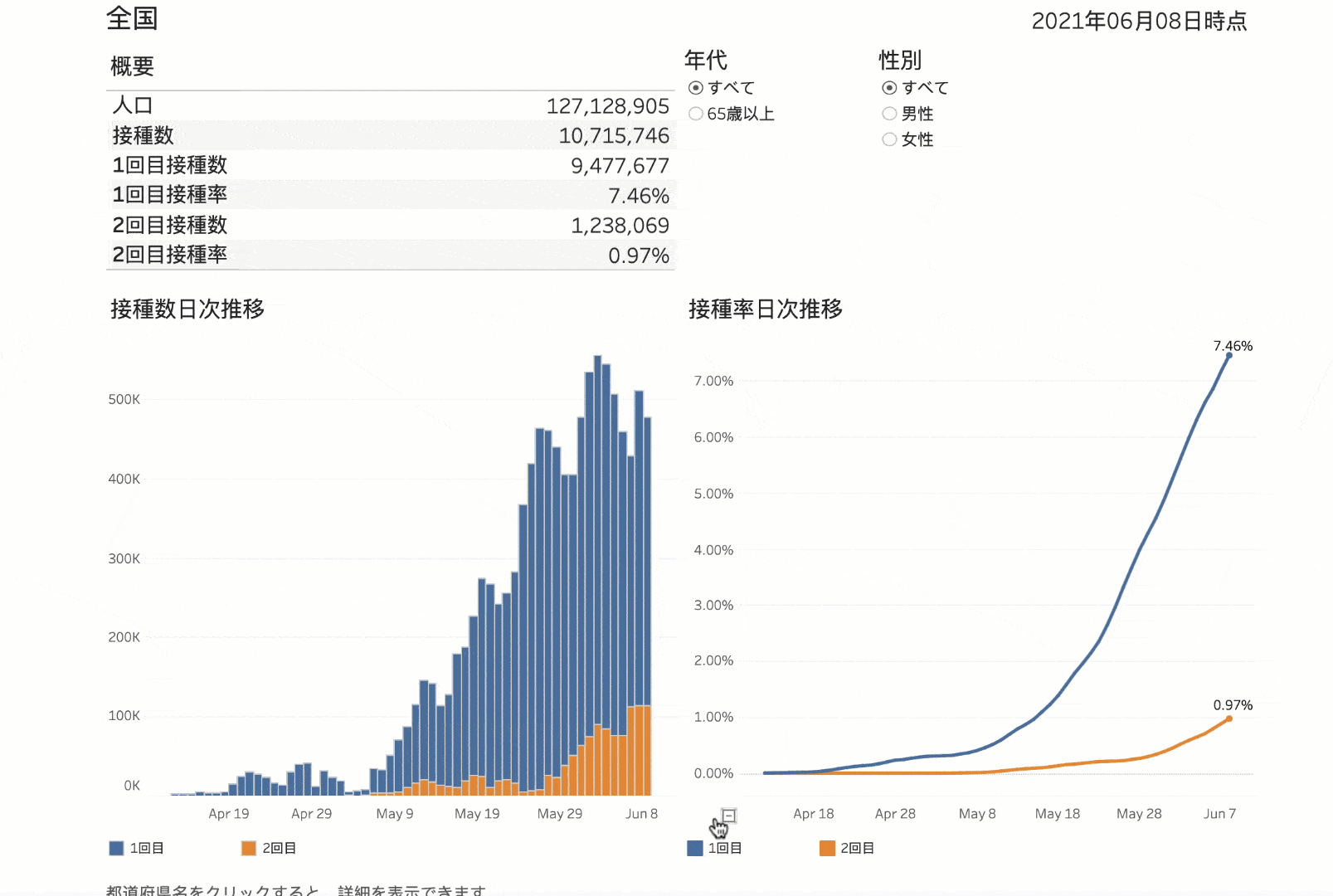 FEATURED VISUALIZATION
Japanese citizens can see nationwide COVID-19 vaccination data, thanks to a government-sponsored dashboard created with Tableau. The Vaccination Status Dashboard uses open data sources that provide status by prefecture and gender, and also allows users to see vaccination rates within the vulnerable elderly population.
Visualize progress toward normalcy
Explore global metrics for a number of key indicators: testing, vaccination uptake, contact tracing, and public health policies.
Data lessons learned

Tableau's COVID-19 Advisory Board weighs in on the biggest data lessons learned since the beginning of the pandemic.
Pathway to a new normal

How people are thinking about work in a changed America.


The events of 2020 catalyzed a change in how people think about issues of community, equity, health, and wellness at work. On their path to a new way of life, people need easy access to data for a common understanding of what the future holds for themselves, their companies, and the economy. The data visualizations linked below survey results from a series of Momentive polls collected weekly representing more than 2 million people across the US.
Tableau helps you see and understand your data
Organizations around the world are using Tableau to help navigate through the coronavirus pandemic and beyond. Find out how our platform can help your organization use data to stabilize, recover, and grow.