Tableau User Group Weekly: August 2 - August 13, 2021
Welcome back to this week's snapshot of the latest Tableau User Group events happening around the world. Catch up on the freshest content or join an upcoming event, all while getting inspiration from the DataFam. Not only will you learn new tips and tricks, but you'll see them in action too.
User Group Meeting of the Week: North Texas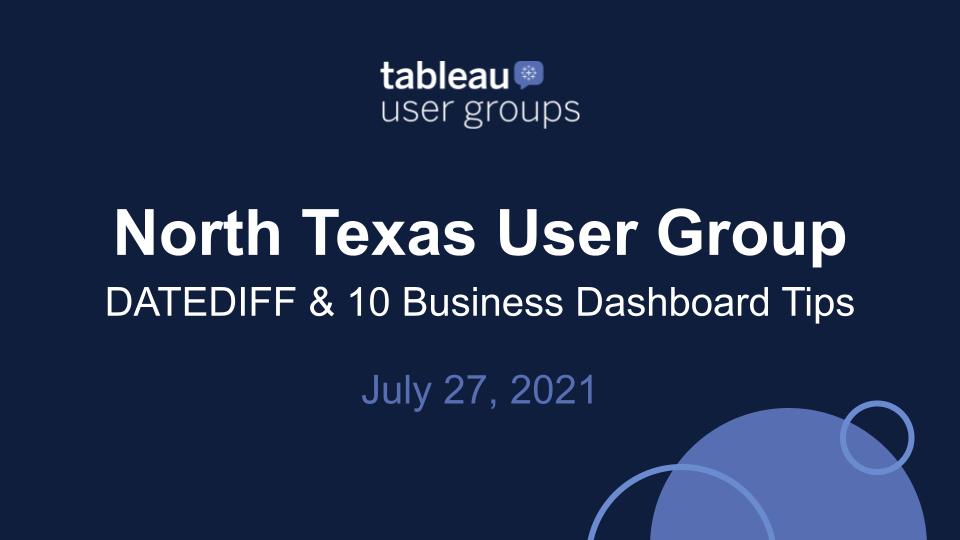 The North Texas Tableau User Group hosted a session full of Tableau tips for your business dashboards. Will Perkins, Data Visualization Manager at JPMorgan Chase, went over the power of the underappreciated DATEDIFF calculation (the difference between two dates), covering a variety of use cases with a common goal of scaling business dashboards. While Tableau Zen Master, Lindsay Betzendahl shared her top 10 tips for turning up the heat on your business dashboards such as landing page images, containers, and fancy tables. Dive in and watch the full recording here.
Coming up
Attend an upcoming virtual User Group event and learn from your peers across geographies and industries to help advance your analytics skills.
Australia + New Zealand Tableau User Group
Austin + DFW + San Antonio Tableau User Group
Denver Tableau User Group
Veterans Advocacy Tableau User Group
2021 Iron Viz Finalists Announcement Live Event
Houston Non-Profits Tableau User Group
In case you missed it
Couldn't tune in live? Don't worry—review the recordings of the most recent user group meetings below.
Explore our full playlist of previous virtual user group meetups and join a user group in your city or within your industry today!