Who are the Tableau Student Ambassadors?
Learn about the 2022 Tableau Student Ambassador cohort and how they cultivate a love for data in their own communities, and showcase the power of Tableau to new data learners.
Tableau Ambassadors teach and share while fostering a positive and supportive space within the data community. They give credit where credit is due, and prioritize inclusivity in everything they do. They shine a spotlight on new voices, innovative ideas, and make the communities around them better. Tableau Ambassadors serve one-year terms in one of seven branches: Forums, User Groups, Student, DataDev, Public, Social, and CRM Analytics.
What do Tableau Student Ambassadors do?
Student Ambassadors are Tableau champions in higher education, empowering and inspiring others to develop or build their data skills. They cultivate a love for data in their own communities, showcase the power of Tableau to new data learners, and help prepare students for success in today's data-driven world.
The Student Ambassador program gives students a jump start for career success, connects them with networking opportunities, and develops soft skills necessary for the workforce. Since the program's start in 2019, the Tableau for Students team has supported more than 200 students around the globe—evangelizing Tableau and nurturing the data rockstars of tomorrow.
How can Tableau Student Ambassadors support my Tableau journey?
Our Student Ambassadors are inspiring the next generation to learn data skills and to join our Tableau community. What can they offer you?
Assist with Tableau workshops and training for on-campus and virtual events
Guest speak in the classroom or for Tableau-related events
Create data visualization tips and tricks geared toward students and new learners
Provide beginner community support for other students and data learners
Connecting with this group of ambassadors is an exciting opportunity to see data analytics from a fresh perspective. The passion these students have to learn and share is inspiring. 
Meet the 2022 Tableau Student Ambassadors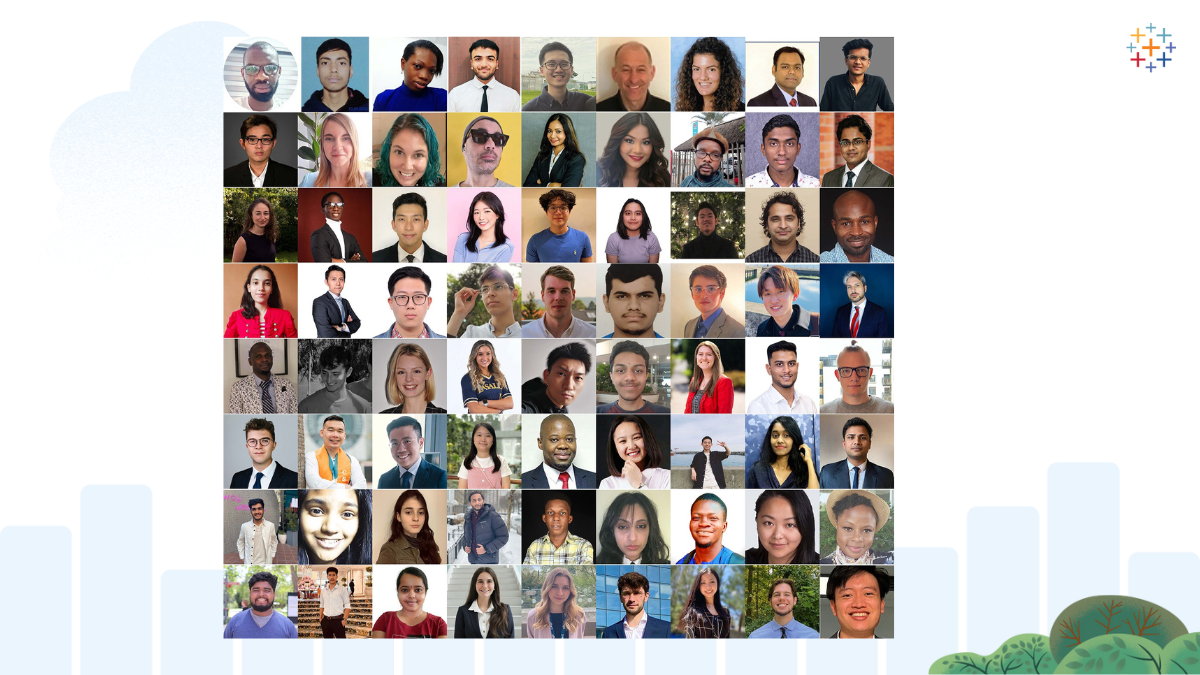 Headshots of the 74 members in the 2022 Tableau Student Ambassadors cohort.
The 2022 Tableau Student Ambassador class consists of 74 student leaders spanning 18 countries. Meet the entire 2022 Tableau Student Ambassador cohort. We also connected with a few ambassadors to hear more about what being a Tableau Student Ambassador means to them.
Asmita Mohanta, Master's student at the University of Texas at Dallas
"I want to help students who are new to the world of Data Visualization and those who want to pursue a career in data. The Tableau Ambassador program gives me the platform, authority, and chance to reach out to more students to help them with their queries related to Tableau, creating dashboards, e-learning, certification, etc. This program also strengthens my leadership, communication, and technical skills."
On top of being a Master's student, Asmita is an Associate Analytics Consultant at SpringML Inc., Dallas. Before this, she worked as a Salesforce Consultant at Infosys Limited, India for six years. Her areas of interest lie in Data Analytics, Product Management, and Entrepreneurship. She loves leveraging customers' historical datasets, helping find their areas of problem, and providing feasible solutions for various business problems through descriptive, diagnostic, predictive, and prescriptive analysis. Asmita's goal is to share the Tableau Desktop and Tableau Public platform among her university students, show Tableau's capabilities and encourage them to explore the platform and do a certification. 
Taiwo Adegite, Federal University of Technology Akure, Ondo state Nigeria
"I love to teach others, especially those who are new to tech skills, so it is really exciting to me and I can't wait to hold my first workshop. At my school, many students and even lecturers are excited about learning data analytics and data visualization. My goal is to advance my project management, leadership, and data visualization abilities. It is so thrilling to be able to impart my knowledge to novices and to experience the joy of watching my workshops be successful."
Taiwo is an undergraduate at the Federal University of Technology, Akure studying Statistics. He developed an interest in Tableau after taking a Data Analytics course, making Tableau the first beginner-friendly data visualization software he has worked with. He loves to pass his knowledge to others willing to learn, and as a Tableau Student Ambassador, this is a dream come true for him. 
Bill Nguyen, University of Toronto St. George
"What makes me excited to be a Student Ambassador is to show others the strength that Tableau can provide to its users. Tableau is becoming a very in-demand skill in the job market, so being equipped with the basics will really help students in the long run. Being pretty new to Tableau, I hope for the chance to inspire and find peers who share the same passion and can together improve our skills!"
Bill is a fourth-year student at the University of Toronto. He has worked as a data analyst developer intern at the University of Toronto and at BGIS, worked with Tableau extensively, and fell in love with the tool. He is always finding more opportunities to improve his data visualization and analytics skills.
How do you become a Tableau Student Ambassador?
While you do not need to be a Tableau expert to be an ambassador, there are a few things most Tableau Student Ambassadors have in common: 
They are highly interested in data analytics and have some familiarity with Tableau 
They enjoy public speaking and leading workshops to new students 
They are interested in creating their digital personal brand through social media and Tableau Public
They are highly collaborative and enjoy working with the Tableau Community
New Tableau Student Ambassadors are selected annually. Interested in applying? Sign up to receive an email notification when 2023 applications open.
Subscribe to our blog
Get the latest Tableau updates in your inbox.