Announcing the global winners for the 2021 Tableau Partner Awards
Tableau presents the winners of the annual partner awards at the 2021 Tableau Partner Executive Kick Off.
We just concluded our annual Tableau Partner Executive Kick Off (PEKO). PEKO brings together our top partners from around the world to align, connect, and acknowledge our wins from the past year.
At the event, we heard from Tableau executives on our strategy and direction for fiscal year 2023 (FY23), connected in small-group breakout sessions to share learnings and ideas, and celebrated our incredible achievements in FY22. Ryan Aytay joined us to address Tableau partners, for the first time as our President & Chief Revenue Officer, sharing his vision, strategy, and specific areas of focus where we can support our mutual customers and community. While we'd hoped to be back in person this year, it was great to bring together partners from all over the world at the digital event.
I am in awe of the persistence, resilience, and relentless adaptability that our partners have continued to demonstrate over the past two years. The support and impact of our partners is critical in delivering high-impact solutions and innovative use cases to support our efforts in driving customer success as companies set their sights on transforming digitally and moving their business forward.
At PEKO, we announced the nominees and winners of our annual Tableau Partner Awards for each region. For FY22, we have five global awards—three for top performances by business model (Reseller, Services, and ISV) and two for Top Solutions crafted by Partners (Reseller/Services and Technology). Having so many amazing performances in FY22 made choosing the winners a challenge. I'm extending a heartfelt thank you and congratulations to all of our nominees for their incredible work in FY22!
Global Partner Awards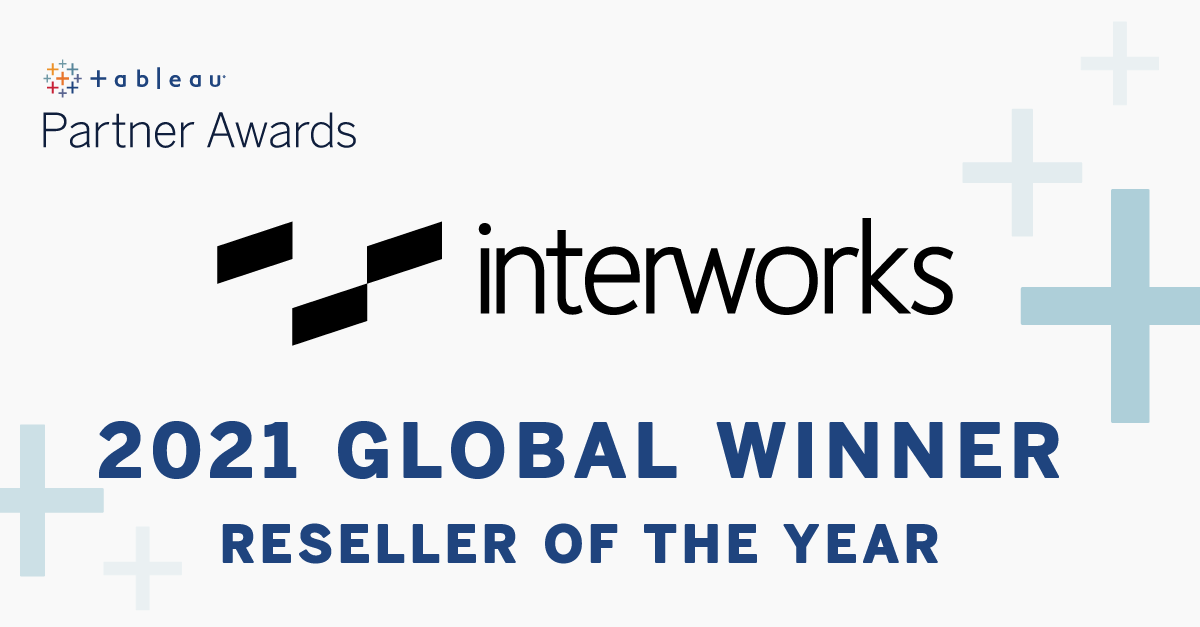 Reseller of the Year: InterWorks (AMER)
InterWorks AMER was our top Reseller for 2021 in terms of partner revenue, net new customer acquisition, and renewal rate. Interworks achieved 37% year-over-year (YoY) growth with over 400 transactions and 23 net new customers. InterWorks continues to be instrumental in strategic customer accounts and their focus on customer success with their InterWorks PRO program has helped them attain more than a 92% renewal rate annually. They're also fiercely committed to expanding their product knowledge and capabilities, with over 113 partner certifications and accreditations as of the end of FY22. Thank you InterWorks and congratulations!


Services Partner of the Year: Slalom (AMER)
Slalom is invaluable when it comes to co-selling with Tableau. They saw revenue growth greater than 52% YoY and helped us acquire five net new customers. In addition, Slalom is one of Salesforce's top global partners which has positively impacted our partnership as we continue to weave together our sales motions. Lastly, Slalom grew their analytics capabilities obtaining Tableau technical certifications in over 12 U.S. markets. Excellent work Slalom and congratulations!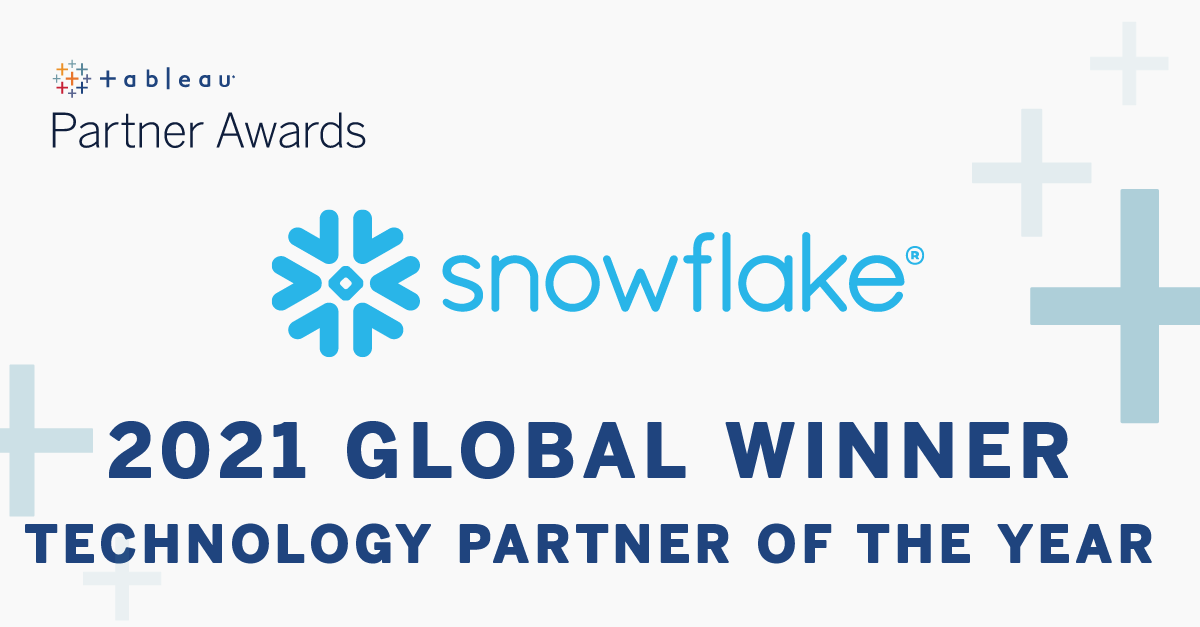 Technology Partner of the Year: Snowflake
Following significant, enterprise-grade improvements to their Tableau Connector and the release of the Tableau CRM (TCRM) Connectors for Snowflake, this past year Snowflake brought tremendous demand to our business outcomes. Snowflake drove more than 50% growth of our mutual customer base, including a large increase in the number of TCRM customers connected to Snowflake. They surpassed 180% of their lead targets set for FY22. Finally, at TC21, we announced the launch of the Retail Intelligence solution with Snowflake as our primary Technology Launch Partner. Thank you Snowflake and congratulations!

Impactful Solution of the Year – Resell\Services Partners: Deloitte UK (EMEA)
Deloitte UK implemented a large-scale TCRM solution for 800 users at a key account in FY22. The solution is based on Salesforce Sales Cloud and supports 1,400 multinational customers. Use cases include dashboards for sales managers to track activity per sales rep, propensity models built in Einstein Discovery to make product recommendations, and custom Einstein models to score an opportunity's likelihood to win. Congratulations Deloitte UK and thank you!

Impactful Technology Solution of the Year: AWS
In FY22, the Tableau and AWS teams expanded our Modern Cloud Analytics (MCA) initiative that combines the resources, technical expertise, and knowledge of Tableau, AWS, and our respective partner networks to help organizations transition to a cloud-first data culture and maximize their investments. In addition to MCA, AWS also partners with Tableau to help our global community. Building on the work we did to launch the Tableau Coronavirus (COVID-19) Data Hub, we recently launched the Tableau Racial Equity Data Hub. Built on the AWS Data Exchange, this new offering provides free access to 10 years worth of Tableau-friendly social, economic, housing, and demographic data from the US Census Bureau. The Hub provides Tableau starter workbooks and Tableau Prep Flows easing use for our customers. Amazing work—congratulations AWS!
Regional Partner Awards
Lastly, congratulations to all of our 2021 Regional Tableau Partner Award winners!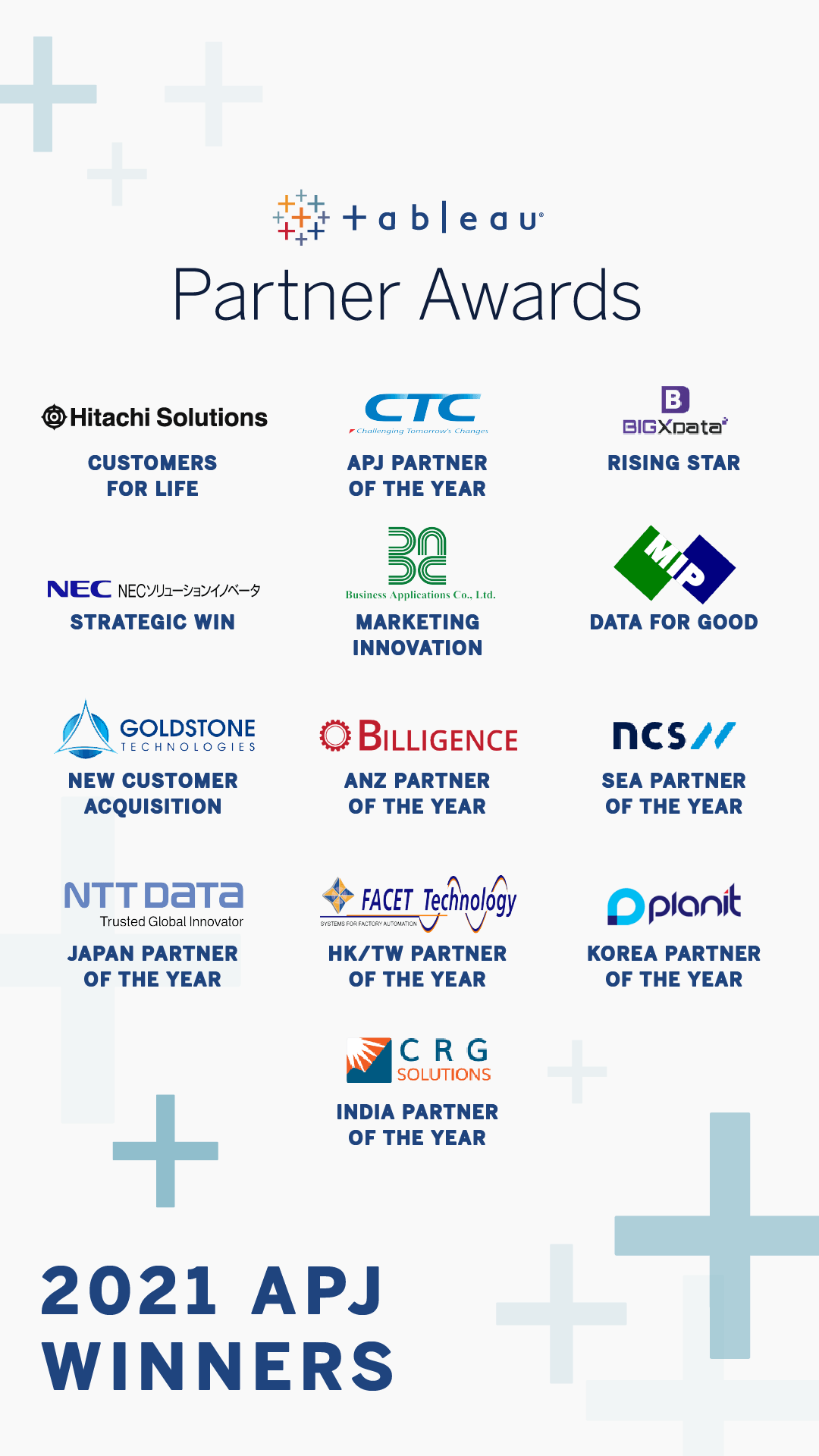 Note: These awards are primarily performance-based. Nominations and winners are deliberated and selected by the internal Tableau Partner Regional Teams.
Subscribe to our blog
Get the latest Tableau updates in your inbox.