"The old approach to business intelligence confirms what we know."
Ted Corbett, Director of Knowledge Management at Seattle Children's Hospital goes on to explain: "Now departments throughout the hospital can ask the question, 'What am I trying to accomplish?' and explore what they don't know."
Ted Corbett, Director of Knowledge Management at Seattle Children's Hospital goes on to explain: "Now departments throughout the hospital can ask the question, 'What am I trying to accomplish?' and explore what they don't know."
Ted and his colleagues at other leading providers appreciate the potential – and need – for making more data-driven decisions.
We know that healthcare providers aren't the only organizations out there trying to squeeze all the value they can out of their assets. They do, however, face a particularly grueling environment of resource maximization within a word of regulatory compliance and safety considerations.
Check out this whitepaper that digs into three key ways that healthcare providers can make sure one of their most valuable assets – their data – can be working hard every day to make their organizations perform at the top of their game.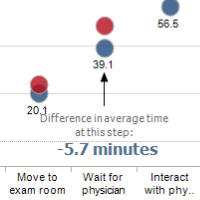 Subscribe to our blog
Get the latest Tableau updates in your inbox.