Visualizing the DC Police budget
A data tool for budget accountability and transparency
In 2020, the DC Fiscal Policy Institute (DCFPI) partnered with the Urban Institute's Justice Policy Center (Urban) to create an online tool to demystify the local police budget in DC, one of the most heavily-policed jurisdictions in America. Police per capita, and the funding spent on police per capita, far exceeds similarly sized districts, which includes the 25 most populous metropolitan areas in the country. The implications for criminal justice reform and the role of data in identifying opportunities for improvement makes this an issue that matters to many in DC.
Police violence locally and nationally raised concerns, advocacy, and unprecedented public discourse on police resources. This led to an acute awareness that the lack of transparency regarding resources is a real obstacle for both organizers and policy makers. The overarching goal for taking on this work incorporated accessibility, usability, and public engagement. Learn why DCPFI and Urban took on this work.
Researching DC policing and measuring the costs
Both DCFPI and Urban brought their unique expertise to this partnership. Through extensive research and data collection across multiple public sources, along with knowledge and guidance from local DC Council Committee staff and coalition partners, primary data was compiled for analysis and visualization. "DCFPI has deep expertise and institutional knowledge on the DC budget and we found that this, combined with their connections in the local government and advocate community, really helped to clarify the purpose, scope, and content of this tool," said, Leah Sakala, Former Senior Policy Associate, Urban Institute Justice Policy Center.
Data was contextually grounded in the scope and impact of policing in DC and included the concerns raised by DC residents based on their lived experiences. Information about public safety resources outside DC accompanies the tool in the form of a fact sheet that offers examples of what is happening in other jurisdictions. More on the research, analysis, and tool design process.
Exploring the dashboard
While each dashboard page can be viewed as a standalone product, clicking through the pages is recommended because each provides important contextual information for understanding the funding structure and utilization of Metropolitan Police Department (MPD) budget allocations. This MPD Data Visualization Tool illustrates that the MPD budget has gradually decreased in recent years. However, this decrease is largely due to attrition rather than an intentional reduction in the police force.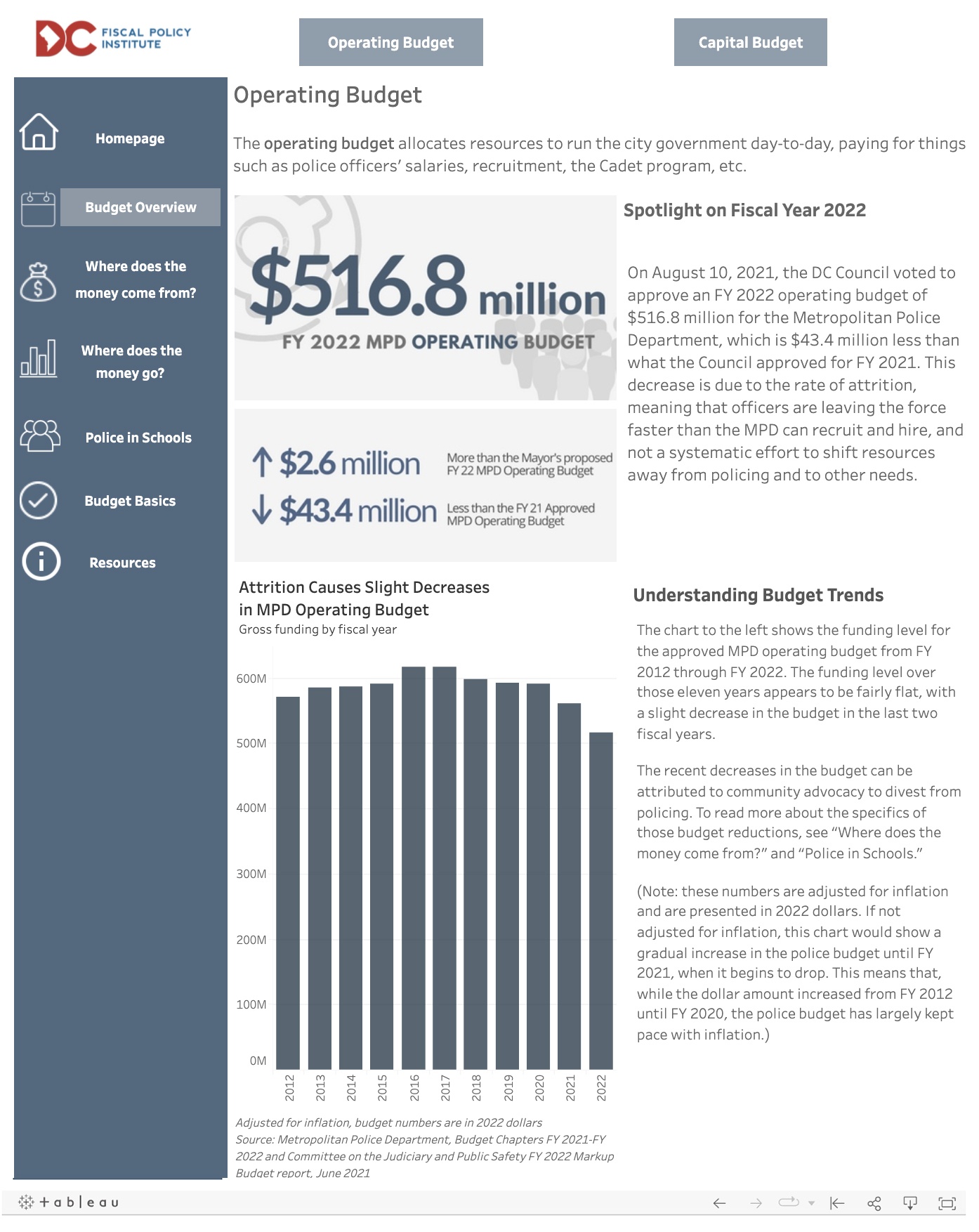 Information highlighted in the tool includes data on the MPD operating and capital budgets, funding sources, and resource allocations. The visualization also provides a deep dive into how police in schools are funded in Washington, DC. The narrative around the visualization contextualizes the data and ensures the information is accessible to a diverse set of stakeholders. A frustrating, but not necessarily surprising fact, was that it was very difficult for the collaborators to find specific items in the data such as details on the budget allocation for weapons in the MPD budget each year.

Deep, stakeholder engagement—a key to success
Investing in the work of community coalitions, building relationships, attending meetings, and even formally joining the group establishes the trust needed to foster deep engagement. Throughout this project, we hoped to generate more community input about how public safety funding is allocated. Sincere involvement across the life of this project produced a community willing to provide feedback and knowledge sharing. "An essential element to the integrity and relevance of this project was genuine engagement with stakeholders—ensuring that what we are building is usable by advocates, and provides information to those who are on the front lines of advocacy around police accountability and transparency," said Eliana Golding, Policy Analyst, DC Fiscal Policy Institute. Offering train the trainer workshops, feedback sessions, and compensation acknowledged the real value DCFPI placed on the expertise and knowledge of local advocates. View the details on stakeholder engagement.
Lessons learned
The work was supported by a collaborative partnership model that started with identifying the gap (missing or non-accessible information).
Listening sessions with those engaged on this subject were critical for illuminating pressing needs, including the format that would deliver the most accessibility.
Producing a project structure that incorporated working with organizations that had complementary capacities and resources was key to success. These relationships should be ongoing to ensure community members are given the opportunity to provide feedback throughout the creation of a data visualization tool.
This type of work requires flexibility throughout all phases of the project, including nimble partners and adaptable software.
Policing in school data was impacted by Covid-19 and schools being closed.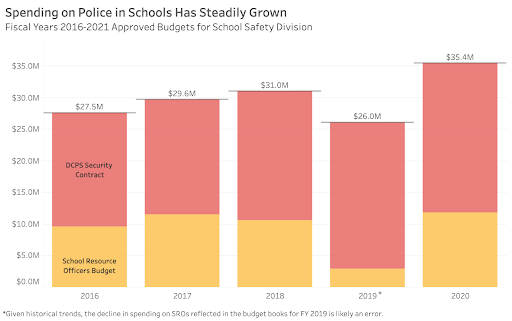 Advocates can use the tool to make a difference in their communities
DCFPI and Urban envision advocates using this MPD Data Visualization Tool to support community engagement in budgeting so that the budget better reflects the priorities of DC residents, particularly those who are most adversely impacted by over-policing in the District.
"A tool like this is intended as a resource that advocates and organizers can really use in pursuit of police accountability and true community safety," stated Eliana Golding. The hope is to build on this tool so greater police budget transparency in DC and elsewhere is achieved. Take a look at the tool to determine what conversations you can spark in your community.