Develop and explore in a private space before sharing—meet Personal Space
Tableau users are passionate about exploring data and masterfully designing visualizations, but getting started isn't always as easy as it should be. With admin-controlled projects and sites filled with outdated or unfinished content, finding the content you need and a place to save your work in progress can be a challenge. That's all about to change with Personal Space—a private location to save or edit when working in your Tableau site!
With Personal Space automatically turned on for all sites in Tableau 2021.3, users with an Explorer or Creator license will finally have their very own sandbox environment—accessible to only them and admins—to securely store content before it's ready to be shared with others. With Personal Space, everyone has a private place to play with data and experiment with visualizations. And admins can say goodbye to managing private project folders and cleaning up cluttered sites.
Information about workbooks in your Personal Space will still be indexed by Tableau Catalog and appear in lineage counts, but other users will not see details about these workbooks.
Getting started with Personal Space
With Tableau 2021.3, you'll see a new option in the left-hand navigation panel, above Collections, called Personal Space. Getting started with Personal Space is as easy and intuitive as using regular projects. If you want to move existing workbooks to your Personal Space, you can either open web authoring and "Save" the workbook to Personal Space, or use the "Move" function under the Actions menu (horizontal ellipsis).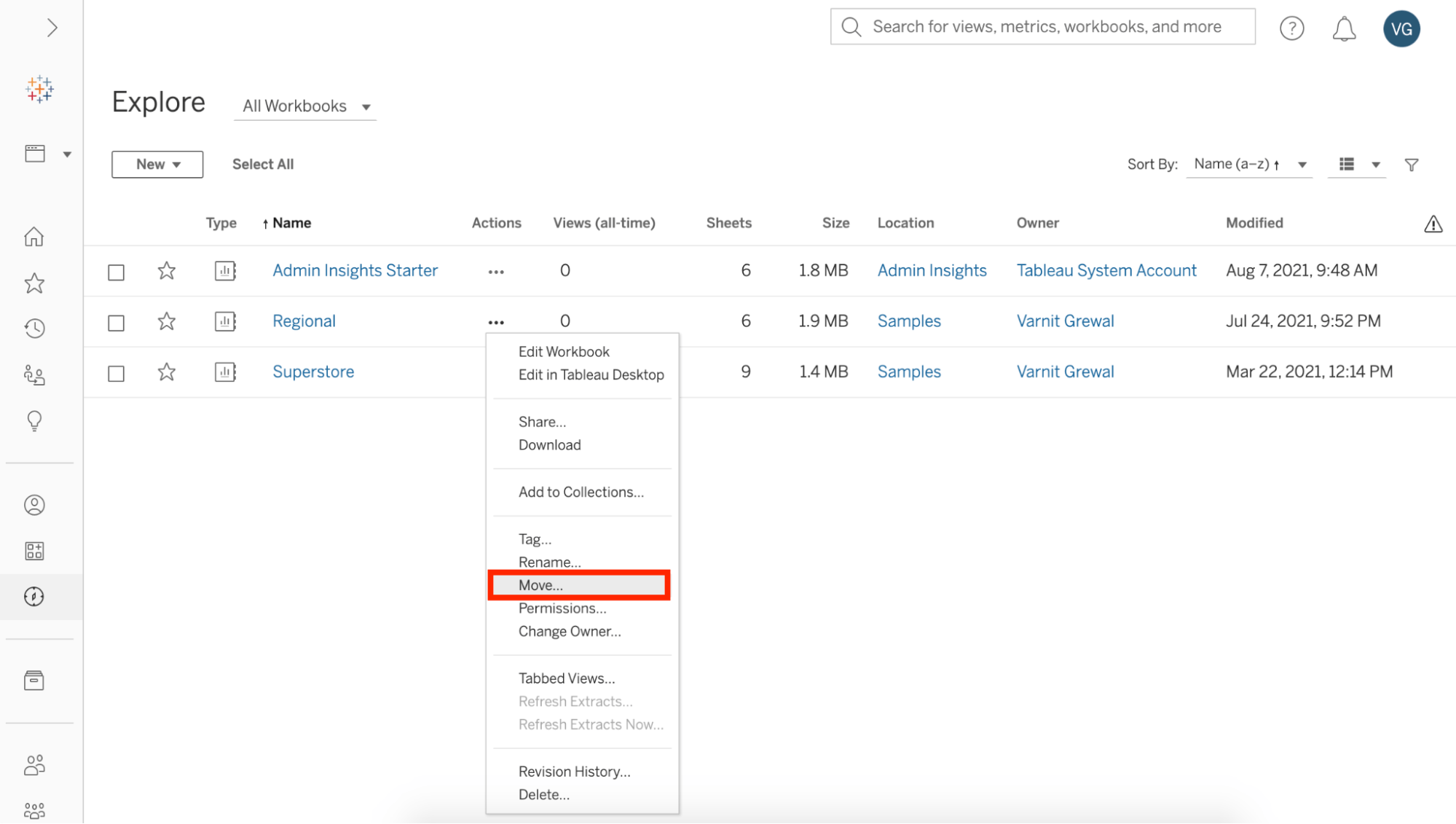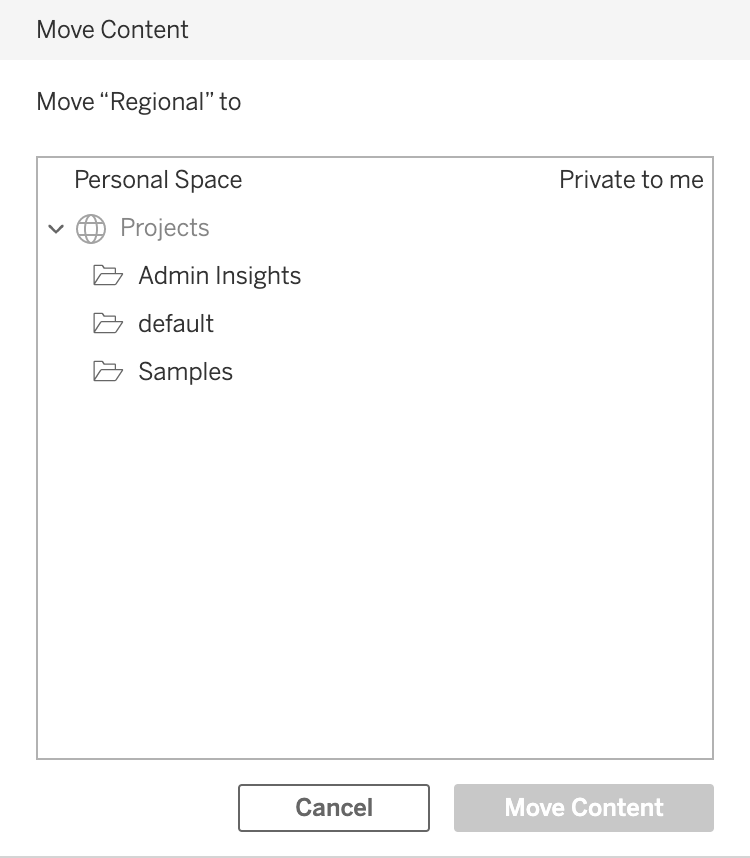 You'll see in the "Move Content" or "Save Workbook" dialog boxes, Personal Space will always be the top option above all of your projects. Once you select Personal Space and click "Move Content" or "Save" the workbook will show up in your Personal Space. It's that easy.
You can also create content directly from your Personal Space—clicking "Create Workbook" will launch your web authoring window. Once you're ready to save, you can select "Personal Space" in the "Save Workbook" dialog box, just like before—and you're done! The content will now be in your Personal Space.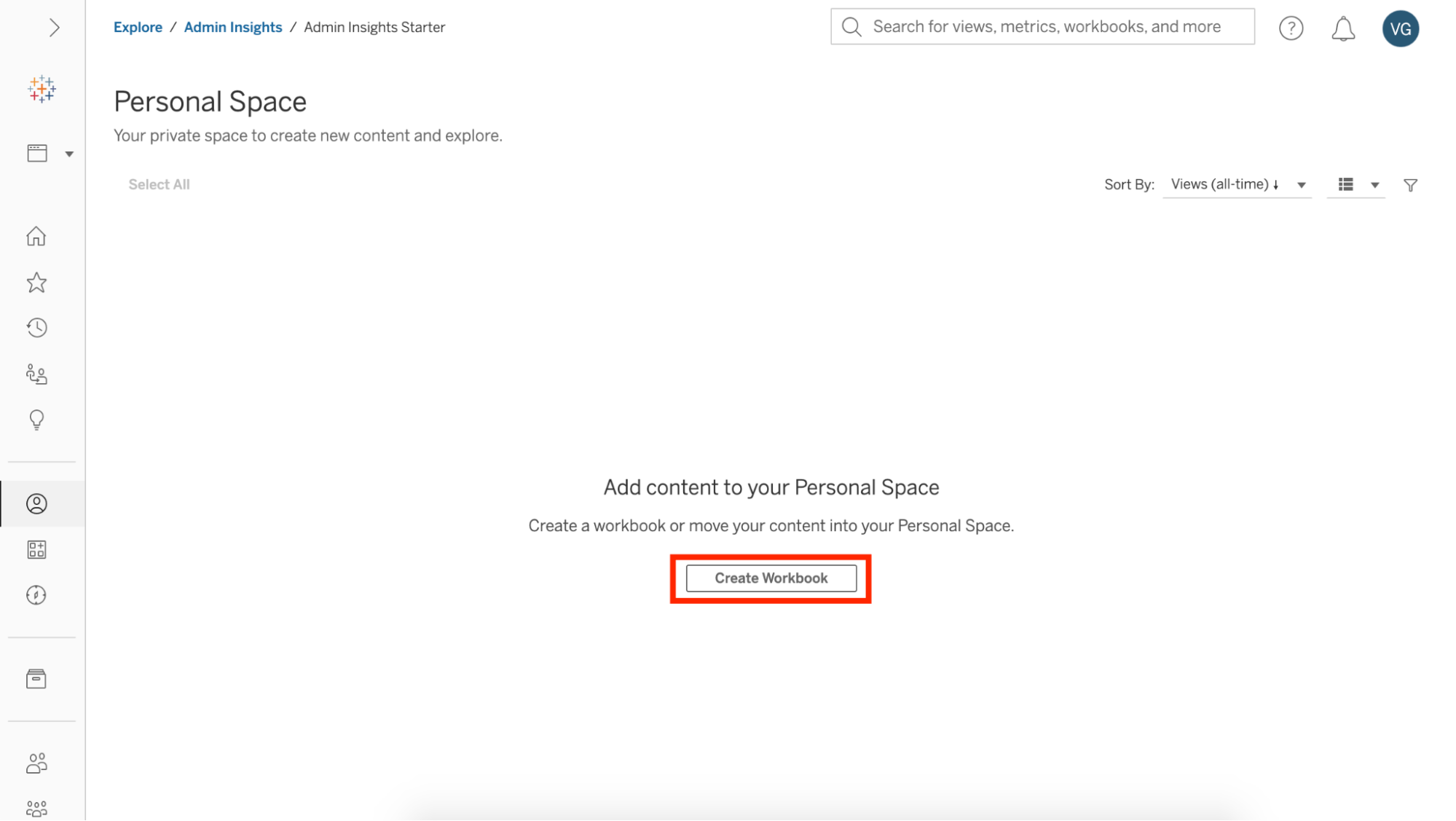 At the Tableau 2021.3 launch, Personal Space will only support workbooks, but we will be adding support for all other content types in the near future. And in order to make sure we keep these environments lightweight, we have intentionally modified the following behaviors within Personal Space:
You cannot create new extracts from within Personal Space (existing scheduled extracts will continue to run).
You must connect to published or embedded data sources (this is only until we add support for data sources in Personal Space).
Alerts and subscriptions will continue to work for yourself, but will be temporarily disabled for others set up on your content. But they aren't lost—once you republish the content again publicly, any pre-existing alerts and subscriptions will be re-enabled.
Admin controls for Personal Space
Personal Space removes a lot of content management overhead from admins, reducing the work required to tidy up sites of draft content and manage private project folders. However, some admins may worry about site storage quotas, performance, and other concerns. No worries! As an admin, you can set up storage limits for all users' Personal Space (by default, it is set to 2 GB). Or, if Personal Space does not suit your needs, you can disable it altogether by going to the Personal Space section under "General" settings.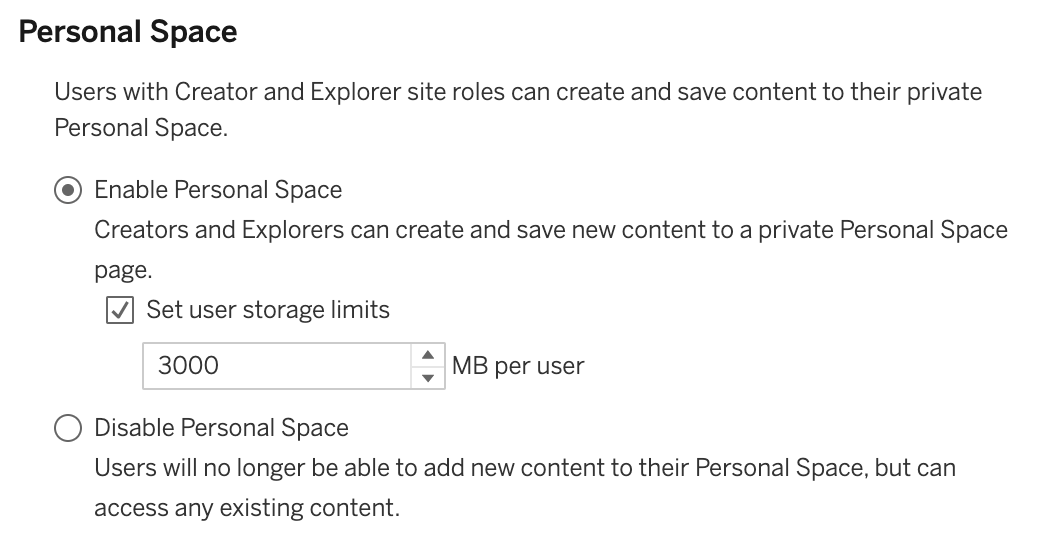 Try Personal Space for yourself
We created Personal Space after receiving tons of feedback from you, our customers—so thank you! With Personal Space, we have taken one giant step forward in making our web authoring experience more in line with our desktop offering. We at Tableau have loved making (and using) Personal Space, so we hope you'll also find it as helpful and exciting.
Want to dive a little deeper? Check out our Help article, Create and Edit Private Content in Personal Space, to learn more.