How a Tableau engineer and former gymnast built a system for rhythmic gymnastics to score and share results
When the pandemic hit, rhythmic gymnastics hit a roadblock: Judges couldn't easily score performers online and teams struggled to quickly share scores. Fortunately, one Tableau software engineer saw an opportunity to innovate.
Olga Sibiryov is a developer, mother, and youth rhythmic gymnastics coach. She's also a former member of the Israeli National Gymnastic Team.
Olga competed in rhythmic gymnastics, a floor event where gymnasts perform with a ribbon, ball, hoop, clubs, or rope, that typically relies on in-person, manual scoring. During the pandemic there was no efficient or reliable way to remotely share scores with judges, referees, and athletes—until Olga replaced the manual scoring systems with her automated software solution built on Tableau Public.
Her system shows what's possible with sports data. Real-time results sharing has the potential to transform almost any competition, and access to unbiased data can help coaches and athletes train smarter and boost transparency and trust.
At Tableau, Olga builds notification features in our services with the Workflows engineering team. She's currently working on Tableau user notifications in Slack for our upcoming Slack integration. We talked to Olga about her data-sharing side project and its potential.
Molly: Tell us about your background competing for the Israeli National Gymnastic Team.
Olga: My highest achievement as an individual competitor was fifth place in the Israeli National Championship, and when I competed in 2008, our team of five became Israel champions.
I qualified for the national team when I was 14, but my mom and I decided not to proceed because back then in Israel we were not financially supported by the government. I'm still in touch with the girls, and I'm a big fan of rhythmic gymnastics.
Molly: You still coach and help with your local club?
Olga: When my 5-year-old daughter was 3, she found my old gymnastics clubs and asked me to show her how to play with them. I showed her a couple tricks and she wanted to learn for herself and become a gymnast. I searched for a club, but none accepted girls younger than 4.
I'm in touch with the local club, so I offered to run the class myself. Though she's moved onto the next level and I'm not coaching anymore, it's helped our relationship. She is working hard to become a gymnast, and I support her as much as I can.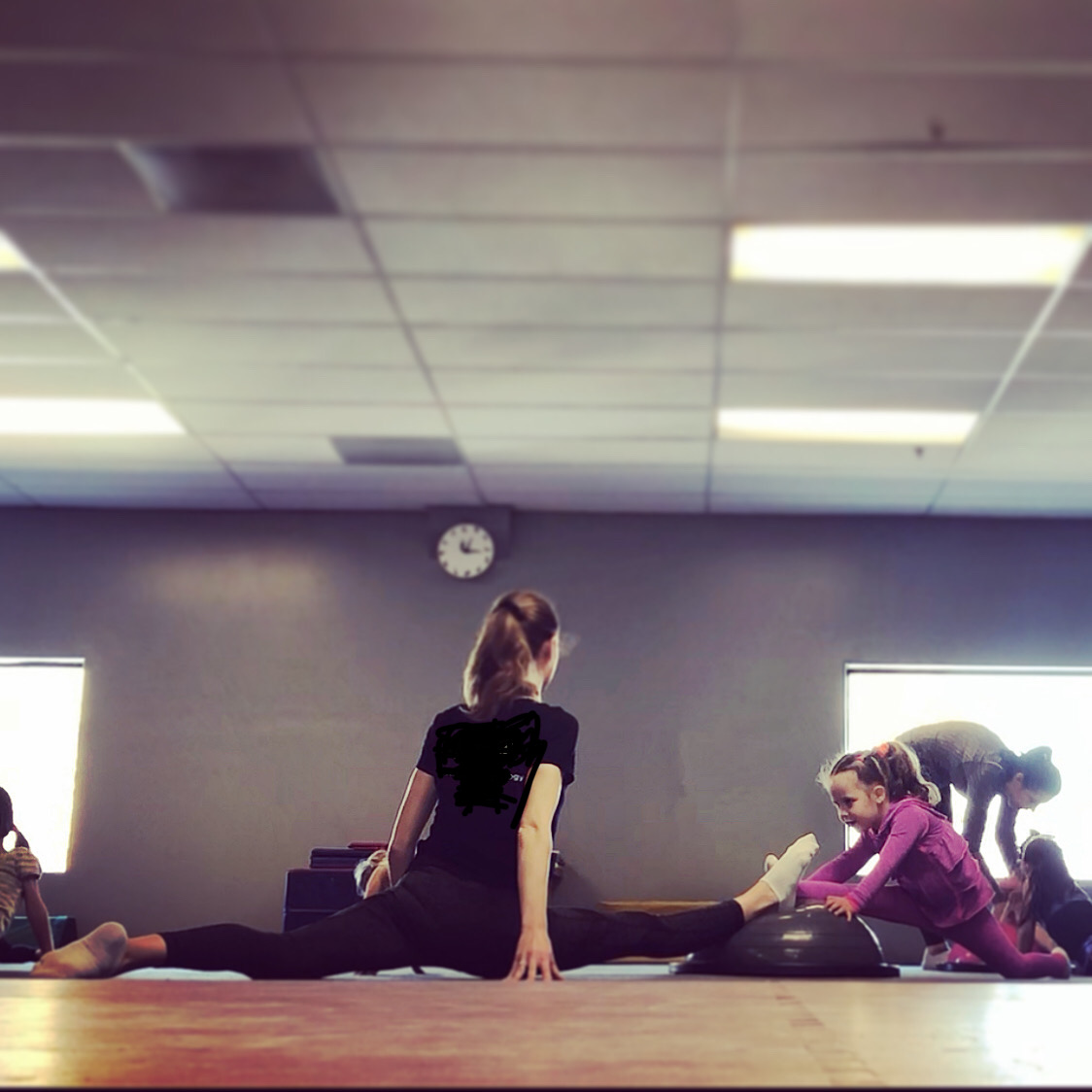 Olga working out with her daughter.
Molly: Why did you develop web-based software for rhythmic gymnastics competitions?
Olga: Let me introduce the problem first. Each country has its own Code of Points book: a set of rules outlining the point values of a gymnast's skills. Before, each judge was given a printed form to fill out during the competition. After each performance, a volunteer ran and collected the forms and gave them to the referee. The referee calculated the final score and recorded it in the system, usually using a simple Excel file. After the competition, gymnasts could get their forms to see their scores and prepare for the next competition.
The pandemic was a challenge. Competitions moved online and judges had to print forms themselves and somehow scan and send them to the meet referee to collect, count, and present the results before distributing to the gymnasts. It was a manual process with the potential for significant calculation mistakes.
Believe it or not, an international online-tournament organizer told me judges were sending scores over WhatsApp to be tabulated.
Molly: That's where your idea for Tableau came in?
Olga: I thought maybe there was a way to help since I work at Tableau and our product analyzes data. That's how I got to the solution: Tableau Public connects with Google sheets and Google forms. I created scoring forms in Google to mimic the known format and data processing in Google sheets, and then used Tableau Public to connect to Google sheets to present the data.
The biggest competition I ran featured more than 100 individual competitors from across the United States, live and recorded, from home and the gym. It ran pretty well. That competition was a breakthrough. Organizers started reaching out, asking, "I'd like to use the system. Can you please help me put it all together?"
My Tableau solution received very warm feedback and some suggested improvements. It uses simple features like filters, so if organizers want to split competitors into subgroups, they can slice this data in Tableau with just a few clicks.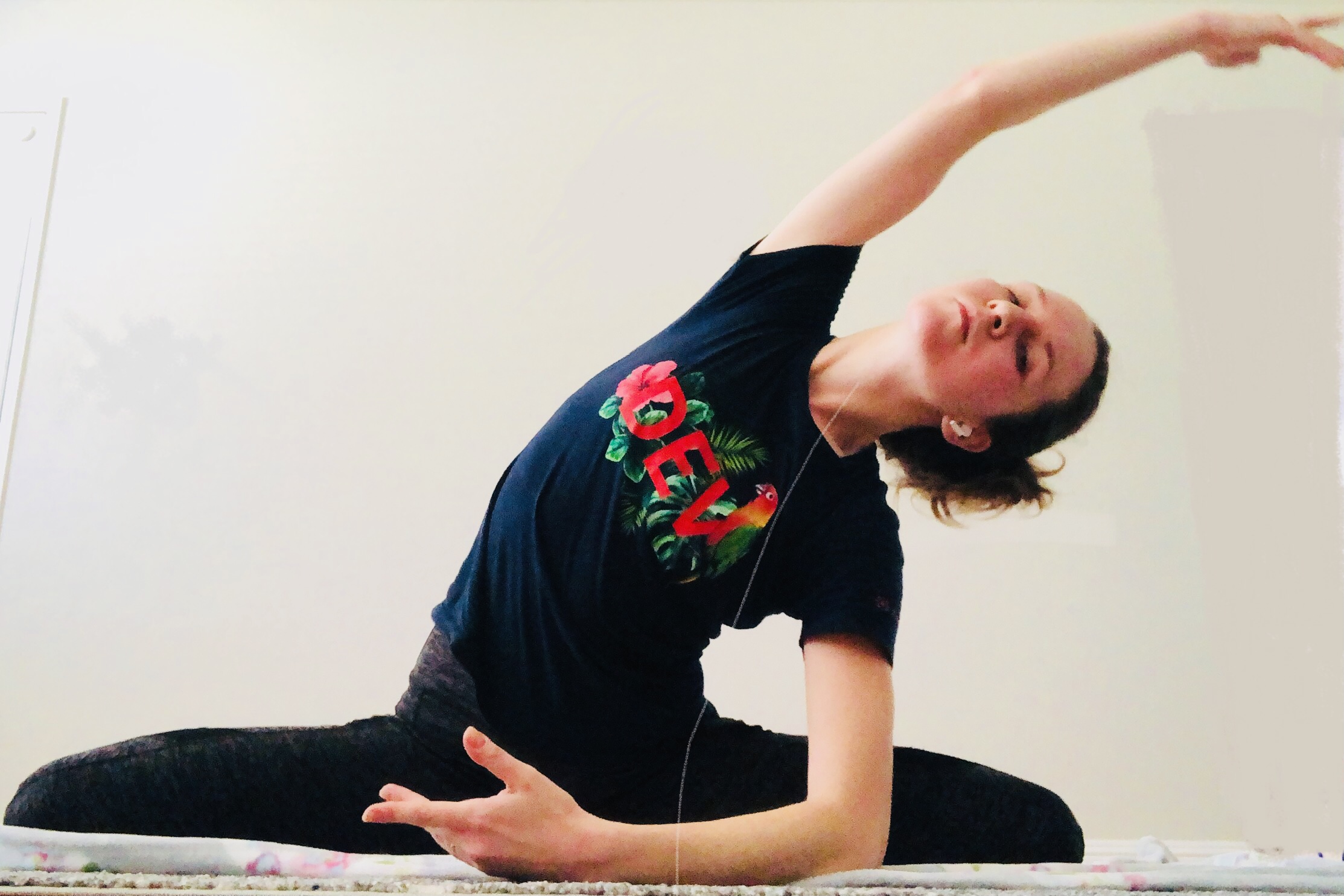 Olga working out at home during the pandemic.
Molly: Why is it important to break out these subgroups?
Olga: States had different restrictions during COVID, so gymnasts had different working conditions. Some could practice and perform in their gyms, others could not. Gyms have a dedicated 13-by-13 meter floor and high ceilings to toss the apparatus, but you don't have room for that at home. Some girls worked outside, but even there, the sun makes it hard to catch. And competitors who made a mistake during a recorded performance had a chance to re-record. These key differences need to be accounted for in the medal awards.
Molly: What are future plans for the software you created?
Olga: It can be easily replicated and implemented by anyone—the beauty of it is you don't have to be a software engineer, there's no coding there. I would love to see it adopted and standardized across the sport. There are so many benefits of a digital-first approach for competition organizers, athletes, coaches, and trainers.
Molly: What are some other potential uses for this?
Olga: This problem doesn't just exist in gymnastics. Judges should be able to score a performance without removing their eyes from the athlete and without having technical skills. It's a solvable problem—in gymnastics and other sports—that just requires an engineering effort to put it all together.
Health is another aspect: Physiotherapists can analyze the data from the dominant set of gymnast movements to prevent injuries.
Molly: The future of sports is tracking data. What are some more benefits to gymnastics adopting such a system?
Olga: The Code of Points changes drastically in rhythmic gymnastics to adjust to body skills. There was once a very high score for extra flexibility, until the federation realized it led to injuries and body damage. They pivoted to emphasize apparatus and mastery skills more than flexibility. It's much healthier for athletes, and now we can use data analytics to analyze commonly used masteries and the elements likely to be scored and counted. Gymnasts can build their routines based on that data and analyze judges on how they score. Data can also help them identify and appeal judging biases.
Molly: What are some opportunities to improve your system?
Olga: I'd like to completely replace the Google form, so judges don't have to take their eyes off the performance. It has to be a tablet app that recognizes handwriting. A judge could just write "0.3" and swipe to count the score. It would eliminate human calculation mistakes.
It's time to build a CRM for sports.