From the U.S. Air Force to MIT to CMO, Jackie Yeaney sets out to find purpose in everything she does
In 2008, Tableau's Chief Marketing Officer, Jackie Yeaney, made a list of 10 personal and professional goals for the coming decade. These included things like being known as an authentic, open, and inclusive leader. Taking on executive roles where she could be an advocate for an organization's "why" and creating delightful customer experiences. Chairing a non-profit board and being on a public company board. And for her family, getting her three kids through college without debt.
This year, she took a look back and realized that she'd accomplished everything on that list.
"If we had not articulated our success list, I'm not sure we would have taken those fundamental life steps as a family that were necessary for us to be happy," Jackie wrote in this essay. "It allowed us to remember that chasing money and power was not what we were all about—our purpose was deeper than that."
Tableau CMO Jackie Yeaney at Tableau Conference 2019.
This look back also inspired Jackie to make a new list. But this time she felt she could open her thinking beyond herself to how she could have more purpose and a broader impact on the world. They include supporting girls' equality in developing countries with time, energy, and dollars; mentoring, sponsoring, and lifting women leaders in tech; helping to find a cure for the rare hereditary eye disease (CACD) that affects her husband and son; and opening an in-person "Blind Ambition Fitness" gym with her family. She's also ready to take some time to RV around the country with her husband while he still has some eyesight.
If the past is any indication, Jackie will soon start checking off goals on her new list, too. From revitalizing Delta Air Lines' brand and customer experience after 9/11 to helping Atlanta-based nonprofit Open Hand create healthier, better-tasting meals for people in need, the Air Force Captain and MIT grad knows how to get things done.
As part of Tableau's executive leadership team, Jackie sets the tone for Tableau's marketing as the enterprise business grows and integrates with parent company, Salesforce. While the two companies work to make CRM and data perform better together, the companies' values built on business as a platform for change is something she wholeheartedly supports.
"It's lovely that we don't have to fight to get alignment on creating a Covid Data Hub or a Racial Equity Data Hub. That if we believe in our mission of helping EVERYONE see and understand data, that we should pledge to enable 10 million people with data skills," she says. "We just do it. I love it."
Coming out of the pandemic, Jackie hopes to continue strengthening connections in person―with colleagues and with the new professional and non-profit groups she's joined. Here she tells us more about her journey on finding purpose.
What does finding purpose mean to you?
Jackie: The first place I start is with core values. My top three personal values are Integrity, Respect, and Impact. Especially when you're younger, finding a core purpose in life is much harder, and I certainly didn't have one articulated back then, but we can always focus on our values even if we don't quite know what our purpose is yet.
I was 40 when I really took that step back and said, "How do I find my purpose and what am I really all about?" I think the key was when I started to think about how I define success for myself, in my own words, and not compared to others or their expectations of me.
I was going through some old files this weekend and I found my notes from when I met with a financial adviser in 2008 and showed him my list. He concluded that if I continued to make about the same income then I could reach my goals. I felt like a weight had been lifted. I realized that I could now focus on the jobs and roles where I could have the biggest impact and learn the most. I didn't do any chasing of titles or money after that.
How did you reboot your journey once you had that realization?
Jackie: I had an amazing job working for the world's best open source company, Red Hat. I loved everything about Red Hat and its open source principles, not only for how you create software but how the organization functioned. Everyone had a voice. And the CEO was someone I very much respected and had worked with before at the Boston Consulting Group (BCG) and Delta Air Lines. But the truth was I wasn't handling my husband's increasing vision loss very well.
We had been making incremental changes to our daily lives, but one night we looked at each other and said, "This fundamentally isn't working. We need a life reset. Throw everything up in the air and start over." It felt scary and daunting. But because we had our success list in hand it made it feel possible that I could walk away from my job as we searched for our new normal.
We figured out that new normal over the following two years. And funnily enough, even though the eyesight was getting worse, we felt 100% better. Once we had our new rhythms in place I was able to confidently take on a bigger role again at Tableau and move from Northern Virginia to Seattle. I'm grateful we took that giant step back. It fundamentally saved our lives.
Jackie takes a selfie with Tableau Zen Masters and Ambassadors at TC19.
This wasn't your first major pivotal moment―you've taken many other chances before.
Jackie: I suppose that's true. I think the first one was when I altered my post-Air Force plans. I had gone to the Colonel and asked him for a recommendation for MIT's PhD electrical engineering program. He told me he didn't see me in a lab or in academia; that I was gifted in orchestrating complex initiatives and leading people. He asked me to look into MIT's business school instead. That ended up being very sage advice.
In another instance, the managing partner of BCG's Boston office asked me to consider their international exchange program. I didn't want to be rude so I didn't say 'no' on the spot, but I had two small children and my husband was working for the US Air Force. When I got home that night it was my husband who convinced me that this was an opportunity not to pass up, especially while the kids were young and he had a job he could more than likely return to. We found ourselves in Zurich and experienced one of the most defining years of our lives.
One last example. I was consulting to Delta Air Lines when 9/11 happened. The CFO at the time asked me to join the airline directly and help lead consumer marketing through a very difficult time. I didn't know anything about marketing. Honestly, I thought it was mostly fluff. But I wanted to help and I trusted her judgment. Once I got in there, I realized I had a passion for focusing on the customer experience and the wonderful interconnection of brand, creativity, and analytics. I've been leading marketing teams ever since.
The lesson here is that when someone you respect throws a seemingly crazy idea out at you—take the time to deeply listen and consider it seriously. Don't immediately brush it off because it wasn't part of your original plan. It is often these people that see gifts in us that we can't see ourselves.
Major pivotal moments in Jackie's life and career that lead up to today.
Your military background has really helped serve you in the private sector. Can you tell us how your Air Force experience prepared you for the corporate landscape?
Jackie: My time in the Air Force as a young officer shaped much of who I am today. But two aspects have really stuck with me. The first is the power of being mission-driven. If an organization can align around a common purpose, you get a far more engaged workforce and dramatically increase your odds of winning.
The second is leading through influence, which may sound counterintuitive with respect to the military, but my role developing and deploying an intel system during Desert Storm had a lot of responsibility without anyone actually reporting to me. Leadership has nothing to do with titles or size of teams. Leadership is when people WANT to go with you.
What shifts did the pandemic cause for you?
Jackie: I've always known being around diverse people from different backgrounds and experiences brought me joy, but I didn't realize how much of my leadership was based on it. Turns out I had been using hundreds (maybe thousands) of tiny interactions to more deeply understand the context of our teams, our markets, and our customers. And that led to better decisions.
We moved to Seattle from Northern Virginia two months before the pandemic hit so we hadn't yet had time to explore the Pacific Northwest or make new friends. We also weren't able to hire Eric a personal assistant (one of our new normal agreements). It was hard making sure I was available to help him enough as I was still relatively new to Tableau and was trying to lead virtually.
Luckily, my husband and I have become closer over the pandemic. We've seen each other more these past two years than probably our 31 years combined. I now realize a long RV trip with just the two of us is more than plausible. It actually sounds like fun.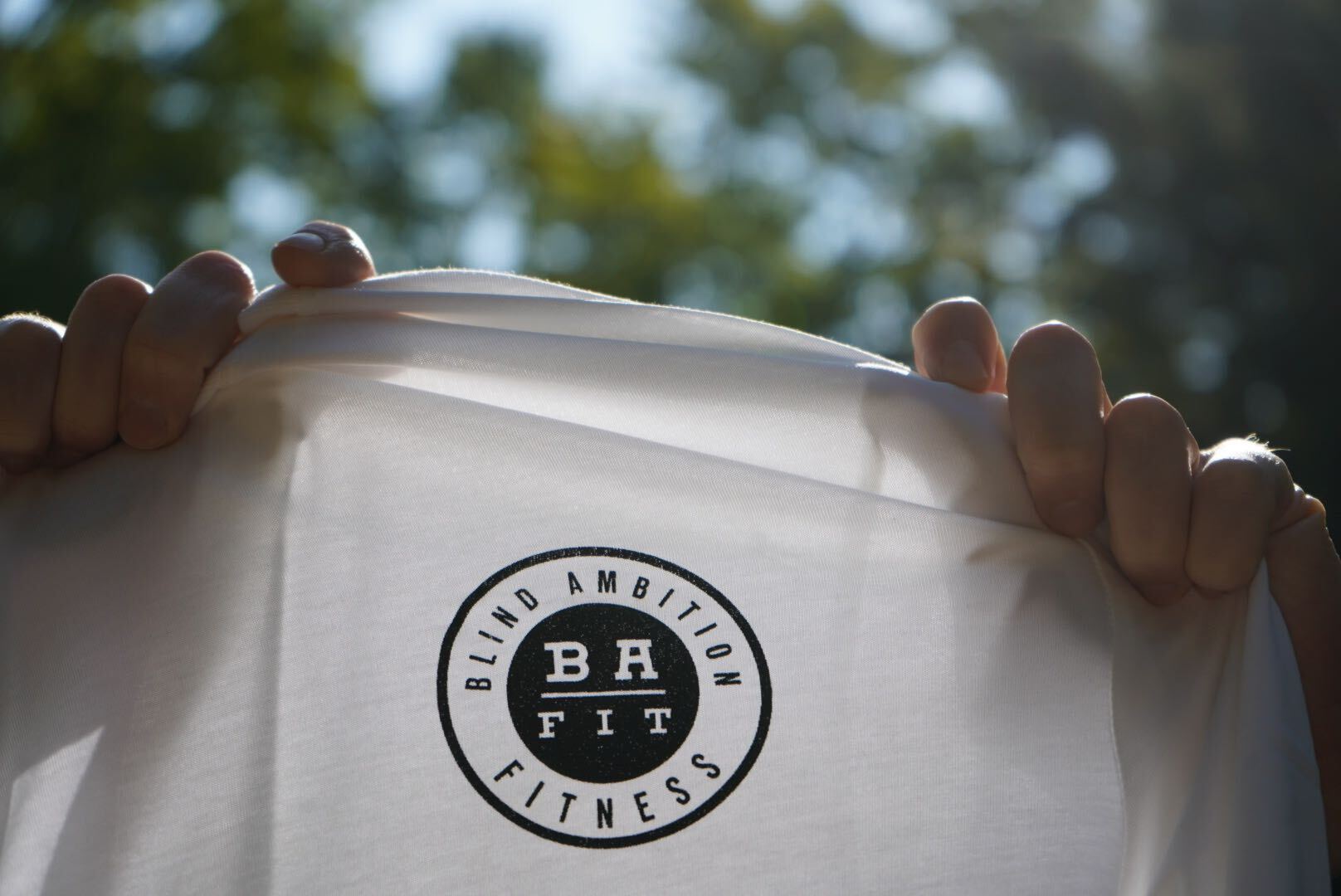 The logo for CMO Jackie Yeaney's family business, Blind Ambition Fitness.
What else did you find that fostered connection during the pandemic?
Jackie: The Yeaney family launched a little business called Blind Ambition Fitness. It was fun getting it all set up. I was definitely humbled trying to create the website. Eric leads virtual group or 1:1 workouts and two of my three kids are coaches as well. I personally join a BA-Fit class every Tuesday/Thursday with a set crew of seven, and then we relax together with a virtual happy hour. The eight of us have become a true support system for one another through the pandemic.
I also became connected to the non-profit, Plan International by joining an Impact Circle with senior women I know from BCG. Plan's goal is to transform the lives of 100 million girls around the world so that they are safe, educated, and economically empowered. I'm looking forward to when we can travel to Senegal and meet the girls and the Plan's on-the-ground staff.
Fairly early on in the pandemic I was asked to join the Seattle chapter of the International Women's Forum (IWF). Turns out these women leaders are an extremely supportive group and they have had some really engaging virtual programming and networking events. And now that we can get out and about I can see them in-person!
Looking back on life, what would make you feel most fulfilled?
Jackie: That the people I connected with were able to accomplish more than they ever thought they could. My personal brand statement is about being a caring advocate for people and possibilities.
One thing I've learned is that sometimes there are seemingly small interactions we might have with others that for whatever reason stand out to them. What's nothing to me might be everything to you and vice versa. I try to be mindful and fully present in as many of my interactions as I can. My favorite quote of all time is Maya Angelou's where she tells us people remember how you made them feel.