How these Tableau Foundation leaders are fighting for racial justice and equity with data
Perhaps no other year presented greater challenges and opportunities for the Tableau Foundation than 2020. The organization set big goals to help transform communities by enabling local grassroots organizations to fight systemic racism with data. The Racial Justice Data Initiative launched in summer 2020, quickly followed by the Racial Equity Data Hub, which earned an honorable mention in Fast Company's 2021 Innovation by Design Awards in the Social Good category.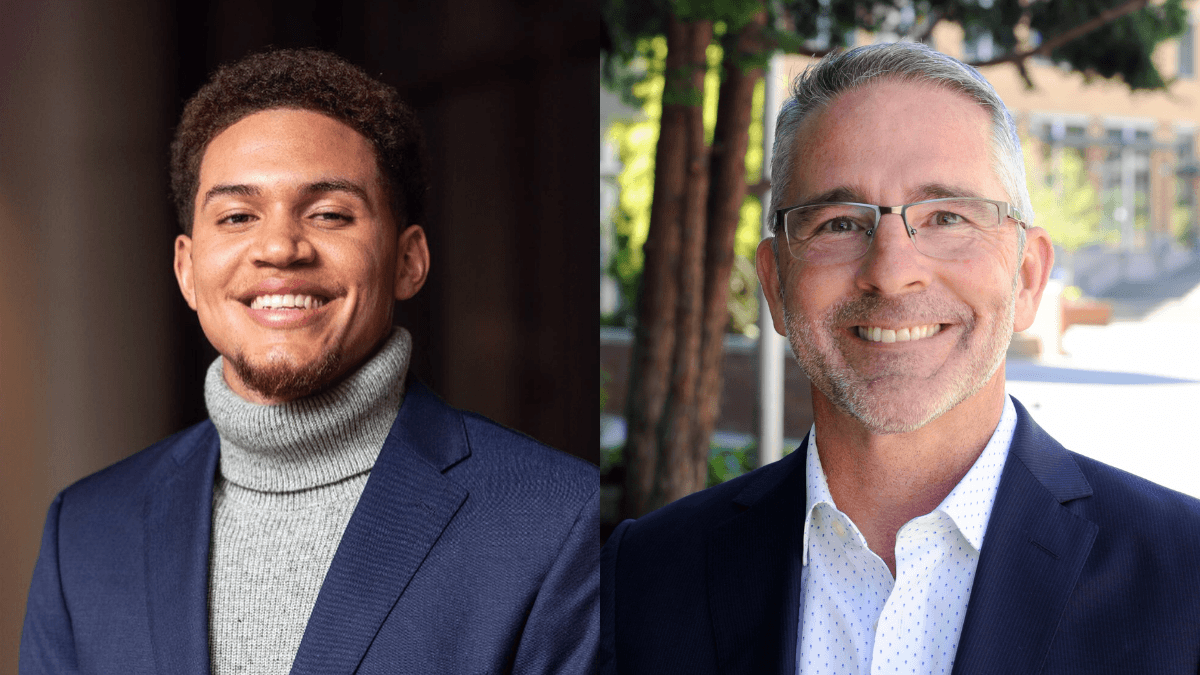 Channing Nesbitt (left) and Neal Myrick of the Tableau Foundation.
Like any Tableau Foundation initiative, Neal Myrick and Channing Nesbitt started the Racial Justice Data Initiative by listening and learning. Through launch and beyond, the two leaders focused on empowering non-profits with data storytelling to drive a measurable, positive impact in society. Here, Neal and Channing discuss the Tableau Foundation and reflect on a year in the fight for racial justice and equity.
Fast Company's Innovation by Design Awards honor those solving the problems of today and tomorrow, including 2021 honoree in the Social Good category, the Racial Equity Data Hub.
Telain: How did the events of 2020 galvanize or shift the Tableau Foundation's approach to racial equity?
Neal: When I look back on the racial justice work we've done since 2015, we were helping advance equality, but we weren't fighting racism. Now, we have a much more intentional, stated goal: fight anti-Black racism. We've engaged in listening sessions with Tableau employees, local advocates, and racial justice experts to inform our strategy, and we've remained flexible and responsive to what we have learned—and are still learning.
We initially committed $10 million through the Racial Justice Data Initiative, but that quickly expanded to $12 million in 2020. For the initiative's first anniversary this year, we added another $6 million to expand partnerships.
Data has played a major role in helping us focus our efforts and identify partnership opportunities. For example, looking at racial inequities in the impact of COVID-19 led us to the work of the Southern Economic Advancement Project (SEAP) and a collaboration to increase vaccine access across Georgia. From there, the collaboration grew into a partnership with SEAP and its sister organization, Fair Count, in the Southern region. We support these organizations' efforts to develop data visualization tools to advance advocacy for an equitable and people-first response to economic recovery in a post-pandemic South.
Telain: The Racial Justice Data Initiative is a first-of-its kind effort for the Tableau Foundation. Tell us about the work and what you hope to accomplish?
Neal: The Racial Justice Data Initiative is focused on democratizing data and giving more people power to drive systemic change. We hope that making data resources available to people who aren't data practitioners by training will help them incorporate data into their work and causes from national to local.
Channing: We focus on four key areas of impact—achieving education equity, advancing justice, building political power, and building economic power—aiming for strong partnerships that can lead to meaningful change.
We're also beginning to see the start of change with our partners. Measures for Justice launched a pilot project with three district attorneys offices to create more transparency around justice-system data for communities. PolicyLink launched its Racial Equity Data Lab to empower analysis of equity issues at the local level. Their work on measuring rent debt due to COVID-19 directly influenced California's recent rent relief policy. This work will provide new insights for how we can strengthen and deepen our partnerships.
Telain: Can you talk about what you're doing to democratize the use of data for racial equity?
Channing: We launched the Racial Equity Data Hub as part of the Racial Justice Data Initiative to implement this concept of democratizing data. Through the Hub, we are providing important data sets, actionable visualizations, and tools to analyze and work with data alongside impact stories and key takeaways. We hope the Hub equips more people with practical resources to further their data journeys and offers inspiration and visibility into how similar organizations are using data to further equity and justice initiatives.
Telain: What challenges have you faced in the past year? How are you thinking through them?
Channing: In those first few months, we really had to think through the balance we are trying to strike between partnerships with big, well-known, and well-funded national organizations—like PolicyLink and Urban Institute, that already have the capacity to use data effectively—with the support we want to provide to grassroots and community organizations.
For example, larger organizations with established data capacity may benefit from software and specific training. But we have to start from a different place and focus more on resources and skill-building to support grassroots organizations that might not necessarily have data capacity.
Neal: To build on that, our Foundation teams' networks didn't include a lot of Black-led organizations. So we're being intentional about changing that: Each member of our team has a goal to add at least 10 Black-led organizations to their professional networks this year.
We hope this addresses a challenge that Channing alluded to—balancing partnerships with large organizations in the equity space and smaller organizations working at the community level. So many Black-led non-profits are doing amazing work at the local level, and we have to think through how we balance our desire to make impact on a national level with the importance in investing in Black-led organizations to fight racism at the hyper-local level.
There is a massive funding imbalance between white-led and Black-led non-profits, and we want a good mechanism to support smaller Black-led non-profits at scale.
Telain: As you navigate these challenges, how do you think about accountability and transparency when sharing this work?
Neal: In year one, I want people to hold us accountable to building partnerships, getting grants out the door, and maintaining momentum. Our Living Annual Report shows information about our grants under the Racial Justice tab. We set out to disburse about $4 million during the first year, and we've already disbursed more than $10 million.
A year from now, we'll have to hold ourselves accountable to whether our investments are really moving the dial on the issues. That's hard to measure, but essential to understand.
The Tableau Foundation has disbursed $10.1M in grant money for advancing racial justice across 27 grantees—from Equal Opportunity Schools to the Urban Institute and the Southern Economic Advancement Project.
Telain: What have been some of your biggest takeaways so far?
Channing: That we must equip individuals with data skills on a much broader scale and much faster. Not everybody needs to create robust visualizations, but hopefully they can see a dashboard and build a supporting argument.
Neal: PolicyLink's work is a great example of this type of enablement. They've built starter visualizations for organizers to access the data they need. So if you're a community advocate in Houston fighting for a $15 minimum wage on behalf of the Vietnamese community, you want to print a flyer with a dashboard that clearly shows the need for higher wages in that community. You don't need to know how to create a calculated field—you need meaningful data you can incorporate into a campaign.
Telain: How have you progressed on delivering against the original intent and mission? What are you most looking forward to?
Channing: It's been gratifying that everyone we work with agrees that we need to take time to be intentional, consider sensitivities, ensure data is protected and deweaponized, because ultimately we're talking about people and their lives.
In terms of delivering on our mission, we are 100% committed to this effort to combat systemic racism and invest in the Black community and Black-led organizations. We want to be mindful and deliberate about that.
Neal: We've executed on our vision and strategy for year one—forging partnerships and making grants. It's still too early in the cycle to really know if our investments will move the dial on fighting anti-Black racism. It's our responsibility to continually ask those questions, learn, and reevaluate if we're on the right path or need to switch courses.
I am grateful we have the support and flexibility from Tableau and Salesforce leadership to remain responsive to our partners' needs. I'm excited to deepen these partnerships and work together to invest in the best leverage points for making change.
About the experts
Together, Neal Myrick and Channing Nesbitt work with Tableau Foundation partners to create real change in the world around gender equality, racial justice, combating hunger, climate action, infectious disease, and ending homelessness.
Neal has held leadership positions at the pioneering software and IT companies Aldus Corporation and Visio Corporation for over 17 years. As head of the Tableau Foundation, Neal uses his background working with data and global technologies and supporting non-profits to empower organizations making a powerful social impact. He serves on several boards in his hometown of Seattle to advise a new generation of data advocates.
Channing, the Social Impact Program Manager and Racial Equity Data Hub Lead, is one of Neal's Tableau mentees. Channing left his hometown of Oakland, California, to attend college in Seattle, where he landed a graduate-school internship at Tableau and met Neal.